Aussie Author Challenge 2012 – my reading list
As we welcome in a bright and sunny New Year, as the host of the Aussie Author Challenge 2012 it's time I officially signed up!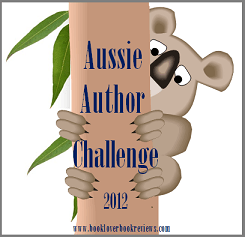 I will of course be participating at the Dinky-Di level.
DINKY-DI – Read and review 12 books by at least 6 different Australian authors
Some of the titles by Australian authors I have my eye on for 2012 include:
Indelible Ink – Fiona McGregor
The Great Fire – Shirley Hazzard
The House at Riverton (Shifting Fog) – Kate Morton
Sing and Don't Cry – Cate Kennedy
Into the Winter Dark – Tim Winton
What Alice Forgot – Liane Moriarty
Assassin – Tara Moss (if released in 2012)
The Essence of the Thing – Madeleine St John
Parrot and Olivier in America – Peter Carey
The Street Sweeper – Elliot Perlman
I may not find time to read them all but I will have fun trying!