Booklover Bites – Fiction in Translation and Reading Challenges
Fancy some Booklover Bites?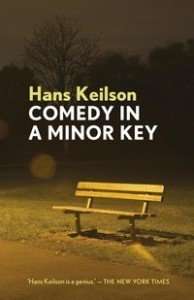 Disclosure: If you click a link in this post and make a purchase, I may earn a small commission.
 Fiction in Translation
Tony @ Tony's Reading List has put forward several excellent reasons for reading translated books. Translation Matters plus the thought provoking discussion that ensued (63 comments and counting) is well worth a read.
I have enjoyed immensely almost every translated work I have read. Why? Because the authors' perspectives have seemed fresh to me and I believe in many cases that stems from different cultural origins.
Just some examples of distinctive and culturally influenced voices for me include One Hundred Years of Solitude by Gabriel Garcia Marquez, Comedy In A Minor Key by Hans Keilson and All Our Worldly Goods by Irene Nemirovsky. And of course you cannot go past the refreshing contrasts of say Scandinavian crime fiction and Japanese literature.
As the world becomes a smaller place through travel, the internet or increasing acceptance of the value of our differences (thankfully) I do not think translated works are necessarily the only place these different cultural view points can be found (for example Leila Aboulela's The Translator definitely fits this criteria but was written in English), but selecting from translated works can often be a low risk way of finding something to challenge your thinking.
Why We Need Challenges  
Amanda @ Simpler Pastimes has written an interesting piece on why she believes reading challenges are needed to push us out of our comfort zone. Amanda's focus was on reading more works originally written in languages or from authors from countries other than our own. Our Booklover Book Reviews Aussie Author Challenge was included in a list of reading challenges promoting the works of a particular country or geographic region.
I think that while we should not 'need' a promoted challenge to encourage us to read across varied genres or cultural spectrums, they are a great way to help us focus on goals we genuinely had in the first place.
Let's face it, most of us are risk averse creatures of habit that naturally gravitate towards what we know unless we set a plan to do otherwise. And it is always easier to stick to a plan if others have signed up to that plan too. How many people do you know that have joined a gym with a friend to ensure they actually get some use out of that gym membership?
My reason for hosting the Aussie Author Challenge was a very personal one:
"Even as a born and bred Aussie, I simply have not read enough Aussie Authors, and in hosting this reading challenge I seek to right that wrong!"
For me this challenge has been a success in that it has changed my behaviour in the way that I desired – I am now instinctively so much more aware of the talent in my own backyard.
Do you find reading challenges beneficial?
Do you enjoy translated fiction?