Book Giveaway – SNAP Kandesky Vampire Chronicles by Michele Drier
Thanks to author Michele Drier I have an ebook copy of the 2nd and 3rd books in her Kandesky Vampire Chronicles Series to giveaway to one lucky reader.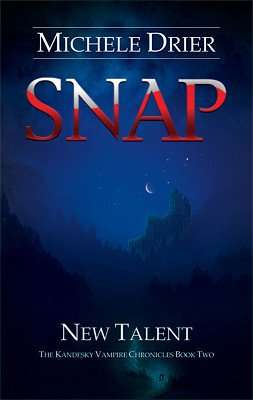 Book Details: 
SNAP: New Talent (Kandesky Vampire Chronicles #2)
Plague: A Love Story (Kandesky Vampire Chronicles #3 – Prequel)
Read my review of the first title in this series, SNAP: The World Unfolds by Michele Drier.
Giveaway Details:
This giveaway is open internationally.
The winner of this giveaway will be selected at random and will receive an ebook copy of both titles shown above (either Kindle .mobi or .pdf format available).
I will contact the winner by email. If I do not receive a reply within 14 days unfortunately the prize will be forfeited and I will select a new winner.
This giveaway will also be promoted on Twitter (@BLBookReviews).
There are ways to increase your chances of winning a copy of these books:
+2 entries, tweet about this giveaway (providing link to this post) or even easier retweet my giveaway announcement
+4 entries, provide a link to this giveaway entry post on your webpage
TIP: Do the above before filling in the below form, so you have the link/info required to qualify for the additional entries.
Entries close on 2 September 2012!
SORRY, ENTRIES CLOSED – The Winner Announced HERE