Booklover Bites – A Modern Classic, Book Titles and SEO, What Kind of Reader Are You?
 I am not the only one that loved Beautiful Ruins by Jess Walter and in particular the audiobook version – watch this short interview with narrator Edoardo Ballerini where he explains beautifully what is so special about this book and why it will be considered a modern day classic.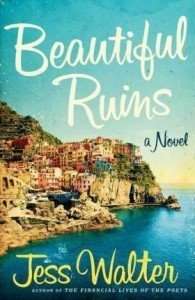 Authors and publishers should read 'Book Titles and Search Engine Optimisation' . It highlights an issue with the use of articles and punctuation within book titles that I come across quite often these days when trying to optimise my reviews for the search engines.
While SEO should not necessarily over-ride creative intent when deciding upon a book title, if I were publishing a novel these days I would give it strong consideration. Also, when you remove articles ('a', 'an' and 'the') and punctuation like apostrophes and exclamation marks from titles, it often makes their artistic impact stronger.
For example, author Bernadette Pajer recently asked me what I thought about the 'A' at the start of her next book title, initially scheduled for publication as A Capacity For Murder. My recommendation was to lose the 'A'.
 What kind of book reader are you? The Atlantic Wire poses that question and suggests different reading styles one might exhibit – Promiscuous Reader, Hate Reader, Chronological Reader, Book Buster, Delayed Onset Reader, Bookophile, Anti-Reader, The Cross-Under, The Multi-Tasker and many more…
I would say I am a combination of Chronological Reader (I barely abandon a book) and Bookophile (I treat books as precious objects), and because I always have at least one 'reading' book and one 'listening' book on the go, perhaps a touch of the Multi-Tasker. What about you?