Aussie Author Challenge participants share their favourite books of 2013
As 2013 draws to a close, so too does the 2013 Aussie Author Challenge.
Never fear, this challenge is back for its fifth year in 2014 (taking sign-ups now), but let's take a moment to reflect on some of the wonderful titles featured this year.
I asked some of this year's participants to share with us which of the books they read for the challenge was their favourite and why.
Tony @ Tony's Reading List said Elliot Perlman's Seven Types of Ambiguity was easily the best. "A wonderful, intelligent Australian novel, and one of my books of the year.  One for people who want to see their society reflected and challenged…" Read Tony's Review.
Tracey @ Carpe Librum found it hard to choose but decided upon Cloudstreet by Tim Winton. "The character of Fish was like no other character I've ever read, and I think his creation by Tim Winton was pure genius.  His character and place in the family was deep and poignant and the end just ripped my heart out.  Second to that I think was the unique Australian language and sense of place that really came through for me." Read Tracey's Review.
Tracey's second choice was The Internet is a Playground by David Thorne, "just for making me laugh so often and so hard".
It was a tough choice for Bree @ All The Books I Can Read too, but she landed on The Rosie Project by Graeme Simsion. "So many reasons I loved this one but Don Tillman is one of the best characters I've read maybe ever and I liked that this was such an unconventional romance novel (written by a man) and that Rosie and Don both accept each other as they are and that Don doesn't have to change, even with all his peculiarities and quirks. Read Bree's Review.
Shelleyrae @ Book'd Out chose Heist by Robert Schofield. "The plot is well thought out, the action convincing and tension runs high and fast. Ford, the protagonist,  has a great sense of humor (read: he is a smarta##) which, along with the Aussie sensibilities of his character (non withstanding his Scot origins), adds humour and it's set in my homestate of WA." Read Shelleyrae's Review.
And Kerrie @ Mysteries in Paradise, well she declared a tie.
Bitter Wash Road by Garry Disher – "This one is set in a South Australia that I recognise with issues like how the drought has affected small rural communities, and at the same time the effects of corruption in the police force." Read Kerrie's Review.
Watching You by Michael Robotham – "Robotham really has become the master of the creepy thriller and an excellent ambassador for Australian writers." Read Kerrie's Review.
Elizabeth @ Devoted Eclectic says the most memorable title she read was the novella Harmless by Julienne van Loon. "The writing is beautiful, the situation depicted is desperate and the effect on me as a reader is to make me think and feel – a combination which I think is at the heart of all great literature." Read Elizabeth's Review.
As you can see a great variety of genres there, some old, some new (plus some excellent reviews!).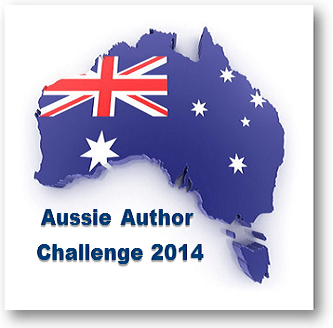 Share with us in the comments below, your favourite book by an Aussie Author in 2013.
If this small selection has whet your appetite, consider joining us in the Aussie Author Challenge in 2014.