Aussie Author Challenge Spotlight – March 2014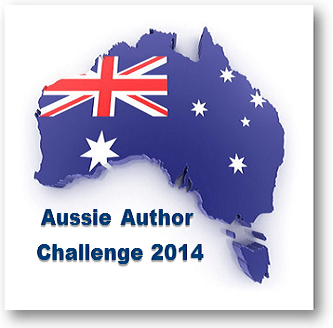 An additional 19 book reviews have been published as part of the Aussie Author Challenge since our February Spotlight.
Crime thrillers were very much the flavour of this month for challenge participants. The political Canberra setting of Peter Cotton's Dead Cat Bounce really worked for Bree; Carol was very impressed with PM Newton's latest release Beams Falling, saying the author 'has a brilliant way with words'; and I am now one of Zane Lovitt's biggest fans after reading his fantastic debut novel The Midnight Promise.

Tony Cavanaugh's new release The Train Rider was a popular choice with Bree and Carol calling it 'a fabulous installment in the series' and 'a first rate psychological thriller', but while still enjoying it Shelleyrae did note 'one flaw is the depiction of the female characters, uniformly beautiful, bright and sensual'. Tracey gave 5 stars to Melanie Casey's debut novel, the psychic thriller Hindsight.
Despite the trend toward crime, a diverse selection of literary titles were featured this month also.  Sarah is thankful a lovely bookseller recommended Kate Grenville's The Lieutenant to her, and She was glad she didn't let the hype surrounding M L Stedman's The Light Between the Oceans put her off reading it because she loved it.
Barracuda by Christos Tsiolkas only moved Cathy to the tune of 3 stars (noticing a trend of ambivalence about this title), Tracey thought the characters in Kristen Krauth's just_a_girl were fascinating, and I found Lucy Neave's debut, cold war thriller Who We Were very difficult to put down.
Just a couple of non-fiction titles featured this month – The Dirty Chef by Matthew Evans inspired Sarah (and I felt hungry just reading her review) and Carol's review of Eugenia by Mark Tedeschi QC brought to our attention a little known true and compelling story of adversity, tragedy, crime and courage.
In collating this small selection of reviews it struck me that a high proportion of these titles are debuts, and the diverse and burgeoning talent that is now the Australian literary scene. Thankfully, Australian publishers are more often taking chances on new talent these days, rather than simply sticking with the well-known names, as had been the case in the not-too-distant past.
Links to all 39 reviews published for the 2014 Aussie Author Challenge thus far can be found on the challenge homepage.
PS: It's not too late to join this posse of passionate promoters of Aussie literature, find out how. There are 4 different challenge levels – 1, 3, 6 and 12 books to review. Why not find a spot for an Aussie Author on your reading pile?