Do you enjoy browsing new book releases lists? I do. So here each month I'm going to highlight the new books (predominantly fiction) I have not yet had a chance to read, but have been window shopping online and instore. Read on for what is new in fiction in July 2020 and June 2020 and catching my attention.
Disclosure: If you click a link in this post and make a purchase, I may earn a small commission.
July 2020 Book Releases Catching My Attention
Whenever people find out I'm an avid reader, the inevitable question is: What is your favourite book? The answer I give is David Mitchell's Cloud Atlas because it was the title that really sparked my love of literary fiction. Utopia Avenue is only the third fiction from Mitchell in the last decade, after The Bone Clocks (2014) and Slade House (2015). In addition smooth prose and skilled characterisations, I particularly enjoy Mitchell's pop culture references (and cameos) and with Utopia Avenue set in the 1960s London music scene, it sounds like a literary treasure trove awaits.  Find out more >>
Anna Downes' debut novel The Safe Place is one of the most hotly anticipated psychological thrillers of July 2020. Its subtitle 'No phones. No Outsiders. No escape.' pulls no punches, and with comparisons being made to Ruth Ware, Lisa Jewell and the gothic menace of Hitchcock's Rebecca, this story about an out-of-work actress who accepts a summer job as a housekeeper on a beautiful remote French estate and gets caught up in the lives of its owners, sounds like an absolute page-turner. Notably, this debut has earned high-praise from the authors of two of my recent favourites in this genre, Christian White (The Wife and the Widow) and Chris Hammer (Silver) . Find out more >>
Bestselling author Gillian McAllister's How to Disappear is another of the new psychological thrillers I am looking forward to. You can run, you can hide, but can you disappear for good? Lauren's daughter Zara witnessed a terrible crime. But speaking up comes with a price, and when Zara's identity is revealed online, it puts a target on her back. The only choice is to disappear.  Looks like How to Disappear will be available to most readers in ebook format in July, with some region's paperback release in September. However, I have my eye on the audiobook narrated by Nicola Walker, one of my favourite British actresses.
Now for a complete change of pace, Dear Emmie Blue by Lia Louis. Described as a 'charming and poignant novel' about a teenage girl who releases a balloon with her email address and a big secret into the sky and falls in love with the French boy that finds it, only to find 14 years later, her hopes dashed and life plans up in the air (again?). With comparisons being made to Evie Drake Starts Over and Eleanor Oliphant is Completely Fine (big call!) this one just sounds too cute-sweet to miss. Tissues may be required. Find out more >>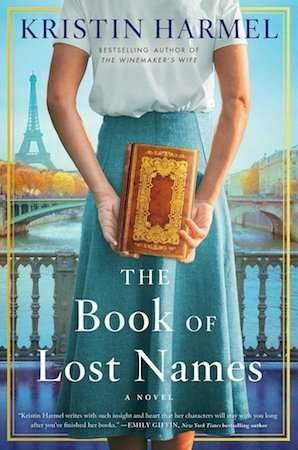 Another lovely blue cover! This time Kristin Harmel's The Book of Lost Names, WWII historical fiction told in reflection, inspired by the true story of a young woman with a talent for forgery that helped hundreds of Jewish children flee the Nazis. A book about a book featuring a mature female librarian lead – sounds just made for book lovers! Featured in many of this season's highly anticipated book lists, it has been described as 'heartstopping' and 'sweeping and magnificent'. Sounds like a must-read. Find out more >>
My curiosity is often piqued by literature on the quirkier side, and this new standalone novel from Jasper Fforde (Early Riser, The Eyre Affair) certainly fits that bill. The Constant Rabbit (July ANZ & UK, September US & CA) is about human-size rabbits living in the UK in 2022. They can walk, talk, drive cars, and they like to read Voltaire, but when a family of them move into a cozy little village in Middle England the villagers turn against them. All except their neighbours Peter and Pippa, who begin to question everything they had ever thought about their friends, their nation, and their species. Kirkus Reviews are calling this 'an astonishingly well-crafted work of social and political satire'.  Find out more >>
I recommend US readers keen to support local independent bookstores, check out this July 2020 Book Releases List at Bookshop.org.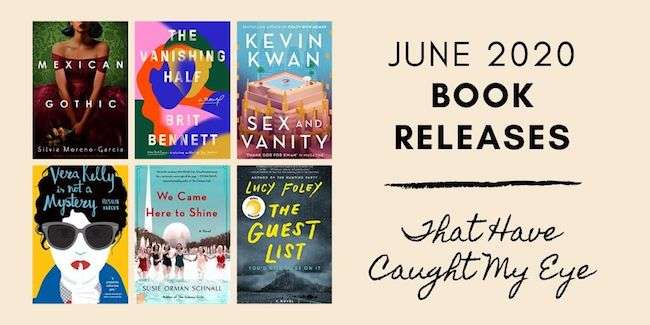 What Was New in Fiction in June 2020
Having been thoroughly entertained by Rich People Problems and looking forward to more of Kevin Kwan's brand of humour, it great to see his new release Sex and Vanity will be hitting the shelves at month-end. Just as in the past, he's certainly owning the subject matter with that title. Described as "a daring homage to A Room with a View, and a brilliantly funny comedy of manners" this sounds like a modern luxe outing of the 'enemies-to-lovers' trope and fabulously fun weekend read. Find out more >>
While I've not yet read Brit Bennett's bestselling debut The Mothers, you would have to have been living under a rock not to be aware of the high praise and accolades it received. Unsurprisingly, her new novel The Vanishing Half has long been one of the most highly anticipated releases of June 2020. But now, given recent events, its subject matter "identical twin sisters, inseparable as children, who ultimately choose to live in two very different worlds, one black and one white" seems even more topical. Find out more >>
Honestly, it was Mexican Gothic's evocative cover art that first grabbed my attention. Then learning Silvia Moreno-Garcia (who's Gods of Jade and Shadows I'd read high praise for) was its author had me investigating further. "An isolated mansion. A chillingly charismatic aristocrat. And a brave socialite drawn to expose their treacherous secrets. . . ."  Both PopSugar and Kirkus Reviews have made comparisons to Daphne Du Maurier's Rebecca (one of my personal favourites), although the latter warns of its heavy horror content. So perhaps best not read on a dark stormy night!  Find out more >>
I've long been attracted to historical fiction set in cities hosting World Fairs. The atmosphere surrounding them sounded electric. While not comparable to that in the late 19th and early 20th century, I still fondly recall the buzz when my city hosted the 1988 World Expo. Oops, I'm really showing my age. So Susie Orman Schnall's new novel We Came Here to Shine, set in an around the World Fair in 1939 New York City "featuring two bold and ambitious women who navigate a world of possibility and find out what they're truly made of during a glorious summer of spectacle and potential" sounds right up my alley. Find out more >>
The Guest List by Lucy Foley (The Hunting Party, The Book of Lost & Found, The Invitation) is on all the must-read lists. With comparisons being made to the queen of locked-room mysteries, Agatha Christie, and a fantastic premise — a wedding celebration fueled with alcohol and petty resentments come murder mystery set on a remote island off the coast of Ireland — The Guest List sounds like an absolute page-turner.  Find out more >>
Who doesn't love a female sleuth? And if she's a jaded down-on-her-luck ex-CIA agent (read, 'lots of baggage and skeletons in the closet'), that sounds even better to me. Rosalie Knecht's Vera Kelly is not a Mystery, is apparently the second title in a series. How did I miss the first, aptly titled Who is Vera Kelly?. Knecht's writing style has been described as "evocative and spare, stylish and brooding" (Booklist) and Vera "a woman of sparkling wit, deep moral fiber, and martini-dry humor who knows how to follow a case even as she struggles to follow her heart." Find out more >>
I recommend US readers keen to support local independent bookstores, check out this June 2020 Book Releases List at Bookshop.org.
UPDATED