LET THE GREAT WORLD SPIN by Colum McCann, Book Review
Let the Great World Spin Synopsis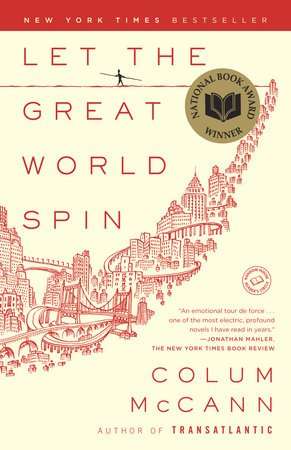 In the dawning light of a late-summer morning, the people of lower Manhattan stand hushed, staring up in disbelief at the Twin Towers. It is August 1974, and a mysterious tightrope walker is running, dancing, leaping between the towers, suspended a quarter mile above the ground. In the streets below, a slew of ordinary lives become extraordinary in bestselling novelist Colum McCann's stunningly intricate portrait of a city and its people.
Let the Great World Spin is the critically acclaimed author's most ambitious novel yet: a dazzlingly rich vision of the pain, loveliness, mystery, and promise of New York City in the 1970s.
Corrigan, a radical young Irish monk, struggles with his own demons as he lives among the prostitutes in the middle of the burning Bronx. A group of mothers gather in a Park Avenue apartment to mourn their sons who died in Vietnam, only to discover just how much divides them even in grief. A young artist finds herself at the scene of a hit-and-run that sends her own life careening sideways. Tillie, a thirty-eight-year-old grandmother, turns tricks alongside her teenage daughter, determined not only to take care of her family but to prove her own worth. Elegantly weaving together these and other seemingly disparate lives, McCann's powerful allegory comes alive in the unforgettable voices of the city's people, unexpectedly drawn together by hope, beauty, and the "artistic crime of the century."
A sweeping and radical social novel, Let the Great World Spin captures the spirit of America in a time of transition, extraordinary promise, and, in hindsight, heartbreaking innocence. Hailed as a "fiercely original talent" (San Francisco Chronicle), award-winning novelist McCann has delivered a triumphantly American masterpiece that awakens in us a sense of what the novel can achieve, confront, and even heal.
(Penguin Random House, 2009)
Disclosure: If you click a link in this post and make a purchase, I may earn a small commission.
BOOK REVIEW
Profound. Colum McCann, author of Let the Great World Spin should take a bow.
One of my favourite authors, Frank McCourt, has described this work 'a symphony of a novel'. I agree with this description whole-heartedly. I felt like applauding when I reached the final page.
McCann presents New York City in 1974, at the time of the Vietnam War as a single living breathing organism and then deconstructs that into disparate parts through the intertwining stories of its inhabitants. At the epicentre is a single man, a tightrope walker, between the twin towers of the World Trade Centre.
The character development achieved by McCann in less than 400 pages is impressive to say the least. These characters are gritty and real – McCann shows us this through their flaws. The characters individual stories are each in themselves compelling, and the way their stories intertwine poetic.
But McCann's skill as an author does more than tell a story, he takes the reader on a journey. A journey that genuinely moved me. Why was I moved? McCann shows great sensitivity for his characters and for humanity.
'Everything falls into the hands of music eventually. The only thing that ever rescued me was listening to a big voice. There are years accumulated in a sound.'
The symbolism used in Let The Great World Spin is brilliant.
Each individual, the city, the country, the world – all on a metaphorical tight-rope. This novel epitomizes why I enjoy literary fiction. At its worst literary fiction can provide a stage for an author's self-indulgence; at its best, it is a form of artistic expression that has the power to influence thinking. In my opinion, Let the Great World Spin is the latter.
You do not need to have lived through the Vietnam War to be able to connect with this novel. If you appreciated the movie Crash, this novel is for you. I cannot recommend Let The Great World Spin more highly. I look forward to reading more from Colum McCann.
BOOK RATING: The Story 5 / 5 ; The Writing 5 / 5
Get your copy of Let The Great World Spin from:
Amazon Bookshop US Book Depository Kobo Booktopia AU
OR listen to the audiobook FREE with Audible's Trial (check eligibility)
Update: I have since also enjoyed Colum McCann's novel Transatlantic.
About the Author, Colum McCann
Colum McCann was born in Dublin, Ireland in 1965. He now lives in New York with his wife and three children. In 2009 McCann was awarded the National Book Award for Let the Great World Spin (2009).
Other titles by McCann include Zoli (2006), Dancer (2003), Everything in This Country Must (2001), This Side of Brightness (1998), Songdogs (1998), Fishing the Sloe-Black River (1998). His fiction has been published in 30 languages and received numerous literary awards.