THE CHICKEN THIEF by Fiona Leonard, Book Review & Author Interview
The Chicken Thief Synopsis :

Alois is The Chicken Thief, an intelligent young man impelled into a life of crime as a means of survival in southern Africa. The political climate is turbulent, with the current President experiencing lagging popularity, and under pressure from a disillusioned population.
A chance encounter gives Alois the opportunity to make some fast money, and hopefully improve his future. However, his assignment goes horribly wrong, and Alois unexpectedly finds himself on a complicated and perilous pathway, entangled in intrigue and heroism. Though something of an unlikely hero, Alois ultimately learns that dreams and justice are both within his grasp.

Book Review
On one level The Chicken Thief reads as an action-packed and edge of your seat political thriller. On another level, a very intimate tale of one man's journey, with his journey of self-discovering mirroring that of an entire nation.
The understated title of Fiona Leonard's novel, The Chicken Thief, belies the depth and power of the message that lies within.
Leonard's prose conveys great passion and maturity whilst avoiding self-indulgence.
People think you can only die once, but Alois knew death took a long time. It was like carving a stone. You take a chisel and chip away bit by bit until only the beautiful form is left. Each chip makes you what you are, but what is left is fragile. Kick a rock over and it thuds into the dust. Kick over a carving and watch it fall apart. By the time you know what the rock is meant to look like it's too late.

Alois's mother was like that. Time had been a hard craftsman. Some of the blows had been dealt when she wasn't looking, others she went in search of. If you always look at your feet and never the sun, you won't be blinded. But Alois's mother was different. She wasn't content to simply look, she wanted to climb up and see what the sun was made of herself.
In The Chicken Thief, Leonard personalises for the reader the stories of political upheaval often seen in the headlines. Her characters are multi-dimensional, each with their own personalities and motivations.
I was so impressed by this novel from an Australian author I had not previously heard of – and I know you will be too. Truly great fiction both entertains and has the power to shape people's thinking – in The Chicken Thief, Leonard has achieved just that.
Fiona Leonard is definitely an author to watch, and The Chicken Thief, a novel I will be recommending to my friends.
BOOK RATING: The Story 5 / 5 ; The Writing 5 / 5
Genre: Action-Adventure, Thriller, Drama, Literature
Disclosure: If you click a link in this post and make a purchase, I may earn a small commission.
About the Author, Fiona Leonard
Fiona Leonard has had a string of perfect jobs.
Fiona was recruited out of university to the Australian Department of Foreign Affairs and Trade and spent the next ten years being paid to write and travel around the world. During this time she wrote everything from speeches, to ministerial briefings, reports and press releases. Perks of the job included meeting Nelson Mandela and coordinating a tour of Zimbabwe by an Australian rock band (Yothu Yindi). In 2003 she was awarded an Order of Australia medal for her work.
After leaving the foreign service she became a consultant in international politics and trade, meaning she got to write a lot, usually from home (and occasionally in pyjamas).She is particularly proud of a book she wrote on women in export.
A twelve month road trip across the United States and Canada in 2009 afforded Fiona the opportunity to break away from writing about international politics and try something a bit different. Twenty-one states and fifteen thousand miles later she had finished her first novel, started work on her second and had begun to build a freelance portfolio writing for Australian magazines. She also posted over 200 blogs during this period, detailing a journey that author, Daniel Pink described as 'terrific and inspiring'.
She is now based in Ghana, West Africa, where she writes, blogs, home schools her daughter and plots ways to incorporate more travel into her life.
Interview
In The Chicken Thief I noticed you were careful not to specify which African country the story was set in. What what was your motivation for crafting your novel in this way?
In my mind I have a very clear picture of where the novel is set, but I don't want the reader to bring their preconceptions about real people or events to the story. The President in particular is a character I wanted judged on the way he is portrayed in the book, not on the basis of what people know about a specific person.
I finished writing this novel around the time of the uprisings in North Africa – particularly in Egypt and I was struck by the similarities between what was happening there and what I had been writing about. Not tying the story to a particular country lets you draw parallels with any number of countries.
The Chicken Thief is your second novel. Information on your debut novel Dancing with Zebras is a little harder to find. Tell us about this story and where international readers can purchase a copy?
I self published Dancing With Zebras in 2009 in a very low key way. As much as anything I wanted to put it out into the world so I could move on with my next novel. Writing The Chicken Thief gave me lots of ideas about how I could rewrite Zebras and improve it so, being the perfectionist that I am, I withdrew it from sale until I have the time to rewrite it. (Maybe next year?)
Zebras will always hold a very dear place in my heart as I think all first novels do. It is a strong family drama set against the political and cultural environment of pre-Independence Zimbabwe. The novel traces the return to southern Africa of Sara, a young woman who has spent the previous years studying in London. In the wake of a tragic accident, Sara struggles to reconcile her relationship with her two families – the one who gave her up for adoption and her adopted family.
You are selling the Kindle version of The Chicken Thief at what I would consider a low price point, only $2.99 USD. How did you determine your pricing?
As an unknown author your biggest challenge is obscurity. What you need is for people to be prepared to take a chance on someone they've never heard of and I think $2.99 is a very comfortable price for that. Some of my best marketing too is done by people who have read the book and tell their friends. I've had a lot of people who've convinced their book group to read it, or bought five copies for their friends. I'm incredibly grateful to people who are prepared to help spread the word, and if I can help them by keeping the price down, then I'm happy to do that.
Do you have another novel in the pipeline right now?
I'm currently plotting the sequel to The Chicken Thief. I'm hoping to sit down and start writing in a couple of months with a view to publishing early next year. I never intended to write a sequel, but I had a number of people who were reading chapters while I was writing who started asking whether there would be a sequel. To placate them I decided to leave a couple of loose ends at the end of the novel just in case I got inspired. When I sat down to experiment with plotting I realised there were a lot of threads I wanted to pursue, and now I'm itching to keep writing!
To my knowledge you have chosen to promote both of your novels yourself. What do you enjoy more – the writing of the novel or the subsequent promotion?
I love writing immensely. When I'm working on a novel it's all consuming – I wake in the night with ideas and become absorbed in my characters. In the past though, the thought of having to also promote my work filled me with abject fear and I avoided it at all costs. But I've come to appreciate that authors need to be story tellers and story sellers.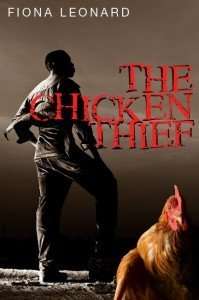 What surprised me is how much I've enjoyed promoting the book, I think mainly because it has allowed me to connect with amazing people around the world. If you have a look at The Chicken Thief page on Facebook (https://www.facebook.com/TheChickenThief) you can see photos sent in from readers on three continents – I've just posted a gorgeous picture of it being read in the Rockies! I love too seeing the way that people connect with the characters – it's like introducing your best friend to someone and having them really like each other!
I'm always on the lookout for new people to introduce my cast of characters too, so if you're interested in reading/reviewing, please let me know! You can find me either on my blog – www.fionaleonard.net, facebook https://www.facebook.com/TheChickenThief or via email fiona.leonard@gmail.com