Book Review – LOVE and Other Stories by Lucille Redmond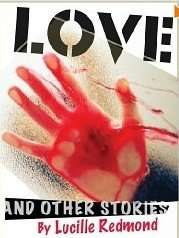 Love  Synopsis

Love is a collection of short stories, ranging from Elsewhen, in which an alternative Muslim Ireland is the home to a doomed love affair, to Wolf and Water, a Stone Age adventure, to And the Green Sea Ebbs Away, among colonists and natives on a sea planet, to the title story, Love, a murder story, to Our Fenian Dead, in which an Irish revolutionary tries to make a new life in the Wild West, to Affect and Repression, a psychoanalytic comedy. (Amazon)
BOOK REVIEW
I do not often read short story collections but the eclectic mix of subject matter described within Lucille Redmond's  Love and Other Stories summary really appealed to me.
Love and Other Stories contains 9 short stories, ranging from extremely short (3 page) 'thought' pieces through to more comprehensive and traditionally told tales. The varied subject matter and commonplace settings with small but crucial fantasy tweaks really stretched my imagination – generally in a good way, but in a few instances I will admit to being a little lost.
As with any short story collection I had my favourites.
I thought Fish was a particularly powerful piece, that cleverly highlighted the dangers of being blinded by self-importance. The prose is artful and evocative but I will resist quoting a passage for fear of spoiling the story.
Affect and Repression is a neat yet moving tale exploring how our experiences shape us, for better or worse. It features a sentence that really struck a chord with me.
The loss of affect is an effect of repression.
The title story, Love, is also deeply affecting and contains some deceptively simple but profound passages.
"It's a dangerous weapon." He handed it back to her.

"The only dangerous weapon is here." She pointed to her head and laughed.

"Or here," he said, pointing to his heart.
Lucille Redmond's Love and Other Stories is one of the more inventive and diverse collections of short stories I have read. I would recommend it as the perfect palate cleanser for the literary minded between heavy tomes.
BOOK RATING: The Story 4 / 5 ; The Writing 4 / 5
Have you read this short story collection? Do you want to?
Disclosure: If you click a link in this post and make a purchase, I may earn a small commission.
Join the discussion below.
BOOK DETAILS: Love (Amazon)
Genre: Short Stories, Drama, Romance, Action-Adventure, Sci-Fantasy
Author Information: Lucille Redmond wrote her first story in 1975 – The Shaking Trees, which was published in New Irish Writing in The Irish Press, then edited by its founder, David Marcus. It won the Hennessy Award that year, judged by William Saroyan. In the next few years her stories were published in The Transatlantic Review, Cyphers, The Salmon and other magazines. A book of stories, Who Breaks Up the Old Moons to Make New Stars, was published in 1978, and won an award from the Irish Academy of Letters. She was awarded a bursary from the Arts Council that year, and continued to write, and had stories published, in The Irish Times, The Irish Press, The Sunday Tribune, Transatlantic Review, Krino, Cyphers, Salmon, The Deed and other newspapers and magazines, and in various anthologies of stories, in the succeeding years.
– Interview: Lucille Redmond talks about her Love and other Stories collection
– Checkout another teaser from the story titled Elsewhen from this collection
* Receiving a copy of this title free from the author for review did not in anyway impact my expression of my honest opinions about it.