Book Review – WHAT THE ZHANG BOYS KNOW by Clifford Garstang
Today Booklover Book Reviews has the great pleasure of hosting the

TLC Book Tour

for

What The Zhang Boys Know, A Novel in Stories by Clifford Garstang.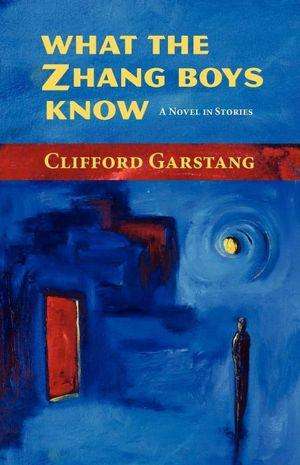 What The Zhang Boys Know  Synopsis

Set in a condominium building on the edge of Chinatown in Washington, D.C., these stories present the practical and emotional struggles of Zhang Feng-qi, originally from Shanghai, to find a new mother for his sons following the death of his American wife.
Along the way, the stories spotlight Zhang's neighbours as they seek to fill gaps in their own lives:
the young bookseller diagnosed with a life-threatening illness;
the young lawyer trying to cope with a failed marriage;
the obsessive painter haunted by the image of a face;
the middle-aged woman forced to sell her possessions in order to survive;
the sculptor, overwhelmed by longing for the son he didn't know he had.
And then there are the Zhang boys, who firmly believe that their mother is coming back. What is it that they know? (Amazon)
Disclosure: If you click a link in this post and make a purchase, I may earn a small commission.
BOOK REVIEW
The first thing that struck me when I began reading What The Zhang Boys Know is Clifford Garstang's interesting writing style. At first glance his penchant for long sentences may seem undisciplined but you very quickly realise this engaging, conversational style of prose adds intrigue and pace to the storytelling.
It is important to know that What The Zhang Boys Know is a cohesive novel told in stories, rather than a book containing a collection of stories.
What The Zhang Boys Know by Clifford Garstang artfully explores the complexities of society comprising individuals on distinctly different paths in pursuit of their unique versions of happiness.
In setting the story within Nanking Mansion, a vintage building containing twelve condos in an area of Washington DC undergoing re-gentrification, he has created a microcosm of modern society. The re-gentrification of the area mirrors the restoration or 'renovation' taking place in the lives of its residents. Each of the stories, or chapters within the novel, is told from a different residents point of view, and through this changing narrative we gradually learn more about each of the residents based on other residents descriptions and opinions of them. It is particularly intriguing and informative how different people see very different things in people they do not know. This approach to storytelling reminds us that we often make assumptions and judgements about strangers based on very little information and often arrive at conclusions quite distinct from reality. But then again, isn't each viewpoint in itself a version of the 'truth'?
Particularly disarming is the viewpoint of the young Zhang boys who keep a close eye on the comings and goings in the building, and often notice more than the adults.
There's a room in the basement that Mr Artoyen  keeps locked, and one time Simon saw Mr Artoyen put some big boxes inside. He turned around and saw Simon standing there and put his finger to his lips and said shh, and Simon didn't now why. Except now he badly wants to know what's in those boxes.
I find it remarkable that Clifford Garstang has managed to achieve such detailed character development and included so many well developed story lines in a novel of only 218 pages. He delivers wonderful descriptive sequences that beautifully evoke time, mood and place, and it is these that elevate the story of the residents to that of a deeper message about life. What The Zhang Boys Know is brimming over with content, while never feeling rushed or cliche.
I found myself swiftly drawn into the world Clifford Garstang created at Nanking Mansion and I highly recommend you take the journey too.
BOOK RATING: The Story 4 / 5 ; The Writing 5 / 5
Genre: Literature, Drama, Romance, Mystery

Be sure to check out the other tour stops on this TLC Book Tour.
– Read another teaser from this novel
Author Information: Clifford Garstang is the author of What the Zhang Boys Know (Press 53, 2012) and the prize-winning linked story collection In an Uncharted Country (Press 53, 2009). His work has appeared in numerous literary magazines including Bellevue Literary Review, Blackbird, Cream City Review, Shenandoah, Tampa Review, and Virginia Quarterly Review, and has received Distinguished Mention in the Best American Series. He holds an MFA in Fiction from Queens University of Charlotte and is the co-founder and editor of Prime Number Magazine. He is also the author of the popular literary blog Perpetual Folly.
After receiving a BA in Philosophy from Northwestern University, Garstang served as a Peace Corps Volunteer in South Korea, where he taught English at Jonbuk University. He then earned an MA in English and a JD, magna cum laude, both from Indiana University, and practiced international law in Chicago, Los Angeles, and Singapore with one of the largest law firms in the United States. Subsequently, he earned a Master of Public Administration from Harvard University's John F. Kennedy School of Government and worked for Harvard Law School as a legal reform consultant in Almaty, Kazakhstan. From 1996 to 2001, he was Senior Counsel for East Asia at the World Bank in Washington, D.C., where his work focused on China, Vietnam, Korea, and Indonesia.
Garstang teaches creative writing at Writers.com and elsewhere. He currently lives in the Shenandoah Valley of Virginia.
Cover artist BenWill (Benjamin Williamson) is a modern abstract expressionist painter living in Portland, Oregon. See more examples of his work at www.benwill.com.
Other reviews of What The Zhang Boys Know: Under My Apple Tree, Write Now Right Now, Patricia's Wisdom, Stories I Read Stories I Tell
* My receiving a copy of this book free of charge for review purposes did not impact my ability to express my honest opinions on this title.