THE TRAVEL AUCTION by Mark Green, Book Review
The Travel Auction is the first novel in Mark David Green's four-book Travel Auction Adventures series. Read why it is one of my favourite indie novels.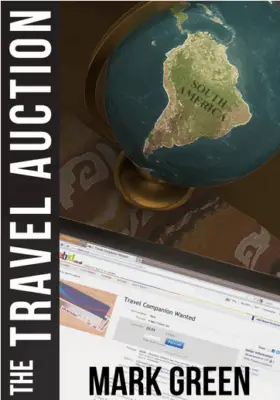 The Travel Auction Book Synopsis
Could this be the ultimate blind date…?

It should have been their trip of a lifetime. But with just days to go, Jonathan Cork finds his girlfriend in a compromising position with the local plumber. He's left with a broken heart, serious debts and a spare ticket in the name of 'Kate Thornley'. With the departure date looming, Jonathan takes desperate measures and advertises for a new companion with the same name as his ex.

But Jonathan has no idea what he's letting himself in for – certainly not a gorgeous former nurse with a feisty attitude and plenty of her own baggage, not to mention a superman costume and a very determined camera crew …
(February 2013)
Disclosure: If you click a link in this post and make a purchase, I may earn a small commission.
BOOK REVIEW
A fun read is what all book lovers need sometimes after all the serious stories we stretch our minds with, and when you can find humour and escapism in a package brimming with heart, all the better. The Travel Auction by Mark Green is all that and more.
Without giving too much away, there's something special about Kate – you know that much from the synopsis. It is that difference which gives this story the necessary grit and substance. And it is the manner in which Jonathan and Kate respond to that difference (sometimes refreshingly non-PC) which makes them such realistic and endearing characters.
The storytelling framework is simple but very effective. The first-person narrative viewpoint alternates between the two characters in an interview-style format with the speaker marked at each exchange. Although slightly confusing on a couple of occasions, in general the dual viewpoints allow ample scope for colourful evocation of time, place and mood. I would really love to say more, but cannot without giving the story away… you'll just have to read it yourself.
Hard to put down, The Travel Auction is a satisfying way to spend a lazy Sunday afternoon, and one of the rare rom-com-type novels I've come across that genuinely holds entertainment value for a male audience also.
The Travel Auction by Mark Green is more than 'romance in the real world and laugh-out-loud moments – it is about the importance of choices we make and the value of trust; it is about the personal growth (the metaphorical journey) that can be achieved when we take a chance and leave our baggage (our misconceptions) at the door.
BOOK RATING: The Story 4.5  / 5 ; The Writing 3.5 / 5  – Overall 4 / 5
Get your copy of The Travel Auction from:
Amazon
UPDATE: Read our review of Mark Green's second novel, The Curse of the Lonesome Mariner – another entertaining yarn with heart. Along with Book 2 and Book 3 in this Travel Auction Adventure series, The Travel Mate and The Travel Truth.
2017 Update: The Axani travel auction, a case of life imitating art
Have you heard about Jordan Axani, the guy from Toronto who recently advertised for a person with the same name as his ex-girlfriend to go travelling with him on non-refundable airline tickets?
Here's one of the many recent news articles:
'Jordan Axani finds an Elizabeth Gallagher for free trip around the world'
There are certainly people questioning Axani's motives, but at least after the applications and media attention started flooding in he's taken the opportunity to set up a charity called A Ticket Forward.
BUT the connection all those covering this story have failed to make is that this is a case of life imitating art – specifically The Travel Auction novel independently published by Mark David Green back in February 2013.
About the Author, Mark David Green
Check out the author's website and this Booklover Book Review interview with him discussing what inspired this novel. Connect with him on Twitter.
Paperback Giveaway
Mark kindly offered a signed paperback copy of this novel The Travel Auction for international giveaway. We had a huge response to this and so a very big thank you to all who spread the word about it via social media. And, the randomly selected winner was Barbara! We've sent an email to arrange delivery of her prize.
* Receiving this title free from the author did not impact my ability to express my honest opinions in the review above.