Book Review – THE COMBOVER by Adrian N Bravi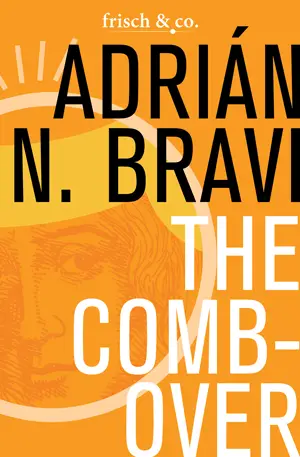 The Combover Synopsis:
Arduino Gherarducci is the latest in the family line of bald men with ornate combovers. Some combed their hair from one side of the head to the other, some weaved the remnants of their hair together in the middle, but Arduino favors the imperial style of Julius Caesar: forwards, with a fringe. Although fiercely proud of his combover, it has some serious drawbacks. A sudden gust of wind, or a malevolent prankster, could ruin it at any moment. When the worst happens, Arduino decides to abandon his comfortable university life, as a professor of bibliographic data exchange formats, and he heads toward freedom: Lapland. But he only makes it as far as a mountaintop in Le Marche, where he sets himself up as a hermit and his life takes an unexpected turn…
A hilariously dark tale in the tradition of César Aira, The Combover confirms Bravi's unique status among Italian contemporary writers. (Frisch & Co.)
Translated from the original Italian by Richard Dixon
BOOK REVIEW
I am often drawn to quirky or artistically unusual literature, pieces that bring the unfashionable or typically less noteworthy aspects of, or characters in, society to the foreground.  The Combover by Adrian N Bravi does just that.
The philosophy of the Gheraducci family (or most of them) was that the respectable approach was to hide a deficiency using one's own resources, without resorting to hairpieces, wigs, transplants, or whatever else, nor resorting to such vulgarities as shaving.
Arduino Gherarducci is a black sheep. At first one feels empathy for this misunderstood character, relentlessly teased about his choice in hairstyle. These interactions with his tormentors and in particular his trip to the barber introduce light comedic notes to the tale. But one quickly learns there is a much darker side to Arduino's obsession with his hair – it is a means by which he justifies his disconnection with the people around him.
It is this darker side of obsession and emotional dislocation that Bravi explores in The Combover where the very darkest of humour arises.
I have never concealed my dislike for the human race — a dislike I have cultivated not only by reading certain history books and certain philosophical and theosophical theories but also through sleeping in the same room as my brother.
An opinionated and curmudgeonly soul, Arduino sets off on a quest of sorts to find a place where he feels at peace. But much to his disgust he finds wherever he goes he cannot get away from other people and their expectations of him. Emotionally stunted and erratic, his attempts at understanding and being understood meet with varying degrees of success/failure.
Adrian Bravi's prose is original and engaging, and full credit goes to translator Richard Dixon because the often tell-tale signs that a piece has been translated were nowhere to be seen.
The Combover by Adrian Bravi contains more depth and darkness than one might expect from its title. I would recommend it to those who find intrigue in the unusual.
BOOK RATING: The Story  3.5 / 5 ; The Writing 4 / 5
Disclosure: If you click a link in this post and make a purchase, I may earn a small commission.
Have you read The Combover ? Do you want to?
Join the discussion below.
BOOK DETAILS: The Combover by Adrian N Bravi ( Kobobooks | Amazon | Frisch & Co )
Genre: Drama, Humour, Translation
Author Information: Adrián N. Bravi was born in San Fernando, Buenos Aires, and lives in Italy. He works as both a librarian and writer, and he has published a number of successful novels in both Spanish and Italian. He also contributes to various literary magazines and has co-hosted Fahrenheit, a popular Italian radio program.
Other reviews of The Combover: Numero Cinq; Mobile Perceptions

* My receiving a copy of this book from Frisch & Co. did not impact my ability to express my honest opinions on this title.