Book Review – FATAL IMPRESSIONS by Reba White Williams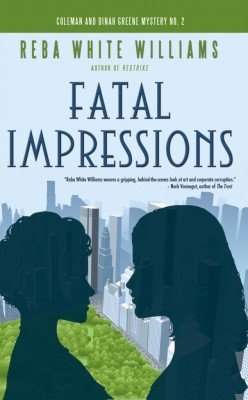 Fatal Impressions Synopsis:
Coleman and Dinah Greene are making names for themselves in the art world. Coleman`s magazine publishing empire is growing and Dinah`s print gallery is gaining traction. In fact, Dinah has just won the contract to select, buy, and hang art in the New York office of the management consultants Davidson, Douglas, Danbury & Weeks – a major coup that will generate The Greene Gallery`s first big profits. However, when Dinah goes to DDD&W to begin work, she discovers a corporate culture unlike anything she`s ever encountered before. There are suggestions of improprieties everywhere, including missing art worth a fortune. And when two DDD&W staff members are discovered murdered, Dinah and Coleman find themselves swept into the heart of another mystery. Revealing the murderer will be no easy task… but first Dinah needs to clear her own name from the suspect list.
BOOK REVIEW
I was attracted to Fatal Impressions' premise involving crime in the art world, as it's a setting that is ripe with interesting characters, entanglements and motivations.
And Williams did not disappoint on that front. Fatal Impressions is filled with larger than life characters – from her protagonists Dinah and Coleman, girls from humble, somewhat bohemian beginnings, who've made it into the upper echelons of New York movers and shakers, to the many outlandish characters that also move in those circles. These gals' tough talking dialogue (and that of their colourful cousins) is peppered with Southern charm, and references to June bugs and yellow jackets. Dinah and Coleman are outspoken and independent, standing up for what they believe in and often throwing caution (and good sense) to the wind when they find themselves on the scent of a murderer.
While the plot and level of depravity of some of the characters involved stretches the plausibility factor on occasion, Fatal Impressions is an undeniably entertaining read. The feisty female characters and celebration of girl-power, along with there being a white knight and a love interest or two conveniently waiting in the wings, gives this novel a light-hearted chick-lit vibe which balances out the darkness of the murderous acts they are investigating.
Fatal Impressions by Reba White Williams is an escapist, feel-good mystery with memorable characters sure to spawn future titles.
BOOK RATING: The Story 3 / 5 ; The Writing 3 / 5
Disclosure: If you click a link in this post and make a purchase, I may earn a small commission.
Have you read Fatal Impressions ? Do you want to?
Join the discussion below.
BOOK DETAILS: Fatal Impressions by Reba White Williams ( Booktopia | Kobobooks | Amazon | Book Depository )
Genre: Mystery, Crime-Detective, Chick Lit, Romance
Author Information: Reba White Williams worked for more than thirty years in business and finance—in research at McKinsey & Co., as a securities analyst on Wall Street, and as a senior executive at an investment management firm. Williams graduated from Duke with a BA in English, earned an MBA at Harvard, a PhD in Art History at CUNY, and an MA in Writing at Antioch. She has written numerous articles for art and financial journals. She is a past president of the New York City Art Commission and served on the New York State Council for the Arts.
She and her husband built what was thought to be the largest private collection of fine art prints by American artists. They created seventeen exhibitions from their collection that circulated to more than one hundred museums worldwide, Williams writing most of the exhibition catalogues. She has been a member of the print committees of several leading museums.
Williams grew up in North Carolina, and lives in New York, Connecticut and Southern California with her husband and Maltese, Muffin. She is the author of two novels featuring Coleman and Dinah Greene, Restrike and Fatal Impressions, along with the story of Coleman and Dinah when they were children, Angels. She is currently working on her third Coleman and Dinah mystery.
Other reviews of Fatal Impressions : Kirkus Reviews ; Publishers Weekly ; Bound by Words
* My receiving an ebook copy of this title from The Story Plant for review purposes in no way hindered the expression of my honest opinions in the above.