A Fortunate Life by A B Facey, Review: Humble tale of resilience
A Fortunate Life by A B Facey is a moving and humble tale of resilience that offers stark and valuable perspective to modern readers. Read on for our full review and more about the author and how his story came to be published.
A Fortunate Life Book Synopsis
Born in 1894, Albert Facey lived the rough frontier life of a sheep farmer, survived the gore of Gallipoli, raised a family through the Depression and spent sixty years with his beloved wife, Evelyn. Despite enduring hardships we can barely imagine today, Facey always saw his life as a 'fortunate' one. A true classic of Australian literature, his simply written autobiography is an inspiration. It is the story of a life lived to the full – the extraordinary journey of an ordinary man.
(Penguin Australian Classics)
Genre: Memoir, Non-fiction, Historical
Disclosure: If you click a link in this post and make a purchase, I may earn a small commission.
BOOK REVIEW
A B Facey's memoir is one of the Australian classics that I have always wanted to read but am ashamed to say never seemed to find time for until now.
It is a privilege to have read this simply told story of a man described as 'ordinary'.  Just the fact that Albert found himself in a position to pen his experiences at such a ripe old age is nothing short of amazing. Albert's humble tale is one of resilience and ingenuity through unimaginably difficult childhood circumstances.
It was a feeling of wonder – not lonely, not afraid – a feeling of independence.
A Fortunate Life's straight-talking narrative contains no pretence and Albert expresses his feelings about the many people he meets in the simplest and most direct terms. He either likes them or he doesn't, he either enjoys or does not enjoy being around them. Pure of heart, he is fiercely loyal to those that treat him well, keeps his promises and stands up for himself and others when able to do so.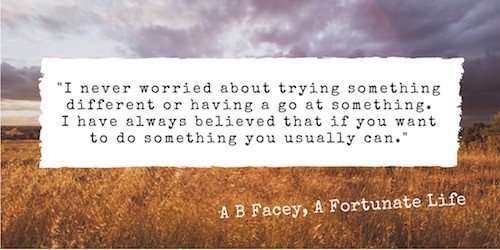 I think it is the understated and matter-of-fact description of the many traumatic events that peppered Albert Facey's life, including his landing at Gallipoli, that is the key to A Fortunate Life's ability to move its audience. He neither glorifies hardship nor wears it like a badge; he simply appreciates the good whenever and in whatever form it comes. Facey's approach to life and inner strength was far from 'ordinary'.
The stark perspective this unassuming title can shine on our everyday trifles is a gift to a modern reader.
BOOK RATING: The Story 5 / 5 ; The Writing 2.5 / 5 — Overall 3.75
Get your copy of A Fortunate Life from:
Book Depository Booktopia Amazon Kobo
OR listen to the audiobook FREE with Audible's Trial (check eligibility)
More Memoirs:
Little Princes by Conor Grennan  /  Eat, Pray, Love by Elizabeth Gilbert  /  My Salinger Year by Joanna Rakoff / Let's Explore Diabetes With Owls by David Sedaris  /  The Gunners of Shenyang by Yu Jihui
About the Author, Albert Facey
A.B. Facey was born in 1894 and grew up on the Kalgoorlie goldfields and in the wheat-belt of Western Australia. His father died before he was two and he was deserted by his mother soon afterwards. He was looked after by his grandmother until he was eight years old, when he went out to work. His many jobs included droving, hammering spikes on the railway line from Merredin to Wickepin and boxing in a travelling troupe. He was in the Eleventh Battalion at the Gallipoli landing; after the war, he became a farmer under the Soldier Settlement Scheme but was forced off the land during the Depression. He joined the tramways and was active in the Tramways Union.
Facey, who had no formal education, taught himself to read and write.
He made the first notes of his life soon after World War I. He filled notebooks with his accounts of his experiences. Finally, on the urging of his daughter, Barbara Rose, the hand-written manuscript was submitted to the Fremantle Arts Centre Press; to see 'if they could print a few copies for the family'. They very soon found they had a bestseller on their hands! Albert died in 1982, nine months after A Fortunate Life had been published, and his daughter Barbara died in 2010.
A Fortunate Life was made into a TV mini series in 1985.
* My receiving a hardback copy of this title from Penguin did not impact the expression of my honest opinions in the review above.