A Murder in Time by Julie McElwain, Review: Potential unfulfilled
A Murder in Time is the first title in Julie McElwain's Kendra Donovan Mysteries series – a book that garnered lots of pre-release industry buzz.
A Murder in Time Synopsis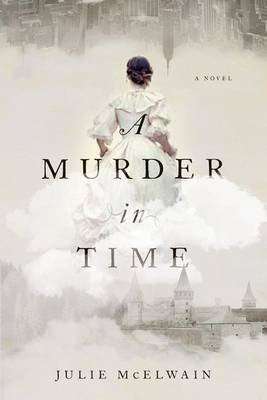 When brilliant FBI agent Kendra Donovan stumbles back in time and finds herself in a 19th century English castle under threat from a vicious serial killer, she scrambles to solve the case before it takes her life—200 years before she was even born.
Beautiful and brilliant, Kendra Donovan is a rising star at the FBI. Yet her path to professional success hits a speed bump during a disastrous raid where half her team is murdered, a mole in the FBI is uncovered and she herself is severely wounded. As soon as she recovers, she goes rogue and travels to England to assassinate the man responsible for the deaths of her teammates.
While fleeing from an unexpected assassin herself, Kendra escapes into a stairwell that promises sanctuary but when she stumbles out again, she is in the same place – Aldrich Castle – but in a different time: 1815, to be exact.
Mistaken for a lady's maid hired to help with weekend guests, Kendra is forced to quickly adapt to the time period until she can figure out how she got there; and, more importantly, how to get back home. However, after the body of a young girl is found on the extensive grounds of the county estate, she starts to feel there's some purpose to her bizarre circumstances. Stripped of her twenty-first century tools, Kendra must use her wits alone in order to unmask a cunning madman.
Genre: Fantasy, Historical, Thriller, Mystery, Crime-Detective, Romance, Action-Adventure
Disclosure: If you click a link in this post and make a purchase, I may earn a small commission.
A Murder in Time Review
I really wanted to love A Murder in Time, Julie McElwain's debut novel and my own purchase, but sadly am now left perplexed as to all the industry buzz, high average Amazon and Goodreads rating and that it was the most recent Big Library Read.
This title, the first in a planned Kendra Donovan mysteries series, was one of the April 2016 book releases that caught my eye. Gorgeous cover art, kick-arse female lead, murder, mystery and time travel… sounded like a fun read after some of the more intense fiction titles I've been immersed in recently. I came looking for entertainment rather than a literary challenge, and yet I'm still disappointed.
From the very beginning, I found engagement with lead character Kendra Donovan FBI agent problematic. Being a social outcast by design does not waive the requirement for credible character development in her 'own time'. While the portion of the novel set 200 hundred years prior was considerably more interesting (as McElwain introduced a cast of colourful characters, albeit still fairly one-dimensional), issues of plausibility and character consistency mounted to a level that could not be overlooked. While A Murder in Time's concept clearly had great potential, it fell short in the execution.
"The accouterments of humanity may change, but its heartbeat remained the same." – A Murder in Time
Both A Murder in Time's conclusion, and the pre-emptive series naming, point to there being a sequel. I sincerely hope that greater editorial focus is applied to the next instalment of the Kendra Donovan Mysteries, and that the publisher agreement allows time for revisions that could yield a more layered and potent novel.
UPDATE: Book 2 in Julie McElwain's Kendra Donovan Mysteries series, A Twist in Time, was released in April 2017.
Novels featuring time travel do ask that readers suspend belief in certain respects, but quality prose and character development needn't be sacrificed in the process. In addition to the well known The Time Traveler's Wife by Audrey Niffenegger, I'd personally recommend April White's young adult novel Marking Time and the more literary To Say Nothing of the Dog by Connie Willis as quality examples of the genre.
BOOK RATING: The Story 2.5 / 5 ; The Writing 2 / 5  –  Overall 2.25
A Murder in Time is available from:
Book Depository Amazon
OR listen to the audiobook FREE with Audible's Trial (check eligibility)
More time travel fiction I'd highly recommend:
Here and Now and Then by Mike Chen  /  The Psychology of Time Travel by Kate Mascarenhas  /  The is How You Lose the Time War by Amal El-Mohtar & Max Gladstone
About the Author, Julie McElwain
Julie McElwain began her journalistic career at California Apparel News, a weekly Los Angeles based trade newspaper. She has freelanced for numerous publications from professional photographers magazines to those following the fashion industry. Currently, Julie is West Coast Editor for Soaps In Depth, a national soap opera magazine covering the No. 1 daytime drama, The Young and the Restless. Julie lives in Long Beach, CA. A Murder in Time is Julie McElwain's first novel and part of a planned series.
Other reviews of A Murder in Time
Goodreads, Smart Bitches Trashy Books, Publishers Weekly, S Krishna's Books