Kathy Hoopmann, author of All Cats Have Asperger Syndrome on making a difference
Today we welcome author Kathy Hoopmann to share with us how she came to write her suite of award-winning books for children about the autism spectrum, anxiety, ADHD and more. And, the very generous people at Footprint Books have offered AUS/NZ readers the chance to win 1 of 2 book packs containing Kathy's bestselling titles.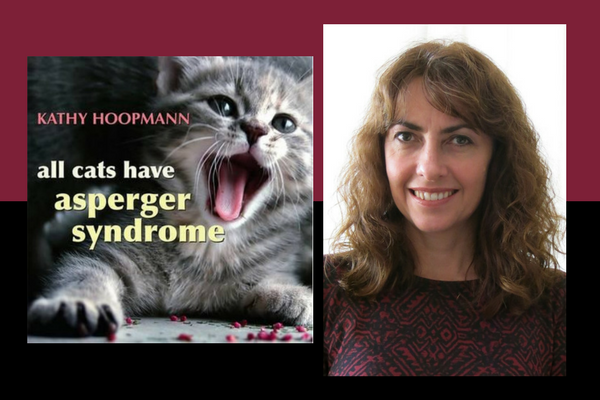 If anyone had told me twenty years ago that I would spend a large portion of my life writing about Asperger Syndrome, Autism and Anxiety, I would have snorted in disbelief.
My first writing love was dragons.  And gnomes, and dwarves.  And gnomes flying on dragons.  Oh, and science fiction and different universes.  My fantasy novel, Tremada, is still up there with the books that I most enjoyed writing.  Life inside my head was infinitely more exciting than real life.  I was not exactly what you would call 'earthbound'.
Then I discovered the Asperger mind, and a new fascination took over.  Admittedly, my first three books that dealt with Asperger Syndrome combined my interests.  Blue Bottle Mystery had a genie, Of Mice and Aliens had, well, aliens, and Lisa and the Lacemaker dealt with a ghost.  (Blue Bottle Mystery and Lisa and the Lacemaker came alive recently as stunning graphic novels. My illustrators, Rachael Smith and Mike Medaglia are artistic geniuses!)
My teen novel Haze was supposed to be about time travel.  In fact, I received an Arts Queensland grant to write the novel, and had included a science fiction plot as part of my application.  Then my teenage Aspie refused to comply.  It was real life or nothing with that dude, so I put aside my sci fi yearnings and obeyed my character.  I do that a lot – let my characters write their own plots.  It's easier than arguing with them and they usually win in the end anyway.
My first photo book, All Cats have Asperger Syndrome came from the recognition that whilst there was a lot of information on Asperger's available at the time (the book was released in 2006) much of it was adult orientated, wordy and full of technical jargon.  There was nothing for children to read for themselves and nothing simple to hand to Grandpa or a teacher or the lady next door to explain why those with Asperger's did the things they did.  I wanted to write a quick, visual read that highlighted the positives without ignoring the difficulties of the syndrome and what better vehicle than via cats.  Okay, so that last bit might not be so obvious.  That concept was planted in my mind years earlier at a conference given by Tony Attwood where he said, "All cats are dogs with Asperger Syndrome."  So simple and profound.  However, it took me five years to translate that into a book.
As soon as All Cats was released, people started to wonder, if cats have Asperger Syndrome, then surely dogs must have ADHD.  So I wrote that book too.
Since then I was bombarded with other suggestions for photo books.  All Donkeys have ODD (maybe), All Sloths Have Depression (I'm sure they don't.  Have you seen their happy little faces?) and All Fish Have Short Term Memory Loss (Not true.  Apparently, they have a longer memory span than teenagers).  One suggestion stuck in my mind.  All Birds Have Anxiety.  I was a bit hesitant at first wondering if their little beaks could make a wide a variety of eggspressions.  I was pheasantly surprised.  Birds had owl the emotions I needed.  (I'll stop with the fowl jokes now.  Not everyone finds them emu-sing).  And so another book was born.
Although my photo-books are by far my bestsellers, my lesser known books have also been a joy to write.  One of my favourites is Elemental Island. I co-wrote this with J.S. Kiss while she was living in Budapest and I lived in Dubai.  Talk about long distance relationships!  We had so much fun creating a world that was entirely populated by people on the spectrum.  That island is quite something.  Go visit it sometime.
And my Autism writing is set to continue with a quirky little book called the Secret Science Society where a group of lovable rascals, (with a bunch of diagnoses that have lots of letters  – ASD, OCD, ODD, ADHD, etc) get up to all sorts of mischief, whether they mean to or not.  I am co-writing this with Josie Santomauro, a fellow ASD author, who by weird co-incidence, lives five minutes from me.  And we still mostly communicate by email.  Go figure.
As for the future, well, not everything is Autism related.  I have a number of books with Christian themes that I am working on.  I am also branching into writing biographies.  One is about a girl, brain damaged in a car accident, and her remarkable journey of recovery.  The other is about…, well, I can't tell you yet.  A writer has to have some secrets!
Writing has been my life nigh on twenty years now.  As much as I have enjoyed the writing process and the joy of holding a new book in my hands, the most rewarding thing of all, is to have someone say that my work has made a difference in their life.  To know that they experienced an 'Ah ha' moment when reading this book or that their child could face school another day after reading that book, makes every moment in front of the computer worthwhile.  To be read and to make a difference.  For me, that's what writing is all about.
–  ~  –
That Kathy is making a very real difference is in no doubt. In December 2017 she was the recipient of Autism Queenland's Individual Achievement Award at the organisation's annual Creative Futures Recognition Awards Ceremony.
Find out a lot more about Kathy Hoopmann, her many award-winning titles and projects currently underway at her website. You can also connect with her on Twitter and Facebook.

Disclosure: If you click a link in this post and make a purchase, I may earn a small commission.
Book Giveaway
The very generous people at Footprint Books, the distributor of Kathy Hoopmann's titles in Australia and New Zealand, have provided 2 book gift packs for giveaway. Each pack contains 6 titles as outlined below. Simply tell us which gift pack you would most like to win in the form below.
Entry open to people with Australian or New Zealand mailing address only, entries close midnight 28 February 2018
Earn extra entries in the draw by spreading the word via Twitter , Pinterest and Facebook/Google+/Webpage
The 2 winners will be randomly selected and announced on our Facebook Page
Gift Pack 1, Value $155.94 RRP
Lisa and the Lacemaker – The Graphic Novel
Of Mice and Aliens: An Asperger Adventure
Gift Pack 2, Value $145.85 RRP
Blue Bottle Mystery – The Graphic Novel: An Asperger Adventure
All Cats Have Asperger Syndrome
Lisa and the Lacemaker: An Asperger Adventure
Blue Bottle Mystery: An Asperger Adventure
SORRY, ENTRIES CLOSED — See winners announcement
* Readers outside Australia and New Zealand will be pleased to hear that Kathy's books are also available worldwide from Book Depository.