The Seven Deaths of Evelyn Hardcastle (aka 7 1/2 Deaths), Review
Stuart Turton's debut novel The Seven Deaths of Evelyn Hardcastle (or The 7 1/2 Deaths of Evelyn Hardcastle in the US & Canada) is the original high-concept murder mystery being described as Gosford Park meets Inception, by way of Agatha Christie's Murder on the Orient Express. Read my full review.
The Seven Deaths of Evelyn Hardcastle Synopsis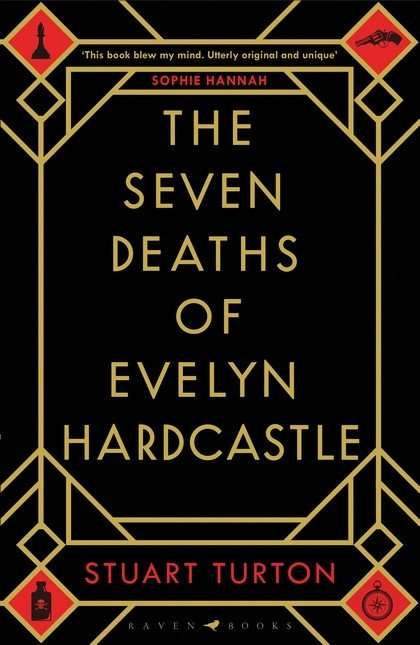 'Somebody's going to be murdered at the ball tonight. It won't appear to be a murder and so the murderer won't be caught. Rectify that injustice and I'll show you the way out.'
It is meant to be a celebration but it ends in tragedy. As fireworks explode overhead, Evelyn Hardcastle, the young and beautiful daughter of the house, is killed.
But Evelyn will not die just once. Until Aiden – one of the guests summoned to Blackheath for the party – can solve her murder, the day will repeat itself, over and over again. Every time ending with the fateful pistol shot.
The only way to break this cycle is to identify the killer. But each time the day begins again, Aiden wakes in the body of a different guest. And someone is determined to prevent him ever escaping Blackheath…
(Raven Books – Bloomsbury Publishing UK & ANZ, February 2018)
This novel will be published in the US and Canada by Sourcebooks in September 2018, but sold as The 7 1/2 Deaths of Evelyn Hardcastle .
Genre: Thriller, Mystery, Crime-Detective, Literature, Historical, Sci-Fi-Fantasy
Disclosure: If you click a link in this post and make a purchase, I may earn a small commission.
BOOK REVIEW
The Seven Deaths of Evelyn Hardcastle has been in all the 'Must Read Books of 2018' lists. And now I understand all the hype. It sits firmly in the genre-bending category, and thus most avid readers will find it memorable.
This story concept is audacious, sure. And, a debut novelist with lofty ambitions excites this reader. But this author's first offering is not just a genre mash-up seeking renegade status. Stuart Turton has delivered one of the more refined and nuanced melding of genres I have read. We are not talking quite at the level of David Mitchell just yet, but certainly well on his way…
There has been much said about the mind-boggling complexity of the plot with its time-loops within time-loops (Hardcastle's seven lives), and the eye-for-detail and planning required to pull off this feat, which I'll touch on shortly. And I very much admired Turton's vivid imagery,
Framed mirrors line the walls, a wide staircase with an ornate railing sweeping up towards a gallery, a narrow red carpet flowing down the steps like the blood of some slaughtered animal.
dry and humorous simile and metaphor,
The clothes are silk, beautifully tailored but tugging and pinching like a roomful of elderly aunts.
and lyrical writing style.
A clock drums up its courage and ticks. With a grunt, Stanwin releases the maid, brushing past Daniel on his way out, muttering something I can't quite hear. The room breathes, the piano resumes, the heroic clock carrying on as though nothing happened.
Intricate plot, literary prose
But, most impressive for me was how in The Seven Deaths of Evelyn Hardcastle, alongside a technically intricate plot with a hefty dose of fatalism, he engenders such atmospheric tension and suspense.
In addition to literary quality prose, two authorial decisions are key to this success, (1) Turton's use of a first-person present-tense narrative, and (2) his recurring and artful anthropomorphization of the story environment.
The narrative choice is particularly compelling (and a high degree of difficulty for the author) when applied to a plot featuring time loops akin to Russian dolls and selective memory loss.
As a reviewer, on many occasions, I have noted that a story's setting became a character in and of itself, but Turton has taken a very direct approach to achieving that goal.
At first, I considered this personification whimsical and charming, but by the novel's end, I had added 'very clever' to that assessment.
Earlier I committed what many consider a sin when reviewing a debut novel… I made a comparison to the work of a long-standing literary bestselling author. It was primarily intended as a compliment, but also to help identify that special ingredient I felt was missing, why for me it was not yet worthy of my 5 Star rating. And the answer is clarity and gravitas, the two going hand in hand.
Related Reading: 33 Books About Time Travel, Parallel Words & Alternate Universes
High on ambition
The truly great stories, the modern classics, resonate strongly on multiple levels. It is in this respect I felt Turton's execution fell a little short of ambition.
The story in the foreground, the murder mystery and seven lives time loop construct, is meticulously crafted but there are so many characters involved. The removal of just one or two of these could have improved (and considerably shortened) this 528-page novel — making The Seven Deaths of Evelyn Hardcastle a less labour-intensive read.
Albeit through the filter of multiple host personalities, Turton steadily develops his central character and offers up poignant musings on human behaviour.
Anger's solid, it has weight. You can beat your fists against it. Pity's a fog to become lost within.
But when one zooms out a step further, for me the story becomes less robust.
The Seven Deaths of Evelyn Hardcastle is charming yet not for the squeamish; a novel for those with a penchant for detail and complexity at a micro-level but who are comfortable with a more relaxed approach to the metaphysical realm. An impressive debut from Stuart Turton, an author I look forward to reading more from in the future.
BOOK RATING: The Story 4 / 5 ; The Writing 4.5 / 5 — Overall Rating 4.25 / 5
Get your copy of The Seven Deaths of Evelyn Hardcastle (aka 7 1/2 Deaths) from:
Bookshop US Amazon Booktopia AU
OR listen to the audiobook FREE with Audible's Trial (check eligibility)
UPDATE: Stuart Turton's second novel The Devil and The Dark Water is just wonderful, a five-star must-read.
More intense mysteries:
Shiver by Allie Reynolds  /  The Ice Child by Camilla Lackberg  / The Safe Place by Anna Downes  /  The Island by Adrian McKinty  /  Doom Creek by Alan Carter
About the Author, Stuart Turton
Stuart Turton is a freelance travel journalist who has previously worked in Shanghai and Dubai. The Seven Deaths of Evelyn Hardcastle is his debut novel. He is the winner of the Brighton and Hove Short Story Prize and was longlisted for the BBC Radio 4 Opening Lines competition. He lives in West London with his wife. Connect with Stuart on Twitter.
More reviews of The Seven Deaths of Evelyn Hardcastle
"Prepare to have your brain fried and your mind blown by an ingenious novel that catapults you into a parallel universe where dark magic and mayhem play out on a murderous Groundhog Day." – Express
"Turton's The 7 1/2 Deaths of Evelyn Hardcastle is a brainy, action-filled sendup of the classic mystery, though readers may be hard-pressed to keep up with all its keenly calibrated twists and turns for more than 400 pages." – Kirkus Reviews
"I take my hat off to Stuart Turton for the most original read I have read for a long time." – CleopatraLovesBooks
"This is one of those books that you need to read and experience first-hand to get a grasp of how truly brilliant it is. The 7 1/2 Deaths of Evelyn Hardcastle is a work of art, cleverly plotted, intricately woven, absorbing and ingenious." – The Tattooed Book Geek
This review counts towards my participation in the New Release Challenge 2018.
* My receiving a copy of this novel from the publisher via NetGalley for review purposes did not impact the expression of my honest opinions in the review above.