Where the Forest Meets the Stars, Review: Book club spark
Where the Forest Meets the Stars is sure to spark book club debate. Glendy Vanderah's novel is an immersive read and creative take on challenging subject matter. Read on for our full review.
* Not to be confused with the wonderful iconic children's book Where the Forest Meets the Sea by Jeannie Baker (and movie).
Where the Forest Meets the Stars Summary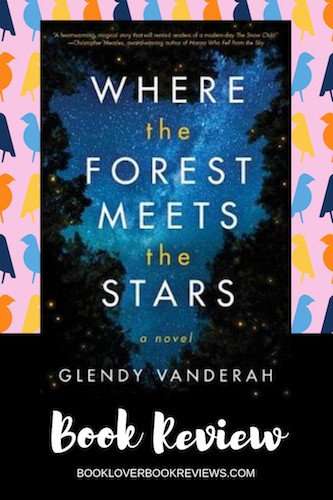 A mysterious child teaches two strangers how to love and trust again.
After the loss of her mother and her own battle with breast cancer, Joanna Teale returns to her graduate research on nesting birds in rural Illinois, determined to prove that her recent hardships have not broken her. She throws herself into her work from dusk to dawn, until her solitary routine is disrupted by the appearance of a mysterious child who shows up at her cabin barefoot and covered in bruises.
The girl calls herself Ursa, and she claims to have been sent from the stars to witness five miracles. With concerns about the child's home situation, Jo reluctantly agrees to let her stay—just until she learns more about Ursa's past.
Jo enlists the help of her reclusive neighbour, Gabriel Nash, to solve the mystery of the charming child. But the more time they spend together, the more questions they have. How does a young girl not only read but understand Shakespeare? Why do good things keep happening in her presence? And why aren't Jo and Gabe checking the missing children's website anymore?
Though the three have formed an incredible bond, they know difficult choices must be made. As the summer nears an end and Ursa gets closer to her fifth miracle, her dangerous past closes in. When it finally catches up to them, all of their painful secrets will be forced into the open, and their fates will be left to the stars.
(Lake Union Publishing, March 2019)
Genre: Drama, Literature, Romance
Disclosure: If you click a link in this post and make a purchase, I may earn a small commission.
BOOK REVIEW
There really is something about the unbridled enthusiasm and resilience of children that can draw out the best in adults, warming hearts once frozen. Vanderah plumbs this eternal spring, focussing on the good to be found in dire situations in Where the Forest Meets the Stars.
I had my reservations in this novel's first few chapters. Female lead Jo's sharp-edged veneer and fortified emotional walls make her a difficult character to connect with.
Why do men often call smart women devious?
But it was hard not to be won over by little Ursa the alien's stubborn conviction and penchant for learning. The gradual revelation of Gabriel Nash's dysfunctional family history introduced another valuable layer of intrigue, and dare I say it, dark humour to the story web also.
We're at the creek catching fish with a holey net. Understandably, this may take some time. Come join us if you enjoy frustration.
Where the Forest Meets the Stars is definitely a slow-burning read; but ultimately one I found myself immersed in. While the romantic elements in this plot were sweet, the dramatic storyline centring on Ursa's plight held far greater pull and reward for me.
As always, words fail when you most want to say the right thing.
Challenging topics
My reticence regarding the romantic relationship in this novel stemmed from one reservation I just could not shake — that relating to the treatment of depression and recovery from trauma. I felt assumptive leaps made by particular characters displayed a lack of depth and nuance in characterisation.
Like most people who've never experienced it, your view of depression is optimistically misguided.
However, I do commend Vanderah's endorsement of courage and resilience, along with her ambition in exploring difficult themes and raising important questions such as these. Exposure breeds discussion and only through discussion will understanding grow.
In summary, Glendy Vanderah's debut Where the Forest Meets the Stars is a creative take on challenging and at times confronting subject matter. A novel that is sure to spark book club debate.
BOOK RATING: The Story 4 / 5;  The Writing 3.5 / 5  —  Overal 3.75
Get your copy of Where the Forest Meets the Stars from:
Bookshop US
Amazon
Book Depository
Booktopia AU
Glendy has also since published The Light Through the Leaves (April 2021) and I loved The Oceanography of the Moon (March 2022).
Books like Where The Forest Meets the Stars that will also promote book club discussion:
More Where The Forest Meets the Stars reviews
"Vanderah's beautifully human story reminds us that sometimes we need to look beyond the treetops at the stars to let some light into our lives." —New York Journal of Books
"A powerful story of the way in which hearts are mended by love, compassion, and everyday miracles. " —Julianne MacLean, USA Today bestselling author
"A skillfully written and thoroughly entertaining novel by an author with a genuine gift for originality and a distinctive narrative-driven storytelling style…" —Midwest Book Review
"Where the Forest Meets the Stars is a magical little gem of a book filled with lots of love and hope." —HelloGiggles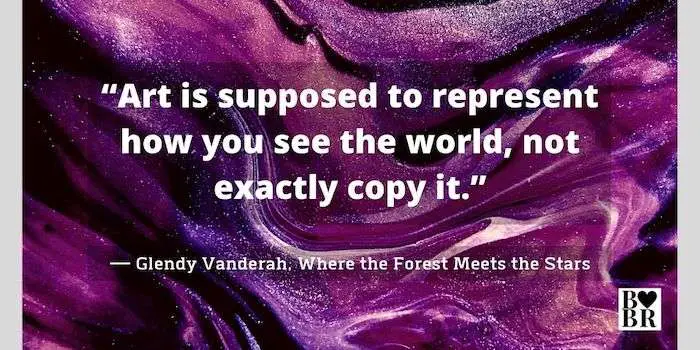 About the Author, Glendy Vanderah
Glendy Vanderah worked as an endangered bird specialist in Illinois before she became a writer. Originally from Chicago, she now lives in rural Florida with as many birds, butterflies, and wildflowers as she can lure to her land. Where the Forest Meets the Stars is her debut novel. Connect with Glendy at her website or on instagram, and check out this great reading guide which includes a set of book club questions.
Will there be a Where the Forest Meets the Stars movie? At the time of writing, there is no known novel adaptation in development.
TLC Book Tour — Receiving a copy from the publisher for review purposes did not impact the expression of my honest opinions.