Field of Poppies: Carmel Bird's inspiration & Book Giveaway
Today we welcome award-winning author Carmel Bird to discuss her new novel Field of Poppies, PLUS we have 2 ebook copies to giveaway.
Field of Poppies Synopsis:
Keen to escape the pressures of city life, Marsali Swift and her husband William are drawn to Listowel, a glorious historic mansion in the seemingly tranquil small town of Muckleton. There is time to read, garden, decorate, play chess and befriend the locals.
Yet one night Listowel is robbed, and soon after a neighbor is murdered. The violent history of the couple's adopted Goldfields town is revealed, and plans for a new goldmine emerge.
Subtle and sinister details unnerve. The novels that are studied at book club echo disappearances and colonial transgressions, a treasured copy of Monet 's Field of Poppies recalls loves and dreams but also times of war.
Atmospheric and beguiling this is a novel that seduces the reader with mysteries and beauties but also speaks of something much larger. The planet is in trouble, but is the human race up to the challenge? Are Marsali and William walking blindfold into a hostile world?
'It celebrates the human catastrophe with grace and charm. It takes years of experience for a writer to be able to pull off this kind of sorcery.' — Michael McGirr
'Carmel Bird has a gift for distilling the essence of her characters and locations and bringing them together in wonderfully unexpected ways. Her distinctive voice and lightness of touch shine in this penetrating and evocative novel.' — Michael Sala
Available in ebook or beautiful 264-page hardback
(Transit Lounge Publishing, November 2019)
Disclosure: If you click a link in this post and make a purchase, I may earn a small commission.
Field of Poppies: INSPIRATION
I will begin with a hairclip. One day – maybe two years ago, a friend gave me a pictorial hairclip. On it is a little reproduction of a painting by Monet – his wife Camille with a green-lined parasol. The first thing anyone does these days, when they receive such an object, is go online to find out more about it.
Studying this painting led me joyfully on to contemplate other works by Monet online, and I came upon the one called 'Field of Poppies near Argenteuil'.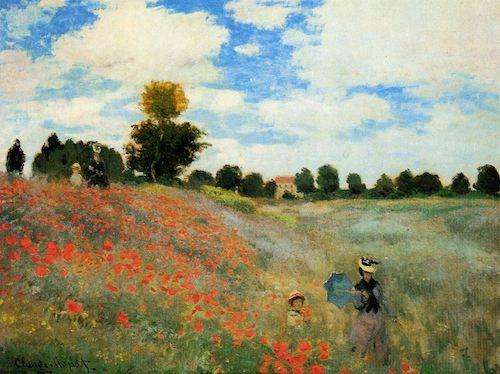 I imagine that what happened next happens to many writers, one way or another. I suddenly knew that I was going to tell a story inspired by the painting of the field of poppies. So the trajectory goes from the hairclip through my imagination to this novel called 'Field of Poppies'. The novel is set in the present day in a small town near Ballarat. It's called Muckleton. Once it was a rich little gold-mining town – now it's a charming place, relying for jobs on its cheese factory, and supporting a thriving and rather eccentric artistic community.
In the novel there is a character who is very skilled at copying the paintings of great artists. Her aim is not to create frauds – she just practises her art by reproducing faithful facsimiles. She does one of Monet's 'Field of Poppies', and it is something that is treasured by her niece. The niece is the narrator of the novel. She has loved the picture since she was a child, and when it temporarily disappears from her house in Muckleton, having been stolen, she writes about it in her journal.
To her, to me, to many people, the sight of a field of scarlet poppies stirs thoughts of the wars of the twentieth century. So although Monet's picture was innocently painted in 1837, long before the battles in France during the World War One, the image resonates – at least for me and for my narrator – with images of violence and death. The scarlet poppy is the symbol of the horror, the evil, the sadness of war.
The tree-changing main characters are living fairly ordinary western lives in rural Victoria, but the wider world is in more and more trouble, as the weather patterns change, as wars are waged, as refugees increase in numbers, as species disappear, as an atmosphere of doom accelerates. I wanted to place the village of Muckleton as being apparently almost insulated from the horrors of the world, yet also inevitably connected to them. So the crimes of the past begin to surface, in the wake of a senseless local murder. Village life goes on, until it becomes unbearable to the tree-changers when a Chinese-funded new gold mine is opened. Their only response is to return to the city, and to take a holiday flight to Paris. They are, apparently without knowing it, part of the overall problem.
In Paris they will visit the original of the Monet picture of the poppies. The final sentence of the novel, spoken by the narrator, is a terrible irony on several levels. She says, as she sets off to see the original painting: "There's nothing quite like the real thing."
The hairclip took me on a long and amazing trajectory.
Get your copy of Field of Poppies from:

or from Transit Lounge Publishing 
About the Author, Carmel Bird
Winner of the Patrick White Literary Award, and three times shortlisted for the Miles Franklin Award, Carmel Bird is the author of eleven novels and eight collections of short fiction. Carmel grew up in Tasmania, and she has an international reputation as a storyteller, essayist, editor and teacher. www.carmelbird.com
Worldwide eBook Giveaway
Thanks to Transit Lounge Publishing we have 2 ebook copies of Field of Poppies to giveaway.
Open worldwide, entries close midnight 18 November 2019. See entry form below. You can improve your chance of winning by:
The lucky winners will be randomly selected and announced on our Facebook Page.
SORRY, ENTRIES CLOSED – See winners announcement