Shore Leave: David Whish-Wilson on new action-packed crime novel
Today we welcome David Whish-Wilson to discuss his new novel Shore Leave. Plus, thanks to Fremantle Press we have 2x ebook copies of this new novel to giveaway – entries open worldwide.
Disclosure: If you click a link in this post and make a purchase, I may earn a small commission.
Shore Leave: David Whish-Wilson on new crime novel
with thanks to Fremantle Press
Welcome David. Describe Shore Leave for us.
Shore Leave is the fourth novel in my Frank Swann crime series, although like the other novels it can be read as a standalone. The novel also has a cameo from the protagonist of my most recent novel, Lee Southern, of True West (2019) who Frank Swann is training up in the craft of citizen investigations. The novel is set largely in Fremantle during the visit of the USS aircraft carrier the Carl Vinson, part of the American fleet out patrolling the Indian Ocean at the behest of Presidents Reagan and Bush Snr. At the beginning of the novel we find Frank Swann still recovering from injuries sustained during the events of Old Scores (2016), which was set during the turbulent WA Inc period in Western Australia, when the government got in bed with corporate sharks and suffered the consequences.
While Swann is a private detective who generally makes his money recovering funds from citizens ripped off in stock market scams, due to an undiagnosed illness he's currently trying to live quietly. When the USS Vinson arrives in port, however, and thinking that the matter will be resolved quickly, Swann agrees to help a US Navy Shore Patrol officer recover an AWOL sailor, as well as some black-market firearms smuggled from the ship.
Like all of my Swann novels, in Shore Leave I use a braided narrative, telling three separate stories that come together to form the novel's conclusion. The other characters in Shore Leave are a US navy midshipman with right-wing sympathies, as well as an old lag who's escaped custody in Fremantle Prison toward the end of a twenty year sentence. Following a series of thefts from an operating gold mine, and a series of murders linked to an AWOL US navy serviceman, Frank Swann is drawn into the dark world of backyard arms dealers, suburban neo-Nazi's and corrupt police as the tension ramps up and the stories collide.
For people who haven't yet met Frank Swann, what kind of a man and what kind of a detective is he?
Frank Swann is an ex-detective in the Western Australian police force, who has considerable experience but who was boarded out of the service after he turned whistle-blower in Line of Sight (2011) following the murder of a brothel-madam by corrupt detectives. As an old-school investigator, Swann gets by on his connections and networks of informers, despite being on the outer with the majority of his ex-colleagues. Unusual for crime fiction protagonists, perhaps, Swann is also a dedicated family man who is loyal friend to people from all walks of life – criminals included. Swann has had a tough life but it's his loyalty to others and his determination to see things through that both puts him in harm's way, but also gets results. One of the joys of writing crime fiction is the fast-paced plotting, but it's also fair to say that the Frank Swann novels are character-driven narratives.
You write historically based crime fiction. What does crime fiction have to say about Australia's past and present?
I like to write crime fiction that is authentic to the period but that hopefully resonates with current events. The past can be a useful lens through which to examine the present, in other words, and some of the themes of Shore Leave and True West, for example, such as the rise of right-wing extremism and the attempt to normalise extremist viewpoints via populist messaging, can in some respects be examined more clearly in a time before the digital age, when such things were more public and open in their expression. My crime narratives are designed to entertain, but also hopefully examine those brief periods in Western Australian history when the nexus between organised crime, politics and business was made apparent in the form of significant crime events.
Shore Leave is an action-packed read that keeps you on the edge of your seat throughout, how do you keep up the momentum and pace when writing crime fiction?
One of the joys of writing the Frank Swann crime novels for me is the discovering, or rather the uncovering of plot, as I write. Starting with three separate characters, the three braids of the narrative at first run parallel to one another before starting to intertwine in unexpected ways (I'm a 'pantser' rather than a 'plotter'). Making sure, however, to leave each chapter at a point of rising tension, I find that this bringing of the three narrative strands closer creates its own sense of tension, and that this is one of the great joys of writing in this style – I often find myself compelled to keep writing just so that I can find out what happens next. Hopefully this kind of increasing momentum, surprise and interconnection is something also experienced by the reader coming to the novels for the first time.
Which crime novels inspire your writing?
I have always been a big fan of the existentialist novels of Paul Bowles, and although he can't be considered a crime novelist, I admire the way his plots emerge out of deep characterisation in the context of troubling events. I admire the novels of Jean Genet for the same reason, which often explore broader aspects of human nature through the lens of criminality. Crime novelists I particularly admire are Leonardo Sciascia, for his forensic examination of mafia influence; American writer Megan Abbott for her style, insight and wit, and Australian writer Peter Temple for the same reasons. Australian crime writing is going through a welcome boom at the moment, and one of the great things of recent years is seeing my TBR pile largely populated by quality Australian crime novels.
Shore Leave Book Synopsis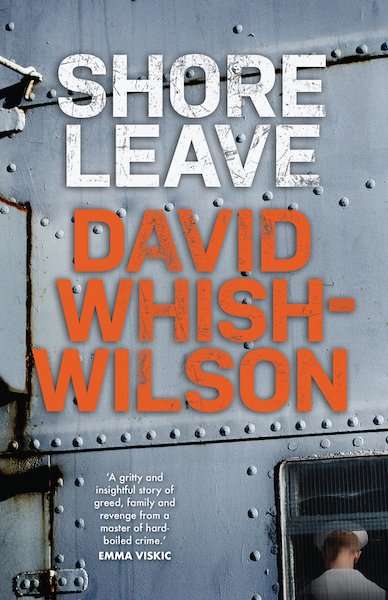 It is Fremantle in 1989 and Frank Swann is at home, suffering from an undiagnosed and debilitating illness. When Frank is called in to investigate an incident at a local brothel, it soon appears there is a link between the death of two women and the arrival of the US nuclear-powered aircraft carrier Carl Vinson in the port city.
Shore Leave is the fourth book in the Frank Swann series and also features Lee Southern, the main character from True West.
Praise for this novel:
'A gritty and insightful story of greed, family and revenge. Shore Leave once again proves that David Whish-Wilson is a master of hard-boiled crime.' – Emma Viskic
'Murder and mayhem, Navy and Nazis, bullion and bikers: Whish-Wilson has delivered a shearer's breakfast of crime, cooked to perfection on the hot bonnet that is Perth 1989. And cruising through it all the incomparable detective, Frank Swann. Along with sunscreen and sunnies, Shore Leave is a summer essential for the lazy thrillseeker.' – Dave Warner
(Fremantle Press, November 2020)
Get your copy of Shore Leave from:
Amazon Book Depository Kobo Booktopia (AU)
More great Private-Investigator novels:
Resurrection Bay by Emma Viskic  /  The Midnight Promise by Zane Lovitt  /  De Luxe by Lenny Bartulin  /  The Big Ask by Shane Maloney  /  Good Money by J M Green
About the Author, David Whish-Wilson
David Whish-Wilson was born in Newcastle, NSW, but grew up in Singapore, Victoria and WA. He left Australia aged 18 to live for a decade in Europe, Africa and Asia. His most recent novel, True West, was published by Fremantle Press in 2019. David lives in Fremantle and coordinates the creative writing program at Curtin University.
Worldwide eBook Giveaway
Thanks to Freemantle Press we have 2x Apple Book copies of Shore Leave by David Whish-Wilson to giveaway.
The winners will be emailed a single-use promotional code for Apple Books. So to download the book, winners will need to have access to an Apple device, i.e. iPhone, iPad or Mac computer.
Entries open worldwide, close midnight 30 November 2020.
See entry form below. Ensure you scroll to the bottom of this form and press submit to register your entry. You can improve your chance of winning by:
The lucky winners will be randomly selected and announced on our Facebook Page.
SORRY, ENTRIES CLOSED — See winners announcement.