The Mystery of History Book Giveaway, 4 paperback novels
Why is it that we find historical fiction so alluring, the mysteries cloaked in the veil of time so captivating? Perhaps it is a yearning for simpler times or a comforting reminder of how much more enlightened most are today? No matter the reason, there are few book lovers that would pass by the opportunity to spend a few hours inside a good historical novel… And, we have some fantastic indie and small press titles on offer in this worldwide Mystery of History multi-paperback giveaway.
Disclosure: If you click a link in this post and make a purchase, I may earn a small commission. All links will open in a new tab.
Step 1: Consider the book synopses below and decide which of the four (4) titles on offer you would most like to win.
Step 2: Fill in the entry form below, incl. nominating which book you have chosen, and press submit. Then you will be entered in the random draw for that title.
The 'Mystery of History' Book Giveaway Selection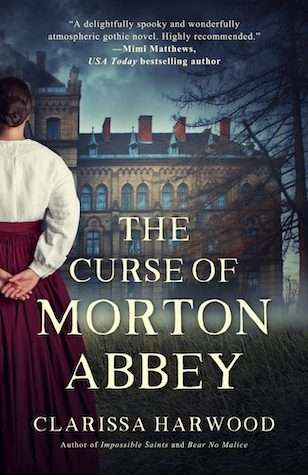 The Curse of Morton Abbey by Clarissa Harwood
"Jane Eyre meets The Secret Garden. A resourceful heroine, a gloomy manor, and a dark secret to uncover—who could ask for anything more? The  Curse of Morton Abbey is a terrific gothic romp of a novel!" – KATE QUINN, New York Times bestselling author of The Rose Code
Solicitor Vaughan Springthorpe knows perfectly well that Sir Peter Spencer's offer of employment seems too good to be true: he hires her sight unseen, offering a suspiciously large salary to prepare the sale of Morton Abbey, his crumbling Yorkshire estate. But few people in late-Victorian England will entrust their legal affairs to a woman, and Vaughan is desperate to prove herself.
Once at Morton, Vaughan discovers that someone is determined to drive her away. An intruder tries to enter her bedroom at night, gunshots are fired outside her window, and an eerie crying echoes from the uninhabited second floor. Even Netherton, the nearest village, seems odd: the picturesque houses and perfect-looking families are haunted by dark secrets connected to Morton Abbey itself.
To complete her work and solve the mystery at the heart of Morton, Vaughan needs the help of Joe Dixon, the handsome gardener, and Nicholas Spencer, her employer's irascible invalid brother. But with her questions diverted, her progress thwarted, and her sleep disrupted by the crying, will Vaughan escape Morton Abbey with her sanity intact or be cursed by the secrets within? Find out more >>
Available formats: Paperback & ebook
Author Links: Website | Facebook | Twitter | Instagram | Goodreads
Little Brown Dog by Paula S. Owen
One nameless stray. Two fearless young women. One heroic fight for justice.
1903. Britain is desperate for change, but calls for social and gender reform flounder against entrenched misogyny. Navigating this world are friends Lena and Eliza – thoroughly modern young women determined to live life on their terms. 
Rumours swirl of barbaric experiments happening at London's medical schools. When the women covertly witness a brutal procedure performed on a semi-conscious dog, they swear to expose the perpetrator – renowned physiologist Dr Bayling. 
Their fight for justice draws the women into an increasingly vicious 'David & Goliath' war with a tyrannical, male, medical elite who will stop at nothing to preserve the status quo. But what are they prepared to risk? Their friendship, their loves, their freedom, even their lives? Find out more >>
Available formats: Paperback & ebook
Author Links: Website | Paula's Blog | Twitter | Facebook | Goodreads
The Wick and The Flame by Hilari T. Cohen
It takes a special kind of hero to stand up against the odds…
Evie and Albert. Naomi and Judah. Four very different people who join a movement to birth a nation with one thing in common. None of them ever expected to fall in love…
After the atrocities of the holocaust, it becomes all too clear that the Jewish people need a safe homeland. A young and hopeful group of soldiers come together on a kibbutz outside of Tel Aviv for a most secret mission: the manufacture of bullets to face off against the British for the soul of their infant country. None of them could know what was to happen; they need to find a way to hide in plain sight all the while praying not to be exposed or even worse, captured. Danger, death and intrigue swirls around them, but they never waiver from their steadfast belief that they will ultimately be triumphant. Each one prays for a miracle to make it out alive, knowing that nothing in war is ever guaranteed…
From Paris to Prague, from Jerusalem to Tel Aviv, The Wick and The Flame captures the heart and soul of a nation at its birth, seen through the eyes of those who put their lives and hearts on the line to ensure its future! Find out more >>
Available formats: Paperback & ebook
Author Links: Website | Facebook | Twitter | Instagram | Goodreads
The Telling Time by P. J. McKay
Winner of the international First Pages Prize and shortlisted for the 2020 NZSA Heritage Literary Award.
WHEN SECRETS DEMAND TO BE TOLD . . . Two young women, a generation apart, travel to opposite sides of the globe on fraught journeys of self-discovery.
It's 1958 and Gabrijela yearns to escape the confines of bleak post-war Croatia and her tiny fishing community, never imagining that her choices will see her exiled to New Zealand — a new immigrant sent to housekeep for the mysterious and surly Roko, clutching a secret she dare not reveal.
Thirty years later in 1989, Gabrijela's daughter, Luisa, hell-bent on unpicking the family's past, departs on her own covert quest to visit her estranged relatives on Korčula. But not all decisions are equal and amid Yugoslavia's brewing civil unrest, Luisa's journey confronts her with culture shocks and dark encounters of her own. Can one life-changing moment right the wrongs of the past?
The Telling Time is P.J. McKay's award-winning debut novel that spent 10 weeks on the top ten fiction list.
If you love vividly drawn historical novel's, full of heart and with characters you won't want to leave behind, then you'll love this page-turning family saga. Perfect for book clubs and readers of Jo Jo Moyes and Kristin Hannah. Find out more >>
Available formats: Paperback, ebook & audiobook
Author Links: Website & Mailing list sign-up | Pip's Blog | Instagram | Facebook | Twitter | Goodreads
🎁  Receive a free set of personalized book recommendations when you SUBSCRIBE to my fortnightly newsletter.
Mystery of History Multi-Paperback Giveaway Terms
Here is your chance to win a paperback copy of 1 of the 4 titles featured above; simply nominate which novel you would prefer when completing the entry form below.
Entries open worldwide, close midnight 7 December 2021.
You can improve your chance of winning by:
Do not forget to scroll down to the bottom of this entry form and press the SUBMIT button!
SORRY, ENTRIES CLOSED  – See winners announcement.
More captivating historical fiction: