Addition by Toni Jordan, Review: Quirky & intelligent romance
Toni Jordan's Addition was…
Winner, Indie Awards, Best Debut Fiction, 2008
Longlisted, Miles Franklin Literary Award, 2009
Shortlisted, Australian Book Industry Awards, Best General Fiction Book, 2008
Addition Synopsis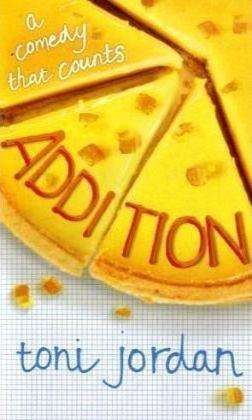 Grace Lisa Vandenburg counts. The letters in her name (19). The steps she takes every morning to the local café (920); the number of poppy seeds on her slice of orange cake, which dictates the number of bites she'll take to finish it. Grace counts everything, because numbers hold the world together. And she needs to keep an eye on how they're doing.
Seamus Joseph O'Reilly (also a 19, with the sexiest hands Grace has ever seen) thinks she might be better off without the counting. If she could hold down a job, say. Or open her kitchen cupboards without conducting an inventory, or make a sandwich containing an unknown number of sprouts.
Grace's problem is that Seamus doesn't count.  Her other problem is…he does.
Addition is a fabulous debut novel. Grace is witty, flirtatious and headstrong. She's not a bit sentimental but even so, she may be about to lose track of the number of ways she can fall in love.
Disclosure: If you click a link in this post and make a purchase, I may earn a small commission.
BOOK REVIEW
Quirky. In her debut novel Addition, author Toni Jordan presents enjoyable women's fiction melded with an exploration of obsession and compulsion.
Narrator and protagonist Grace Lisa Vandenburg is a single woman in her thirties who has a peculiar appreciation of numbers. She believes it is numbers that hold the world together and that if she stops counting, her world and the worlds of the people she loves will fall apart. Her obsessive-compulsive behaviour is to such an extreme that she counts the number of bristles on her toothbrush and has a formula for the number of bites she must take when eating a piece of food.
The reader is introduced to Grace at a point in her life when her obsession has become debilitating in the eyes of the broader community, leaving her unable to hold down a job and living as a recluse. Where is the enjoyable women's fiction read amongst this sad state of affairs you might ask?
First of all, Grace herself does not believe she is the one that has a problem and she is forthright in expressing her confidence in the value of her beliefs. Then, enter from stage left the quintessential love interest Seamus Joseph O'Reilly. What ensues is a battle of sorts in the mind of Grace – a battle between her love of numbers and her love for Seamus.
This novel does not necessarily fit in the dark humour genre, but as a reader I was at times thrown off guard by the humour gained from the protagonist's thoughts and behaviour that were fuelled by her obsessive-compulsive disorder. But I enjoy a novel that keeps me on my toes, and that certainly made it an enjoyable audio book to listen to (narration by Caroline Lee).
Jordan has boldly presented a different slant on mental illness and poses the question, 'At what point does uniqueness become an illness?' At the same time, this dark exploration is wrapped up in what is essentially a very sweet love story that explores the classic questions of how much must one compromise ones individuality to form a lasting relationship and can the benefits of a relationship outweigh the independence lost.
BOOK RATING: The Story 4 / 5 ; The Writing 4 / 5
Get your copy of Addition from:
Genre: Romance, Humour, Drama, Audio, ChickLit
UPDATE: Read our reviews of novels subsequently published by Toni Jordan, including Fall Girl and Our Tiny, Useless Hearts and Dinner with the Schnabels (2022) and Prettier If She Smiled More (2023).
About the Author, Toni Jordan
Australian author Toni Jordan came to writing later in life. Jordan first gained a Bachelor's Degree in Science and worked as a research assistant, molecular biologist and quality control chemist before at the age of 38 changing her career path and beginning professional writing full time in 2004. Her first novel Addition has been published in Australia, the United Kingdom and The Netherlands. She has also written articles for newspapers The Guardian, The Courier-Mail and The Age.
Check out Toni's website and connect with her on Twitter.
Other reviews of Addition
Goodreads, Sydney Morning Herald, Crikey, BooksAreMyFavouriteAndBest