The Book Thief: Book & Movie Review + Quotes, Markus Zusak
The Book Thief by Markus Zusak, first published in 2005, has gone on to become an international bestseller and a modern classic. We explain why, discuss the movie adaptation of this novel and share some memorable book quotes. Read on for our comprehensive review.
The Book Thief Book Summary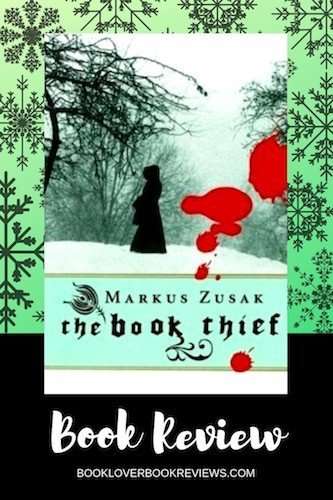 It is 1939. Nazi Germany. The country is holding its breath. Death has never been busier, and will become busier still.
Liesel Meminger and her younger brother are being taken by their mother to live with a foster family outside Munich. Liesel's father was taken away on the breath of a single, unfamiliar word – Kommunist – and Liesel sees the fear of a similar fate in her mother's eyes. On the journey, Death visits the young boy, and notices Liesel. It will be the first of many near encounters. By her brother's graveside, Liesel's life is changed when she picks up a single object, partially hidden in the snow. It is The Gravedigger's Handbook, left there by accident, and it is her first act of book thievery.
So begins a love affair with books and words, as Liesel, with the help of her accordion-playing foster father, learns to read. Soon she is stealing books from Nazi book-burnings, the mayor's wife's library, wherever there are books to be found.
But these are dangerous times. When Liesel's foster family hides a Jewish fist-fighter in their basement, Liesel's world is both opened up, and closed down.
Genre: Literature, Historical, Drama, Action-Adventure
Disclosure: If you click a link in this post and make a purchase, I may earn a small commission.
BOOK REVIEW
I had this widely acclaimed novel by Australian author Markus Zusak on my to-be-read list on my Kindle for an embarrassingly long time. Why? Probably because The Book Thief is almost 600 pages long and classified as 'young adult' fiction, a genre I am not normally drawn to. I had also read so many rave reviews that I must admit I was a little sceptical. Could a book about The War really be that original?
The answer is – it certainly can.
Who narrates The Book Thief?
Markus Zusak's decision to cast Death as the narrator was an absolute master-stroke. But Zusak's Death is not the one-dimensional character we are used to. This Death has a heart and an ironic sense of humour. In my humble opinion, an author that can make his audience feel empathy for Death has a special talent.
'Where are my manners? I could introduce myself properly, but it's not really necessary. You will know me well enough and soon enough, depending on a diverse range of variables. It suffices to say that at some point in time, I will be standing over you, as genially as possible. Your soul will be in my arms. A colour will be perched on my shoulder. I will carry you gently away.'
Compelling themes
The Book Thief takes place in Munich, Germany on the eve of and then during WWII, and Markus Zusak presents the very human side of war, the strength of individuals and the many complex reasons for their actions.
I guess humans like to watch a little destruction. Sandcastles, houses of cards, that's where they begin. Their great skill is their capacity to escalate.
This important message is conveyed in a format, that anyone, the young or the old of any culture cannot help but identify with and feel empathy for – the plight of a child.
Memorable characters
That child is Leisel Meminger – a damaged but strong-willed and immensely likeable young girl that displays wisdom beyond her years. She does not judge a book, nor people, by their covers.
The true gifts in this novel that make it so difficult to put down are the special relationships Leisel develops with the wonderful ensemble cast of characters from all walks of life. Particularly charming and compelling is her close friendship with neighbour Rudy Steiner and the various acts of mischief they get up to while the threat of war and societal discord builds around them.
With this tale Markus Zusak reminds us of the extraordinary power of the written word – that books of themselves are so much more than paper and glue.
It didn't really matter what the book was about. It was what it meant that was important.
The Book Thief should be required reading in schools. I certainly wish I had read it sooner. It will become, if it is not already, a modern-day classic.
BOOK RATING: The Story 5 / 5 ; The Writing 5 / 5
UPDATE: We have since also enjoyed Markus Zusak's long-awaited new novel Bridge of Clay.
Get your copy of The Book Thief from:
Amazon Bookshop (US) Booktopia (AU)
* Although I read this novel on Kindle, I recommend reading it in hard copy. Key elements of the story are presented in pictures which would be easier to read in that format.
Detailed plot summary, character maps, quotes and other useful study materials for this novel are available at CourseHero.
About the Author, Markus Zusak
Markus Zusak (born 23 June 1975) is an Australian author specialising in the young adult genre. This, his number one international best selling novel, has been translated into more than 30 languages.
The Book Thief Movie Review
Bravo to the creators and cast of The Book Thief movie! They have proven to me that it is possible to do a book justice in film.
Yes, the cast was generally much better looking than those I'd conjured up in my mind while reading, but that didn't hurt 😉
Yes, since I knew when the sad parts were coming I was a blubbering mess.
And yes, for the same reasons, I could not stop myself from cataloguing what was interpreted slightly differently and what small pieces of the novel were omitted from the screenplay.
But the key thing is, whenever the movie adaption deviated slightly from the novel, I understood and appreciated why.  It conveys the key themes powerfully while maintaining much of Zusak's original artistry. If I could have tweaked one thing, I would have utilised even more of the original narrative musings from Death (some of my favourite passages in the novel).
Wonderful performances by Geoffrey Rush and Emily Watson, and you couldn't get much sweeter (and very talented) portrayals of the characters 'Leisel' and 'Rudy' by Sophie Nélisse and Nico Liersch.
Source

The mirroring of humanity within the novel is so important (the reason I believe the novel should be required reading in schools) and so I am heartened that this movie adaptation brings that message to an even wider audience.
The Book Thief Quotes
There are so many wonderful quotes within this novel. Here are a few more of my favourites:
"I have hated words and I have loved them, and I hope I have made them right." – The Book Thief
"The only thing worse than a boy who hates you: a boy that loves you." – The Book Thief
"A snowball in the face is surely the perfect beginning to a lasting friendship." – The Book Thief
Other reviews of The Book Thief
"Unsettling, thought-provoking, life-affirming, triumphant and tragic, this is a novel of breathtaking scope, masterfully told. It is an important piece of work, but also a wonderful page-turner. " — The Guardian
"It is difficult to imagine how The Book Thief could be anything but depressing, but Zusak illuminates the novel with scenes of brilliance. Small triumphs are made all the more beautiful by his prose. Childlike play is turned into something greater, a snowball fight in the basement is more than a frigid mock battle—it's a moment that borders on magical. Again and again, Zusak's characters strive to see the beauty in the world, bringing shards of happiness into the darkest, dirtiest corners." — LiteraryTraveler
"This big, expansive novel is a leisurely working out of fate, of seemingly chance encounters and events that ultimately touch, like dominoes as they collide. The writing is elegant, philosophical and moving. Even at its length, it's a work to read slowly and savor. Beautiful and important." — KirkusReviews
If you like the sound of The Book Thief, you may also enjoy reading:
The Earth Hums in B Flat by Mari Strachan  /  The Shadow of the Wind by Carlos Ruiz Zafon  /  The Trouble With Goats and Sheep by Joanna Cannon  /  The Wild Girl by Kate Forsyth  /  The Sweetness at the Bottom of the Pie by Alan Bradley