The Earth Hums in B Flat by Mari Strachan, Review: Gem of a character
The Earth Hums in B Flat by Mari Strachan is a story I was very sad to see end. In Gwenni Morgan, Strachan has brought to life a real gem of a character. Read on for our full review.
The Earth Hums in B Flat Synopsis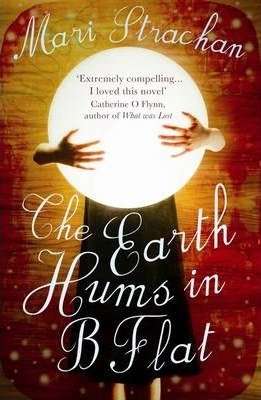 Gwenni Morgan is not like any other girl in this small Welsh town. Inquisitive, bookish and full of spirit, she can fly in her sleep and loves playing detective. So when a neighbour mysteriously vanishes, and no one seems to be asking the right questions, Gwenni decides to conduct her own investigation.
The Earth Hums in B Flat was one of the most acclaimed and successful debuts of 2009. It is a heart-breaking and hugely enjoyable story.
Genre: Mystery, Crime-Detective, Literature, Audio, Historical
Disclosure: If you click a link in this post and make a purchase, I may earn a small commission.
BOOK REVIEW
Mari Strachan's The Earth Hums in B Flat is memorably moving. Her young narrator Gwenni Morgan is one of the most endearing characters you'll come across in fiction.
We meet Gwenni growing up in a small Welsh village in the late 1950s, in ostensibly simpler times than ours. The village is filled with eclectic characters who all know each other's business, many small-minded and scarred from the war. Although bookish and bright, Gwenni is more innocent and naive to the ways of the world than most of her teenage counterparts.
The charming way Gwenni personifies inanimate objects and dreams of flying adds whimsy to the story. But this device, a veil through which Gwenni observes the often traumatic goings-on around her, has a greater structural purpose.
Gwenni's sweet narration acts as a counterweight to the dark and unsettling subject matter at the core of this tale – mental illness, illegitimacy and domestic abuse. We watch as Gwenni's kind-hearted and generous spirit learns life's lessons the hard way.
A determined leading lady
Outwardly, Gwenni Morgan's sleuthing is as determined and precocious as that of Alan Bradley's much-loved character Flavia de Luce, but that's where the similarities end. Unlike the feisty Flavia who takes great delight in confusing and aggravating her elders, poor Gwenni does so without a speck of malicious intent. In her search for meaning in life and the answers to mysteries shrouding the village, she asks many awkward questions of those around her; answers to which are truths they feel are better left unspoken. Such interactions provide many amusing interludes that balance the darker subject matter.
The cast of The Earth Hums in B Flat developed by Mari Strachan, and in particular, her leading lady Gwenni Morgan, are beautifully realised. Audiobook narrator Jenni Lea-Jones has taken this wonderful script and added her own magic, filling the characters with emotion and bringing them to life.
Although at times heartbreaking, this a story I was very sad to see end. In Gwenni Morgan, Mari Strachan has brought to life a real gem of a character; one you want to check in on in years to come, just to see how she's faring.
The Earth Hums in B Flat is a beautiful novel, one I'd highly recommend reading.
BOOK RATING: The Story 4.5 / 5 ; The Writing 4.5 / 5
Get your copy of The Earth Hums in B Flat from:
Amazon Book Depository Booktopia (AU)
OR listen to the audiobook FREE with Audible's Trial (check eligibility)
If you like the sound of this novel, then you may also enjoy:
The Trouble With Goats and Sheep by Joanna Cannon  /   The Vanishing Act by Mette Jakobsen  /  We Ate The Road Like Vultures by Lynnette Lounsbury  /  The Origin of Me by Bernard Gallate  /  The Book Thief by Markus Zusak
About the Author, Mari Strachan
Mari Strachan was born into a Welsh family in Harlech, on the north-west coast of Wales, and was brought up there with Welsh as her first language. After graduating from Cardiff University she qualified as a chartered librarian, and worked in a variety of libraries, from academic through public and prison to school libraries, with occasional forays into other occupations.
In 2007 she acquired an MA (with distinction) in Creative Writing from Manchester Metropolitan University. As well as writing and reading, Mari's interests include the past and its people, and the future, in the form of sustainable living. She and her husband now live on a tiny smallholding in Ceredigion. Mari currently has two published titles, The Earth Hums in B Flat and Blow on a Dead Man's Embers.