Book Review – LIFE! DEATH! PRIZES! by Stephen May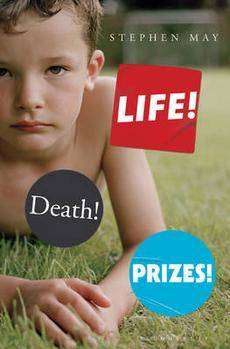 Life! Death! Prizes! Synopsis

Billy's Mum is dead. He knows – because he reads about it in magazines – that people die every day in ways that are more random and tragic and stupid than hers, but for nineteen-year-old Billy and his little brother, Oscar, their mother's death in a bungled street robbery is the most random and tragic and stupid thing that could possibly have happened to them.
Now Billy must be both mother and father to Oscar, and despite what his well-meaning aunt, the PTA mothers, the social services and Oscar's own prodigal father all think, he knows he is more than up to the job, thank you very much.
The boys' new world, where bedtimes are arbitrary, tidiness is optional and healthy home-cooked meals pile up uneaten in the freezer, is built out of chaos and fierce love, but it's also a world that teeters perilously on its axis. And as Billy's obsession with his mother's missing killer grows, he risks losing sight of the one thing that really matters…
Funny, bittersweet and unforgettable, Life! Death! Prizes! is a story of grief, resilience and brotherly love. (Amazon)
* Today I welcome Booklover Mum for another book review 'interview style'! 
BOOK REVIEW
What initially drew you to Life! Death! Prizes! by Stephen May?
The book cover art and title were unusual. When have you ever seen three exclamation marks on a book cover!
What is the driving force within this novel – plot or characters?
Characters. The story centres on narrator Billy and how he deals with the aftermath of his mother's death, that is, caring for his little brother.
Is there a particular character that you had a strong emotional response to, good or bad?
May engendered in readers a strong dislike for Oscar's previously absentee father. This dislike for Oscar's father strengthened reader's empathy for lead character Billy's plight. Billy was no angel, but his concern for his little brother was genuine and heart warming.
Did you like how the novel was structured?
The story being told from the view point of oldest child Billy provided any interesting perspective for adult readers.
How did you find the writing style?
Life! Death! Prizes! started very strongly with observational humour used to great effect. I found myself laughing out loud while reading a passage about a lollipop lady. The last two-thirds of the novel would have benefited from this same levity.
Who would you recommend this book to?
People who enjoy the magazines articles that are referenced within the novel would enjoy this story. As may those with some experience of family upheaval and the parents of teenage boys.
BOOK RATING: The Story 3 / 5 ; The Writing 3 / 5
Have you read Life! Death! Prizes! ? Do you want to?
Disclosure: If you click a link in this post and make a purchase, I may earn a small commission.
Join the discussion below.
BOOK DETAILS: Life! Death! Prizes! (Bloomsbury); Life! Death! Prizes! (The Nile – Aus); Life! Death! Prizes! (Amazon); Life! Death! Prizes! (Kobobooks)
Genre: Drama, Humour
Author Information: Stephen May is a novelist, playwright and TV writer. His  first novel Tag published by a small Welsh press and won the Reader's Choice Award at the 2009 Welsh Book of the Year. His plays Back The World and Still Waiting for Everything toured nationally to good reviews. He also had an unhappy stint working as a storyline writer on A Top ITV continuing drama. Stephen also wrote the best-selling how-to guide Teach Yourself Creative Writing (Hodder and Stoughton). Originally from Bedford, he now lives and works in west Yorkshire.
– Checkout Stephen May's website
Other Reviews of Life! Death! Prizes! : The Guardian ; The Independent ; Emily's Tea Leaves ; Sam Still Reading
* Receiving a copy of this title free from Bloomsbury ANZ for review did not in anyway impact the reviewers expression of their honest opinions having read the novel.