Book Review – MR SOMETHING by Jay H Baker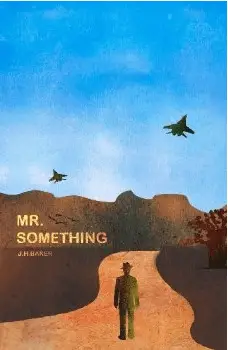 Mr Something Synopsis
Isaac Ward knows that a man should obey the law, protect his country, do what's right. But when an improbable corpse leads to an impossible device, these duties collide head on – and only one can win.
Dreaming of changing the world for the better, Isaac takes the device for himself. This is his chance to do something. Be someone. But he has his work cut out for him. The world is big, stubborn, and not so easily changed – and before he can even try, he has another, far more pressing problem. How to stay alive.
Mr. Something is a fast-moving and provocative adventure story, ranging from the towers of San Francisco to the villages of Malawi. It examines duty, significance, and one of the world's greatest issues: the one billion human beings living – and dying – in extreme poverty. (Amazon) 
BOOK REVIEW
From the book dedication, "For the bottom billion", it is evident that debut author Jay Baker was genuinely inspired to write this novel to convey an important message.
Baker's writing style is not without its weaknesses, and the opening chapter introducing protagonist Isaac Ward could have been stronger, but the novel really takes off (pardon the pun) after that. This novel contains dual storylines, one originating from the US and the other from Malawi, Africa. I was hooked from the moment the latter was introduced.
They followed a dirt path, pressed hard and flat by generations of naked feet. It would through dusty fields, where crickets chirped and maize wilted in the sun. From time to time it passed through the shade of a spreading baobab tree, and the packed dirt grew cool and soothing for a few steps, but neither woman suggested stopping. The hospital was still several hours away.
Mr Something by Jay H Baker is a highly entertaining action-adventure novel with great heart.
I really like the premise of this novel and the awareness Baker has sought to engender in writing it. He has done well to balance the stereotypically superficial escapist action-adventure story with the very serious topic of extreme poverty. He has developed an eclectic mix of characters that add colour, levity and even a bit of romance to the tale. My personal favourite was a strong-willed Malawi woman named Chimwala.
Jay Baker's debut novel Mr Something is accessible and compelling, and explores the enduring question of 'what is right and wrong' ranging from everyday situations to the global level. The underlying message is an empowering and uplifting one that will resonate with young and old alike, "If you can't save the world – at least do something!"
BOOK RATING: The Story 4 / 5 ; The Writing  3.5 / 5
Disclosure: If you click a link in this post and make a purchase, I may earn a small commission.
Have you read Mr Something? Do you want to?
Join the discussion below.
* Jay has kindly provided a paperback copy of this novel for international giveaway – ENTER NOW  – closes 30 September *
BOOK DETAILS: Mr Something (Amazon);  Mr Something (B&N); Mr Something (Kobobooks)
Genre: Action-Adventure, Drama, Romance, Thriller
Author Information: Jay Hadley Baker was born in New Zealand in 1980. He spent his childhood moving around a lot, including a stint in Papua New Guinea, before eventually settling in Hamilton. When he is not daydreaming or writing, Jay spends his time earning a living so he can keep his favorite wife (Brooke) in the manner to which she has become accustomed. After years spent as a computer geek, he has now made the jump to being a project manager, a role change which primarily means doing less work and attending more meetings. His ideal job, though, would involve splitting his time between sitting in a cozy little cafe writing, and snowboarding down mountains covered in deep powder snow. If anyone has such a job available, please let him know.
– Check out Jay H Baker's website which contains links to more short videos featuring Jay discussing the writing process for Mr Something. Book bloggers can also request your own review copy of Mr Something at this website.
– A 3News article on the release of Mr Something and Baker's free ebook marketing strategy
* My receiving a copy of this ebook free for review purposes did not influence the opinions expressed in my review.