Book Review – SNAP NEW TALENT by Michele Drier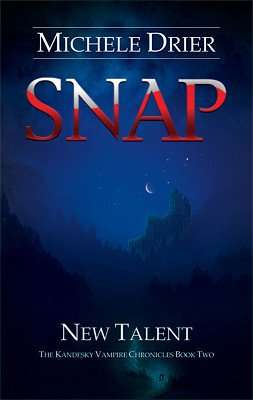 SNAP New Talent Synopsis

In the second book of the SNAP Kandesky vampire series, Maxie Gwenoch, media-savvy editor of the multinational celeb gossip magazine SNAP, is pummeled in Paris and kidnapped in Kiev as the Huszars ramp up the race to oust their centuries-old rivals, the Kandeskys.
SNAP's owners, the Kandesky family of vampires, built the world's most popular celeb coverage empire but this isn't just a business take-over. These powerful vampire families lived with an uneasy peace for four centuries until Maxie came in to boost SNAP's coverage and started making inroads into the Huszar's traditional hunting territories.
Although Jean-Louis, Maxie's lover, vampire and second-in-command of the Kandeskys, tries to keep her safe, Maxie is determined to do things her way, a way that may lose her her job, her love and her life. (Amazon)
BOOK REVIEW
I am not normally one to read vampire novels, especially non-literary ones. But I found Michele Drier's first novel in her Kandesky Vampire Chronicles Series, SNAP The World Unfolds lots of fun and so jumped at the chance to read the second title when it was published.
Kandesky Vampire Chronicles Series SNAP is modern interpretation of a European vampire society that does not take itself too seriously. The main character, a non-vampire human, Maxie Gwenoch is a feisty career woman. She is as independent as they come and accustomed to being in control. But when she steps into the Kandesky's corporate empire she has left control far behind, whether she likes it or not… What I found particularly refreshing about the Kandesky vampire family was that they do not want Maxie for her blood, they want her for her brains and business acumen.
SNAP New Talent by Michele Drier is an entertaining light vampire romance set against the world of celebrity journalism.
The first novel SNAP The World Unfolds finished on a precipice and SNAP New Talent kicks off at a cracking pace. Without spoiling it for those who have not read the first title, this second instalment of the series features some great new characters and Maxie getting herself much deeper into the dangerous world of the vampires.
Michele Drier's writing style is straight forward and light reading, although in the review copy I received there were several instances of grammatical errors and missing words which detracted from my enjoyment. Note I did mention this to Michele and she has assured me those issues have been fixed in the version now on sale.
While SNAP New Talent was not quite as well-paced as the first title in the series, it again finishes on a killer cliff hanger and I do eagerly await to see what is in store for Maxie. This series is pure escapism – great for a quick and entertaining weekend read.
BOOK RATING: The Story 3.5 / 5 ; The Writing 2.5 / 5
BOOK DETAILS:  SNAP New Talent (Amazon)
Genre: Romance,  Sci-Fi-Fantasy, Action-Adventure
Author Information: Michele Drier has come to fiction later in life, having her first career in journalism and then managing not-for-profit agencies. She is a member of the Society of California Pioneers and Sisters in Crime.
– See Michele Drier's official website
Another review of SNAP New Talent: The Indie Bookshelf
Other titles by Michele Drier: Edited For Death , SNAP The World Unfolds , Plague – A Love Story
* I received a copy of this ebook from the author for review purposes. My receiving this book for free in no way affected my ability to express my honest opinions about it.