The Girl You Left Behind: Book Review & Quotes, Jojo Moyes
The Girl You Left Behind by Jojo Moyes features a cast of inspiring characters in a compelling story of courage and conviction. Read on for our full review and favourite quotes.
The Girl You Left Behind Book Synopsis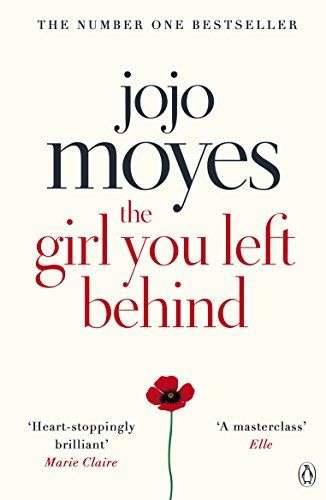 What happened to the girl you left behind?
France, 1916. Sophie Lefevre must keep her family safe whilst her adored husband Edouard fights at the front. When she is ordered to serve the German officers who descend on her hotel each evening, her home becomes riven by fierce tensions. And from the moment the new Kommandant sets eyes on Sophie's portrait – painted by Edouard – a dangerous obsession is born, which will lead Sophie to make a dark and terrible decision.
Almost a century later, and Sophie's portrait hangs in the home of Liv Halston, a wedding gift from her young husband before he died. A chance encounter reveals the painting's true worth, and its troubled history. A history that is about to resurface and turn Liv's life upside down all over again…
In The Girl You Left Behind two young women, separated by a century, are united in their determination to fight for what they love most – whatever the cost. 
Genre: Historical, Drama, Romance, Mystery, Action-Adventure
Disclosure: If you click a link in this post and make a purchase, I may earn a small commission.
BOOK REVIEW
I really enjoy Jojo Moyes' writing style – I have always found her characters believable, their stories compelling and her prose smooth as silk. Her latest novel The Girl You Left Behind is more of the same high-quality contemporary fiction I have come to expect from her. The first chapter, where we are introduced to the indomitable character Sophie Lefevre, is an absolute cracker.

Moyes novels will primarily appeal to a female audience and often contain drama and romance and female leads, but in my opinion they exhibit greater depth of purpose than your standard chick-lit. In The Girl You Left Behind the impacts of war, both on the oppressors and the oppressed, both at the time and into the future are explored with great compassion and dignity. Moyes' characters are from all walks of life, in history and in the present day, and so vividly drawn they almost step off the page.
An inspiring story
In The Girl You Left Behind Jojo Moyes delivers a cast of inspiring characters in a compelling story that reminds us that a life lived without courage and conviction is a life half-lived.
What I really appreciate about Moyes' style is that it is as if she writes from behind the scenes. She pulls her characters strings and those of her readers' minds so subtly. She does not pigeonhole her characters into good guys and bad guys and her plotline is not laid out for all to see at the outset. Her characters grow organically and readers are in the front seat on that journey. Her attention to the details that are telling in real life, like one's expression or the way people hold themselves in a particular situation, that conveys so much.
Compelling narrative
I enjoyed The Girl You Left Behind's parallel narrative structure, one that takes place in First World War France and the other in modern-day London. Some reviewers have said they enjoyed the historical narrative much more than the contemporary one featuring Liv Halston. While Sophie Lefevre is indeed a wonderfully memorable character, I found Liv Halston's very contemporary struggle just as compelling. I was hooked on the stories of both protagonists and the momentum created by the transitions between the narratives kept me reading long after a sensible bedtime.
And, did reading the prequel novella Honeymoon in Paris enhance my subsequent experience reading this novel? It did.
If you are in the mood to be reminded that on occasion one must risk all to gain the ultimate prize, then I strongly recommend you treat yourself to a copy of The Girl You Left Behind by Jojo Moyes.
BOOK RATING: The Story 4.5 / 5 ; The Writing 4.5 / 5
Get your copy of The Girl You Left Behind from:
Amazon Book Depository Booktopia
OR listen to the audiobook FREE with Audible's Trial (check eligibility)
We have also reviewed Jojo Moyes' The One Plus One and The Peacock Emporium.
Related Reads:
The Blue Rose by Kate Forsyth  /  The Binder of Lost Stories by Cristina Caboni  /  The Philosopher's Daughters by Alison Booth  /  The Beast's Garden by Kate Forsyth  /  Girl Waits With Gun by Amy Stewart
The Girl You Left Behind Quotes
"And it was suddenly very simple: There was no choice."
On life:
"Just for carrying on, really. Sometimes, my darling girl, that's heroic in itself."
"Nobody listens any more. Everyone knows what they want to hear, but nobody actually listens."
On family:
"Nobody fights you like your own sister; nobody else knows the most vulnerable parts of you and will aim for them without mercy."
On humanity:
"You shall forget that I am part of an enemy army, I shall forget that you are a woman who spends much of her time working out how to subvert that army, and we shall just . . . be two people?"
About the Author, Jojo Moyes
Jojo Moyes (born 1969 in London, England) is a British novelist and journalist. She is one of only a few authors to have twice won the Romantic Novel of the Year Award by the Romantic Novelists' Association and has been translated into eleven different languages.
Check out Moyes' official website.