Nancy Wake (Biography) by Peter FitzSimons, Review: Reads like fiction
Nancy Wake Synopsis
A Biography of Our Greatest War Heroine 1912-2011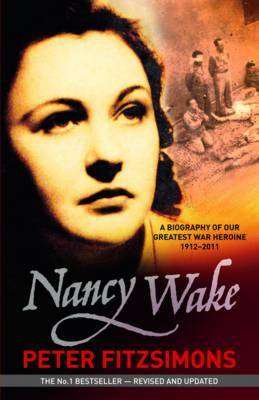 In the early 1930s, Nancy Wake was a young woman enjoying a bohemian life in Paris. By the end of the Second World War, she was the Gestapo's most wanted person.
As a naïve, young journalist, Nancy Wake witnessed a horrific scene of Nazi violence in a Viennese street. From that moment, she declared that she would do everything in her power to rid Europe of the Nazis. What began as a courier job here and there became a highly successful escape network for Allied soldiers, perfectly camouflaged by Nancy's high-society life in Marseille. Her network was soon so successful – and so notorious – that she was forced to flee France to escape the Gestapo, who had dubbed her "the white mouse" for her knack of slipping through its traps.
But Nancy was a passionate enemy of the Nazis and refused to stay away. Supplying weapons and training members of a powerful underground fighting force, organising Allied parachute drops, cycling four hundred kilometres across a mountain range to find a new transmitting radio – nothing seemed too difficult in her fight against the Nazis.
Peter FitzSimons reveals Nancy Wake's compelling story, a tale of an ordinary woman doing extraordinary things.
Genre: Non-fiction, Biography/Memoir, Historical, Action-Adventure
Disclosure: If you click a link in this post and make a purchase, I may earn a small commission.
BOOK REVIEW
While my consumption of non-fiction titles has slowly increased, travel memoirs are what I am generally attracted to. Biographies have rarely sparked my interest, but this story of 'our greatest war heroine Nancy Wake' penned by Australia's best selling non-fiction author Peter FitzSimons, that I stumbled across while browsing my library catalogue proved the exception.
I was pleased to find Peter FitzSimons' writing style was very similar to his public persona – a teller of a great Aussie yarn. (I suppose you could call him a minor celebrity in Australia, first coming to fame on the rugby field, and these days a journalist, radio and TV commentator). In the main, the prose leans towards utility rather than aesthetics, but literary flare shone through on occasion.
If New York had seemed a quite masculine city to her, and London a particularly refined dowager, then Paris for her was all woman, and a young and beautiful one at that. Nancy felt at home there, alive, free to be quixotic, temperamental, fanciful — just as the city itself was — and to feel Paris's warm embrace around her.
Despite a slight lull in momentum midway (relatively speaking, because real lives are rarely as efficiently scripted as fiction), this telling of the life of Nancy Wake is action-packed and extremely compelling reading. While not shying away from objectively describing the violence committed by everyday people during wartime, FitzSimons equally draws out the humour and light in the most unlikely of situations.
Courageous and fallible
Nancy Wake proves the perfect subject matter for a biography – audacious, courageous, and most importantly fallible.  A rebellious and mischievous spirit fostered in infancy, often a hindrance in polite society, proved an inimitable strength in the theater of war.
But as if often the case with the brightest stars, borne of a particular time and circumstance, the mercurial Nancy Wake did not adapt well to day-to-day life post-war nor the forgiving and inclusive society that grew around her later in life. I felt FitzSimons showed great respect for his subject and readers alike by not tempering the 'non-PC' views expressed by Wake during her twilight years. While I, along with most modern readers, will not necessarily agree with Wakes' views, we must respect that we are nothing if not shaped by our experiences and the world would be a poorer place if not for those with the 'gumption' to speak their mind.
The valor and sheer determination displayed by Nancy Wake deserve our deepest respect. This biography by Peter FitzSimons is as compelling as it is important – reminding new generations that an individuals' capacity to influence the lives of many is limited only by their will to do so.
BOOK RATING: The Story 4.5 / 5 ; The Writing 3.5 / 5  –  Overall 4
Get your copy of Nancy Wake from:
Amazon Book Depository Booktopia AU
OR listen to the audiobook FREE with Audible's Trial (check eligibility)
* This review counts towards my participation in the Aussie Author Challenge 2013.
More compelling nonfiction reads:
The Durrells of Corfu by Michael Haag  /  The Last Lions of Africa by Anthony Ham  /  Breaking & Mending by Joanna Cannon  /  An Elephant in My Kitchen by Francoise Malby-Anthony
About the Author, Peter FitzSimons
Peter FitzSimons is a journalist with the Sydney Morning Herald and Sun-Herald. He is the author of nearly twenty books – including Tobruk and biographies of Nancy Wake, Kim Beazley, Nene King, Nick Farr-Jones, Steve Waugh and John Eales. Check out his official website.