Mammoth, Book Review: Chris Flynn's fresh perspectives
Chris Flynn's new book Mammoth is filled with cutting humour and evocative characterization that offers fresh perspective on age-old lessons, and most importantly hope. Read on for our full review.
Mammoth Book Synopsis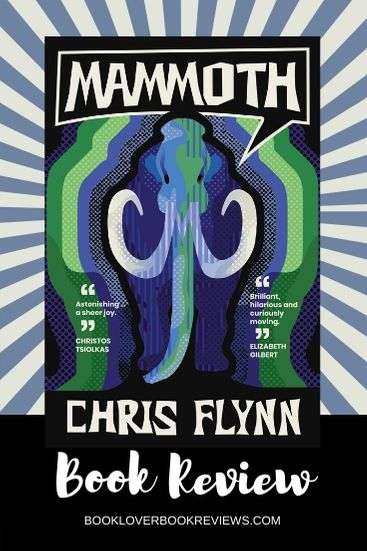 Narrated by a 13,000-year-old extinct mammoth, this is the (mostly) true story of how a collection of prehistoric creatures came to be on sale at a natural history auction in New York in 2007. By tracing how and when these fossils were unearthed, Mammoth leads us on a funny and fascinating journey from the Pleistocene epoch to nineteenth-century America and beyond, revealing how ideas about science and religion have shaped our world
With our planet on the brink of calamitous climate change, Mammoth scrutinises humanity's role in the destruction of the natural world while also offering a message of hope.
'A tour-de-force, a brilliant book, a witty vaccine for the planet.' – Sebastian Barry
'Astonishing, a novel that is by turns playful, uncomfortably excoriating, very funny and always deeply humane.' – Christos Tsiolkas
Shortlisted, 2021 Indie Book Awards (Fiction)
(UQP, 2020)
Genre: Literature, Adventure, Historical, Humour
Disclosure: If you click a link in this post and make a purchase, I may earn a small commission.
BOOK REVIEW
Mammoth does what great literature should. It causes readers to pause and consider important issues in ways they had not previously.
I was aware of the controversy surrounding the auctioning of various fossil artefacts in the US, particularly T. bataar specimens illegally extracted from Mongolia, having read journalist Paige Williams' fascinating book The Dinosaur Artist: Obsession, betrayal and the quest for earth's ultimate trophy. But Chris Flynn's novel's scope and ambition is much broader, and his highly original approach to considering the lessons of history, far more impactful.
The bulk of the narrative is delivered from the sage perspective of Mammut, an extinct woolly mammoth. One instinctively feels for the plight of this character, both his and his species' original demise and his more recent fossilized consciousness.
The first time I killed a man – that was a good feeling. Clovis, you were back then. You hunted in packs, just like Smilodon, and you were much weaker, but somehow also stronger, more resourceful… You worked marvels with your awkward hands, cleaving and building. Making things. Tools and weapons. Representations of beasts you blithely harvested, carved from the severed horn of a Coelodonta antiquitatis, or from the tusk of my dead sister. Remember? The one you speared.
Wonderful characterization
But it is Chris Flynn's wonderful characterisation of Mammut's auction house peers — a wannabe teenage gangster T.bataar, snarky paleo penguin, an aggrieved hand of a mummy and more — through their darkly hilarious banter oozing with sarcasm and cutting social commentary that really struck a chord. I could quote countless passages. Suffice to say, treasures await in this book's narrative for keen-eyed readers.
With references to everything from pop culture, science, politics and publishing, the good-natured bickering between them brings levity, dark humour and fresh perspective to dire circumstances. Mammoth's characters' objective tolerance of differing viewpoints, and respect and hope for all animal species, even humans, is what really makes this novel shine.
T.bataar: Hold on, Mammut. Is this going to be another one of your sad endings?… I'm just saying… your habit of finishing stories with death and destruction, this whole tale you're spinning is enough to make a tyrannosaur dive headfirst into the nearest tar pit.

M: What can I say? The lives of hominids are replete with tragedy.

Palaeo penguin: Are they though? Back in Boston, all anyone wanted to do was have a good time. And it's not like their lives were brimming with joy.

M: You are correct, Palaeo. For a story to be successful, tragedy must be tempered with comedy. No-one is miserable all the time.

Palaeo penguin: Right, and if you include a few laughs, it renders the sad moments all the more poignant.
Note, character dialogue is not name-marked in any way in the text. It is not required when readers have knowledge of character backstories, opinions, speech styles etc.
Power to move jaded readers
Along with 'brilliant' and 'hilarious', Elizabeth Gilbert described this novel as 'curiously moving'. And, I think she's hit the nail on the head there. This experimental fiction goes well beyond gimmick and quirk. Its intelligence and capacity to engage and impact even jaded modern readers on climate and social change is undeniable.
Chris Flynn's Mammoth is a relatively short and highly accessible edifying read. Quality literature with a timely and compelling trumpet call.
BOOK RATING: The Story 5 / 5 ; The Writing 5 / 5
Get your copy of Mammoth from:
Amazon Book Depository Booktopia AU Kobo
OR listen to the audiobook FREE with Audible's Trial (check eligibility)
Chris Flynn discusses what inspired him to write Mammoth, the research and historical fact it is based on, and the various themes he wanted to explore in this novel, in this interview with The Mix:
More Mammoth book reviews
"Think Ice Age or Night At The Museum, but with more adult humour and an even snarkier lead protagonist. Mammut, is everything I could want from a centuries-old fossil. Complete with an axe to grind, a story to tell, and a much-dulled sense of urgency in that retelling, he's the perfect narrator. " – Simon Clark, theAUreview
"This novel offers such an intelligent discourse on the state of the planet today, and while you can't help but feel as though the situation is dire (let's be honest, it is), there is also hope offered at the end, not just for our planet, but for us as well, flawed hominids that we are. Mammoth is an exceptional novel, both in its vision and execution." – TheresaSmithWrites
"This is a thought-provoking, funny and stunningly inventive book that'll take you to the edge of despair, but ultimately – depending on how full your glass is – offer some hope that we can bring this doomed ship we call Earth around." – Jack Dean, ArtsHub
Related historical reads:
Fortune by Lenny Bartulin   /   The Signature of All Things by Elizabeth Gilbert  /  The Bitter Trade by Piers Alexander  /  Beauty is a Wound by Eka Kurniawan  /  Olmec Obituary by LJM Owen
About the Author, Chris Flynn
Chris Flynn is the author of The Glass Kingdom and A Tiger in Eden, which was shortlisted for the Commonwealth Book Prize. His fiction and non-fiction have appeared in The Age, The Australian, Griffith Review, Meanjin, Australian Book Review, The Saturday Paper, Smith Journal, The Big Issue, Monster Children, McSweeney's and many other publications. He has conducted interviews for The Paris Review and is a regular presenter at literary festivals across Australia.
Born in Belfast, Northern Ireland in 1972, Flynn has resided in Melbourne, Australia since 1999. Chris currently lives on Phillip Island, next to a penguin sanctuary. Check out his website and connect with him on Instagram.
This review counts towards my participation in the Aussie Author Challenge 2020.
* My receiving a copy from the publisher for review purposes did not impact the expression of my honest opinions.