Trust by Chris Hammer (Martin Scarsden #3), Book Review + Giveaway
Trust by Chris Hammer, the third instalment in his bestselling Martin Scarsden series, is investigative crime fiction at its very best. Read on for our full review.
Plus, thanks to Allen & Unwin, I have a paperback copy of this novel to giveaway (AUS mailing addresses only).
Trust Book Synopsis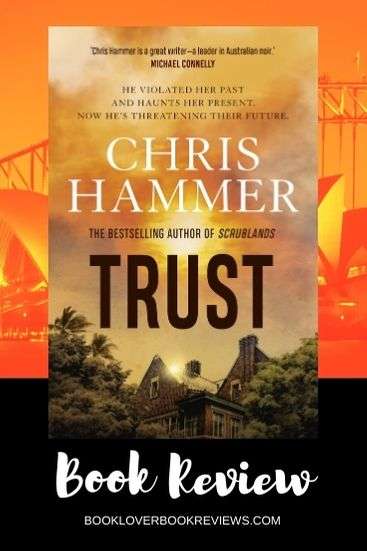 She breathes deeply, trying to quell the rising sense of panic. A detective came to her home, drugged her and kidnapped her. She tries to make sense of it, to imagine alternatives, but only one conclusion is possible: it's the past, come to claim her.
Martin Scarsden's new life seems perfect, right up until the moment it's shattered by a voicemail: a single scream, abruptly cut off, from his partner Mandalay Blonde.
Racing home, he finds an unconscious man sprawled on the floor and Mandy gone. Someone has abducted her. But who, and why?
So starts a twisting tale of intrigue and danger, as Martin probes the past of the woman he loves, a woman who has buried her former life so deep she has never mentioned it.
And for the first time, Mandy finds denial impossible, now the body of a mystery man has been discovered, a man whose name she doesn't know, a man she was engaged to marry when he died. It's time to face her demons once and for all; it's time she learned how to trust.
Set in a Sydney riven with corruption and nepotism, privilege and power, Trust is the third riveting novel from award-winning and internationally acclaimed writer Chris Hammer.
(Allen & Unwin – October 2020)
Genre: Crime-Detective, Thriller, Mystery, Drama, Action
Disclosure: If you click a link in this post and make a purchase, I may earn a small commission.
BOOK REVIEW
One of the joys of being an avid reader is following character journeys across book series; their close calls, wins and losses, their moments of realisation, personal growth and maturation. And, one of the great privileges of being a book reviewer is witnessing authorial talent shine and refine. In Trust, the third title in his Martin Scarsden Series, Chris Hammer has more than delivered on both counts.
From the evocative opening line of the Prologue,
The realisation swells within him, like a birthing. It's happening right now today, in this moment of time, in this sliver of history…
Hammer's wonderfully accessible yet lyrical prose style is back. In Silver (Book 2) I admired his capacity to set a scene and mood, and in this outing he has raised that bar even higher.
This novel's setting, and its layered resonant theme of 'trust' is very much 'of this moment, in this sliver of history' and in some respects, ahead of its time. Post-bushfires post-COVID Sydney is as much a character in Trust as its leads Martin Scarsden and Mandalay Blonde. And yes, I said leads, plural.
Characterisation & plotting
For the first time in this series, a significant portion of the story is told from Mandy's perspective. Hammer's authentic and meaningful development of her character (incl. disclosure of her previously mysterious backstory) only enhances the investigative intensity and compelling tension. In my humble opinion, this bodes well for the potential longevity of this investigative crime series.
And finally, Trust's far reaching criminal plot. Its complexity impressive, and the gritty social commentary woven into Hammer's elegantly paced reveal, just superb. He does not hold back on the violence and action sequences either… we're talking revolvers at point blank range. But, somehow Hammer's depiction (often in slow motion) echoes the shock and gore of such events without making them undigestable.
I was glued to this novel's pages. The Trust story arc is thought-provoking, the observations insightful and the characterisation authentic; investigative crime fiction at its very best. Another title for my Best Books of 2020 list.
A huge fan of this series before this, and now I am hooked. Sorry Chris Hammer, but you really will need to write a Book 4… although I do not envy you trying to devise another plot equal to this one.
BOOK RATING: The Story 4.5 / 5;  The Writing 5 / 5  –  Overall 4.75
Get your copy of Trust from:
Update: I have since also had the great pleasure of reading the first three title in Hammer's Detective Lucic & Buchanan series, Treasure & Dirt, The Tilt and The Seven.
This review counts towards my participation in the Aussie Author Challenge 2020.
About the Author, Chris Hammer
Chris Hammer was a journalist for more than thirty years, dividing his career between covering Australian federal politics and international affairs. For many years he was a roving foreign correspondent for SBS TV's flagship current affairs program Dateline. He has reported from more than thirty countries on six continents. In Canberra, roles included chief political correspondent for The Bulletin, current affairs correspondent for SBS TV and a senior political journalist for The Age.
His first book, The River, published in 2010 to critical acclaim, was the recipient of the ACT Book of the Year Award and was shortlisted for the Walkley Book Award and the Manning Clark House National Cultural Award.
Scrublands, his first novel, was published in 2018 and was shortlisted for Best Debut Fiction at the Indie Book Awards, shortlisted for Best General Fiction at the Australian Book Industry Awards, shortlisted for the UTS Glenda Adams Award for New Writing at the NSW Premier's Literary Awards and won the UK Crime Writers' Association John Creasey Debut Dagger Award. His second novel, Silver, was published in 2019 and was shortlisted for Best General Fiction at the Australian Book Industry Awards, shortlisted for the 2020 ABA Booksellers' Choice Book of the Year Award, and longlisted for the UK Crime Writers' Association Gold Dagger Award.
Chris has a bachelor's degree in journalism from Charles Sturt University and a master's degree in international relations from the Australian National University. He lives in Canberra with his wife, Dr Tomoko Akami. The couple have two children. Check out his website or connect with him on Facebook.
* Receiving a copy from the publisher for review purposes did not impact the expression of my honest opinions. 
Trust Virtual Book Tour
This review forms part of Allen and Unwin's blog tour celebrating the release of Trust. For more insights on this top quality crime novel be sure to visit other blog tour participants.
Book Giveaway
Thanks to Allen & Unwin we have one paperback copy of Trust to giveaway – Australian mailing addresses only. Entries close midnight 31 October 2020.
See entry form below. Ensure you scroll to the bottom of the form and press submit to register your entry. You can improve your chance of winning by:
The lucky winners will be randomly selected and announced on our Facebook Page.
SORRY, ENTRIES CLOSED – See winners announcement.