Chasing the McCubbin: Sandi Scaunich finds inspiration close to home
I am delighted to welcome Sandi Scaunich to discuss the inspiration for her new debut novel Chasing the McCubbin. Plus, thanks to publisher Transit Lounge, I have two ebook copies to giveaway to lucky readers in Australia or New Zealand.
Chasing the McCubbin: Sandi Scaunich on how she found inspiration close to home
My parents have been 'pickers' my entire life. A few years ago, I accompanied my dad on his usual Friday picking rounds for the first time. (For the uninitiated, this is when collectors door-knock at addresses to advertise upcoming garage sales. The aim is to get in early and snap up bargains!). To my surprise, I found the whole experience rather fascinating. Melbourne's collecting or 'picking' scene is full of interesting, passionate and sometimes eccentric characters. Beneath the friendly veneer, though, was real competitiveness! It was an intriguing dynamic to observe. Watching sellers part with objects was often quite poignant: the projection of emotions and memories poured into inanimate objects was very notable at times, and watching an invisible attachment break as precious items were sold has always stayed with me.
Given my intrigue, I began to take notes. With a postgraduate degree in anthropology, I suppose I went into, well, 'anthropologist mode'. Scribbling observations and ideas with no real purpose but to capture and record. I've always loved ethnographic research, which centres on observation and immersion, and so, for a while, I was an ethnographer, taking field notes of a subculture with its own unwritten rules of engagement and shared purpose.
Initially, I thought I'd turn my notes into an extended article with a view to pitching it to a magazine like The Age's Good Weekend.
Then, one day while we were circling the suburban streets, I asked Dad why he did it – picking. It was such an obvious, simple question, which, strangely, I'd never thought to ask. Without hesitation, he replied, matter of fact,
'Sand, we're all out chasing the McCubbin.'
At that moment, I knew I was going to write a book. I had the title before the story!
Right, ok then, I thought. A novel … Foremost, I needed to decide on the place: The Pines, a disadvantaged outer Melbourne suburb. Next, the era: the 1990s Melbourne antique scene, which was booming at the time. Given the setting and era, I knew the intersecting themes of poverty, unemployment, rigid gender roles, class, isolation, stigma and belonging would underpin the novel. So I wanted to create characters that embodied these core themes through their experiences, beliefs and behaviours. That's when I conceived the idea of an unlikely intergenerational male friendship. Ron and Joseph differ in age and experience, and these differences provided scope to explore how the themes impact men in different ways.
Yet … despite the story slowly taking shape, I intuitively felt something was missing at a more profound level.
Then, serendipitously, I was in an op-shop and spotted a print of Frederick McCubbin's famous painting Down On His Luck. At the risk of sounding clichéd, in that moment, the fundamental missing element of the story came to me: Ron is a modern reincarnation of the man in Down On His Luck.
In the 1800s, impressionist painters, such as McCubbin, were promoting the white male narrative through their works – the white man as explorer, worker, prospector, farmer, etc. I imagined the mystery man to be a prospector and wondered what kept him motivated to keep searching for gold. The answer quickly coalesced: he was driven by hope.
Ron and the mystery man both dream of a better life. They are connected through shared experiences of hope, disappointment and persistence. Both long for security and a life without struggle.
And that was it! All my runners and riders were lined up, and I knew I had the story to match the title, Chasing the McCubbin.
Disclosure: If you click a link in this post and make a purchase, I may earn a small commission.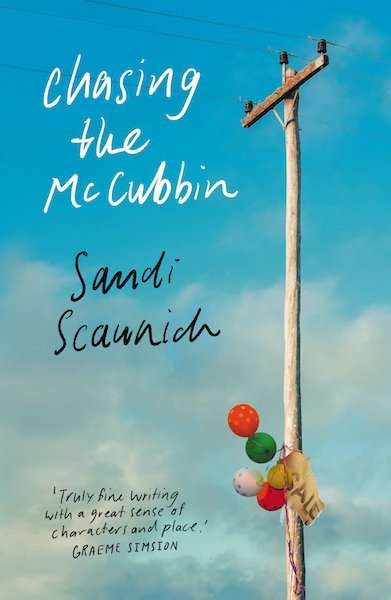 The Pines, an outer Melbourne suburb down on its luck. A country in the grip of recession.
Experienced collector Ron senses new possibilities: swift evictions provide hard-rubbish to scour and garage-sales have doubled. There's only one problem: since losing his wife, Ron has struggled to navigate the suburbs alone. Plus, his deteriorating health slows him down.
This all changes through a chance meeting with Joseph, a troubled, withdrawn and unemployed 19-year old who knows nothing about antiques. As Joseph comes to understand and appreciate Ron's world of eccentric bargain hunters, and hopefulness, his ability to navigate a history of family violence and to see a future for himself grows. Both come to share the wild dream of finding a rare bargain such as an original Frederick McCubbin painting and making their fortune. So begins an exhilarating adventure and an unlikely and beautiful friendship.
Set against the background of the early 1990s, Chasing the McCubbin is funny and sad in equal measure. A story of loneliness and the ageless desire for belonging, it will be the most heartbreaking yet feel-good novel you will read this year.
'Truly fine writing with a great sense of characters and place, sympathetic and heartfelt without being sentimental, Scaunich pulls us into a fascinating world of low stakes and petty rivalries.' – GRAEME SIMSION, author of The Rosie Project
'Authentic, subtle, evocative and alive.' – KATE RYAN
(Transit Lounge Publishing, March 2021)
Get your copy of Chasing the McCubbin from:
More Australian literature:
The Returns by Philip Salom  /  The Price of Two Sparrows by Christy Collins  /  The Burning Island by Jock Serong  /  Almost a Mirror by Kirsten Krauth  /  Animal People by Charlotte Wood
About the Author, Sandi Scaunich
Sandi Scaunich has worked extensively in government and non-government organisations, as well as an academic and tutor across three Melbourne universities, in the fields of anthropology, public health and gender equality. Her writing has appeared in various online blogs, academic reports, as well as The Age newspaper. When not writing, hunting for second-hand bargains or spending time with her husband, children and Pesca the Kelpie x, she works as a Diversity and Inclusion Consultant. Chasing the McCubbin is her first novel.
Pushing Back eBook Giveaway
Thanks to Transit Lounge Publishing we have 2x ebook copies of Chasing the McCubbin by Sandi Scaunich to giveaway. Entry restricted to Australian or New Zealand readers and close midnight 24 March 2021.
See entry form below. Ensure you scroll to the bottom of this form and press submit to register your entry. You can improve your chance of winning by:
The lucky winners will be randomly selected and announced on our Facebook Page.
SORRY, ENTRIES CLOSED – See winners announcement.