Falling by TJ Newman, Book Review: Gripping depths
Falling by TJ Newman is more than deserving of all the praise it has received; an almost flawlessly executed thriller that plumbs gripping depths. Read my full review.
Falling Synopsis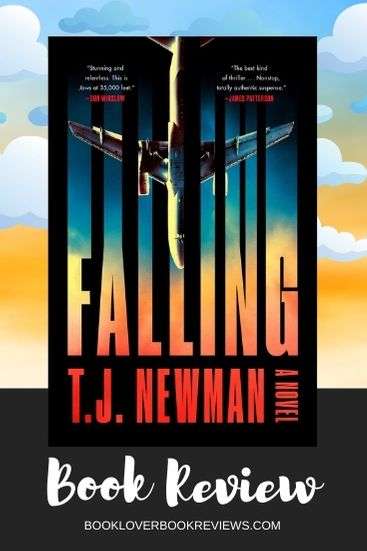 You just boarded a flight to New York.
 
There are one hundred and forty-three other passengers onboard.
 
What you don't know is that thirty minutes before the flight your pilot's family was kidnapped.
 
For his family to live, everyone on your plane must die.
 
The only way the family will survive is if the pilot follows his orders and crashes the plane.
 
Enjoy the flight.
Praise for Falling:
'Think Speed on a passenger jet – with the cockpit dials turned up to supersonic' – Ian Rankin
'Stunning and relentless. This is Jaws at 35,000 feet' – Don Winslow
'A superlative debut . . . This tense, convincing thriller marks the arrival of an assured new talent' – Publishers Weekly (starred review)
(Simon & Schuster, June 2021)
Genre: Action-Adventure, Thriller, Drama, Detective
Disclosure: If you click a link in this post and make a purchase, I may earn a small commission.
Book Review
When the shoe dropped into her lap the foot was still in it.
With an opening line like this, it should not be too hard to believe me when I say the narrative in TJ Newman's debut novel is uncommonly engaging. But what you may find harder to believe, until you experience it for yourself, is that she manages to maintain such heightened levels of tension and suspense throughout this entire novel. Honestly, you would have been hard-pressed to prise this book from my hands while reading.
The thing is though, Falling is not just a very well-executed action thriller. It is a fantastic novel, period.
For me, everything about this work of fiction oozed authenticity. The character development is first class – even the 'bad guys' – from their backstories and motivations to their actions and dialogue under intense pressure, it all rang true. Or at least, felt sufficiently gritty and realistic to never burst my reading bubble.
Falling's almost seamless execution and nuanced characterisation offers readers many heart-in-the-mouth and moist-eyed moments. Heartwarming seems too trite; this story is moving. But most of all, Falling delivers lots of surprises… which makes it challenging to review without revealing spoilers.
Rarely does an action thriller earn my elusive 5-star rating, but Newman's debut is deserving of it. Falling is an early contender for my best book of 2021.
BOOK RATING: The Story 5 / 5 ; The Writing 5 / 5
Get your copy of Falling from:
Amazon
Book Depository
Booktopia AU
OR
listen to the audiobook FREE
with Audible's Trial (check eligibility)
Update: We have since also read her second novel Drowning (links to my review).
More thrilling action reads:
More Falling Reviews
'The best thriller I've read in years. Buckle up. ' – Adrian McKinty
'Falling redefines the phrase roller coaster ride. It redefines the term edge-of-your-seat thriller.  It is that rarest of things, a book that is even better than everyone says it is. T.J. Newman has delivered a stunning debut.' – Dervla McTiernan
'Amazing . . . Intense suspense, shocks and scares plus chilling insider authenticity make this one very special.' – Lee Child
About the Author, TJ Newman
T. J. Newman,a former bookseller turned flight attendant, worked for Virgin America and Alaska Airlines from 2011 to 2021. She wrote much of Falling on cross-country red-eye flights while her passengers were asleep. She lives in Phoenix, Arizona. This is her first novel.
* My receipt of a review copy from the publisher did not impact the expression of my honest opinions above.
This review is featured by Twinkl in their blog about the latest must-read books. See more recommendations and get involved at Book Lovers' Top Picks For Your 2021 TBR List.