Once There Were Wolves by Charlotte McConaghy, Review: Mesmerising
Once There Were Wolves by Charlotte McConaghy is as mesmerising as it is thrilling; the work of an exceptionally talented author. Read my full review.
Once There Were Wolves Synopsis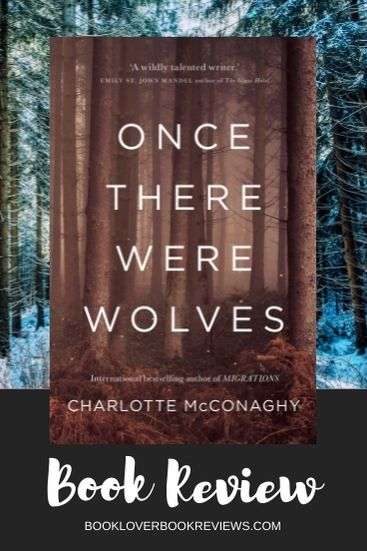 From the author of the international bestseller Migrations comes a pulse-pounding new novel set in the wild Scottish Highlands
Inti Flynn arrives in Scotland with her twin sister, Aggie, to lead a team tasked with reintroducing fourteen grey wolves into the remote Highlands. She hopes to heal not only the dying landscape, but a broken Aggie, too. However, Inti is not the woman she once was, and may be in need of rewilding herself. 
Despite fierce opposition from the locals, Inti's wolves surprise everyone by thriving, and she begins to let her guard down, even opening up to the possibility of love. But when a local farmer is found dead, Inti knows where the town will lay blame. Unable to accept her wolves could be responsible, she makes a reckless decision to protect them, testing every instinct she has. 
But if her wolves didn't make the kill, then who did? And what will she do when the man she's been seeing becomes the main suspect?
Propulsive and spellbinding, Once There Were Wolves is the unforgettable tale of a woman desperate to save the creatures she loves. Part thriller, part redemptive love story, Charlotte McConaghy's profoundly affecting novel will stay with you forever.
(Penguin, August 2021)
Genre: Literature, Drama, Mystery, Romance, Thriller
Disclosure: If you click a link in this post and make a purchase, I may earn a small commission.
Book Review
From concept to execution, I found Once There Were Wolves utterly mesmerising.
The level of intimacy McConaghy cultivates not just between reader and story narrator Inti, but also between Inti and the other characters (noting this includes fauna and flora) is a rare gift. And from a critic's standpoint, her multi-faceted and nuanced approach to achieving this… truly impressive. When interviewed, McConaghy has said, 'I want reading my novels to feel like walking through a forest or swimming in the ocean, to offer a breath of fresh air and remind readers of the beauty that still remains in the world.' Once There Were Wolves certainly delivers on that ambition.
"My father used to say the world turned wrong when we started separating ourselves from the wild, when we stopped being one with the rest of nature, and sat apart." 
Captivating also is the layering and resonance of her exploration of the concept of rewilding. But, most affecting for me was the light McConaghy shines on the depths of society's shadows
"this is the thing, isn't it? This is the fear they live with now. The children in us long for monsters to take forms we understand. They want to fear the wolves because they don't want to fear each other." 
and her broad interpretation of languages and their power.
"There are languages without words and violence is one of them."
Prickling tension
The judicious, yet authentically timed disclosure of deeply scarring historical events, slowly ratchet reader tension in parallel with the tensions of the townsfolk, culminating in a genuinely heart-pounding and heart-rending climax.
I have the greatest admiration for the fearlessness McConaghy displays in crossing, and thus provoking thought about, the very fine line between love and hate, harm and protection, revenge and redemption. She leads readers to dark places but lights that journey with characters that display great strength and power by acknowledging and harnessing their own fears.
I unreservedly recommend Charlotte McConaghy's Once There Were Wolves. It is an uncommonly affecting and memorable literary thriller; one of my favourite reads of 2021. It is a title that will provoke interesting and rewarding book club discussions.
BOOK RATING: The Story 5 / 5 ; The Writing 5 / 5
Get your copy of Once There Were Wolves from:
Amazon
Book Depository
Booktopia AU
OR listen to the audiobook FREE with Audible's Trial (check eligibility)
More mesmerising stories with a naturalist bent:
More Once There Were Wolves reviews
'McConaghy's fierce and brilliant new book, takes the wolf as a central metaphor to explore human nature, violence, and love. It's a novel that scalds with its fury but soothes with its empathy, and it is without a doubt one of my favourite books of the year.' – Olivia Fricot, Booktopia Blog
'Intense, emotional and rich with beautifully rendered prose, McConaghy's novel is a powerful meditation on humanity, nature and the often frightening animalistic impulses lurking within us all . . . Another triumph for a rising fiction star, offering an intensely realized world for readers to get lost in.' – Bookpage (Starred Review)
'Once There Were Wolves is a novel that pulses with rage whilst blinding you with beauty. It's a profoundly moving novel, one to linger over and take your time with. Charlotte McConaghy is a force to be reckoned with when it comes to writing impactful eco-literature.' – Theresa Smith Writes
Once There Were Wolves resources & more memorable book quotes
"The world he describes, empty of wild creatures and places, overrun instead by people and their agriculture, is a dying world" 
"I think it's civilization makes us violent. We infect each other." 
"If you truly think wolves are the blood spillers, then you're blind…We do that. We are the people killers, the children killers. We're the monsters." 
"Dominance often has nothing to do with size or aggression." 
About the Author, Charlotte McConaghy
Charlotte McConaghy has been writing from a young age. She has both a Graduate Degree in Screenwriting and a Masters Degree in Screen Arts, and has worked in script development for film and television for several years. She has written a number of speculative fiction books but The Last Migration was her first literary novel. Once There Were Wolves is her second. She lives in Sydney. Check out Charlotte's website and connect with her on Twitter or Facebook.
This review counts toward my participation in the Aussie Author Challenge 2021 and the 2021 Australian Women Writers Challenge.
* My receipt of a review copy from the publisher did not impact the expression of my honest opinions above.