One for Sorrow by Helen Fields, Book Review: Riveting read
One for Sorrow, the seventh title in Helen Fields' DI Callanach Series, is a crime narrative tackling confronting topics that pulsates with emotional depth and gut-wrenching suspense. Read my full review.
One for Sorrow Synopsis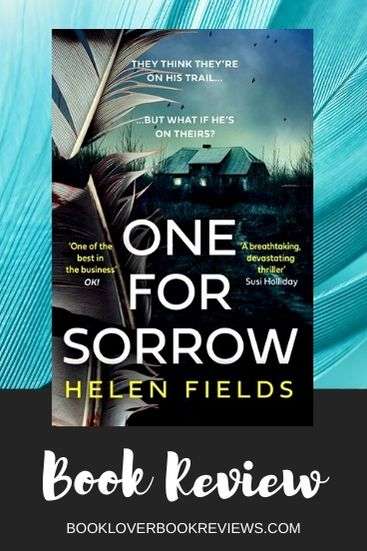 Book 7 – DI Callanach
One for sorrow, two for joy
Edinburgh is gripped by the greatest terror it has ever known: a lone bomber is targeting victims across the city, and no one is safe.
 
Three for a girl, four for a boy
In their jobs, DCI Ava Turner and DI Luc Callanach deal with death every day. But when it becomes clear that every bomb is a trap designed to kill them too, the possibility of facing it themselves starts to feel all too real.
 
Five for silver, six for gold
With the body count rising daily and the bomber's methods becoming ever more horrifying, Ava and Luc must race to find out who is behind the attacks – or pay the ultimate price…
 
Seven for a secret never to be told…
 
With twists and turns you'll never see coming, prepare to be gripped by this devastatingly good thriller. Perfect for fans of Stuart MacBride and M J Arlidge.
(Avon – HarperCollins, March 2022)
Genre: Crime-Detective, Thriller, Mystery, Drama
Disclosure: If you click a link in this post and make a purchase, I may earn a small commission.
Book Review
Right now I'm kicking myself that One for Sorrow is my first experience of Helen Fields' fiction. This seventh title in her DI Callanach Series was an uttlerly gripping read as a standalone, so it is clear that I have missed out on similar taut narratives and thrilling plots in the novels that preceded it. That said, it's better to have discovered this authorial talent and fantastic series characters Callanach and DCI Ava Turner late rather than never. 
DCI Ava Turner and DI Luc Callanach are both dedicated to their work, colleagues, friends and each other, despite technically no longer being romantically involved. Ava is gutsy and brave to a fault; Luc is steadfast, caring, a protector. And their support network, as they lead the hunt for the bomber while battling their own grief and mental demons, is comprised of some endearingly feisty and wise characters also. 
"When you're able, you need to make time to understand how privileged you are to have felt such pain. Too few of us ever find a love that devastates us like that."
But most striking, and something I only fully realised at this novel's conclusion, is that with each and every characterisation (even those of the least admirable) Fields achieves an uncommon level of emotional nuance and authenticity.
This grounded, real-world quality extends to the scarily everyday nature of the events that cumulatively trigger the bomber's devasting actions. Fields clearly understands the human psyche well, and in One for Sorrow expertly mines the fear and dread that witnessing the simplest of sliding door moments can evoke. She starts this even before the first page by threading the first half of a seemingly innocent children's nursery rhyme about counting magpies into the book synopsis. For those not familiar with this rhyme, it ends:
Eight for a wish,
Nine for a kiss,
Ten a surprise you should be careful not to miss,
Eleven for health,
Twelve for wealth,
Thirteen beware it's the devil himself.
Fields continues ratcheting up the tension and suspense by drawing readers' focus to things left unsaid throughout the novel. Most notably, the way she has interspliced Ava and Luc's frantic present-day hunt for the bomber with the chronological revelation of historical events that led to the bombing spree. Clever writing indeed.
I should point out, while mental and emotional trauma plays a chillingly large role in this story, the gruesome nature and vivid depiction of the physical trauma perpetrated is confronting too. But, if like me, you are a fan of TV programs like Silent Witness, this is the book for you.  
Helen Fields' emotionally-engaging and deeply thought-provoking crime narrative One for Sorrow is a riveting read.
BOOK RATING: The Story 4.5 / 5 ; The Writing 5 / 5 ; Overall 4.75
Get your copy of Helen Fields' One for Sorrow from:
Bookshop US
Amazon
Booktopia AU
OR listen to the audiobook FREE with Audible's Trial (check eligibility)
Update: I have since also enjoyed Helen Fields' standalone crime thriller The Last Girl to Die (2022).
More One for Sorrow reviews
'Grabs you at page one and holds on like a police dog tackling a suspect. Sometimes shocking, often gruesome, always gripping. Ten for thrills!'- Douglas Skelton, author of The Blood is Still
'A breathtaking thriller with a devastating conclusion. I can't stop thinking about it.' – Bestselling author Susi Holliday
'The day this series ends, I will be disappearing for at least a month trying to make do with the fact that there will be no more new D.I. Callanach in the world. … One for Sorrow taps into the greatest fear you can have as a woman and it exploits and presents it in such a way that can bring you to sob.' – thebusyshelf.com
About the Author, Helen Fields
Helen Fields studied law at the University of East Anglia, then went on to the Inns of Court School of Law in London. After completing her pupillage, she joined chambers in Middle Temple where she practised criminal and family law for thirteen years. After her second child was born, Helen left the Bar. Together with her husband David, she runs a film production company, acting as script writer and producer. Helen and her husband now live in Hampshire with their three children and two dogs. Check out her website or connect with her on Facebook / Twitter.
Previous titles in Helen Fields' DI Callanach Series
* My receipt of a review copy from the publisher did not impact the expression of my honest opinions above.