Go As A River by Shelley Read, Review: Haunting historical debut
Go As A River is Shelley Read's haunting historical fiction debut about female grit and resilience in response to immeasurable trauma. Read my full review.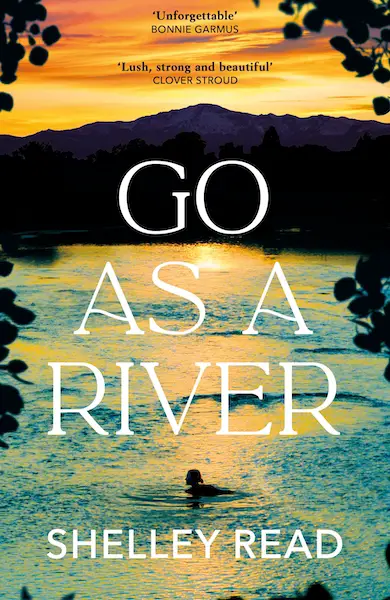 Go As A River Synopsis
On a cool autumn day in 1948, Victoria Nash delivers late-season peaches from her family's farm set amid the wild beauty of Colorado, then heads into the village. As she nears an intersection, a dishevelled stranger stops to ask her the way. How she chooses to answer will unknowingly alter the course of both their young lives.
So begins the mesmerising story of split-second choices and courageous acts that propel Victoria away from the only home she has ever known and towards a reckoning with loss, hope and her own untapped strength.
Gathering all the pieces of her small and extraordinary existence, spinning through the eddies of desire, heartbreak and betrayal, she will arrive at a single rocky decision that will change her life for ever.
Go As A River is a heart-wrenching coming-of-age story and a drama of enthralling power. Combining unforgettable characters and a breathtaking natural setting, it is a sweeping story of survival and becoming, of the deepest mysteries of love, truth and fate.
(Penguin Books, March 2023)
Genre: Historical, Drama, Romance
Disclosure: If you click a link in this post and make a purchase, I may earn a small commission.
Book Review
Go As A River is truly haunting historical fiction. 
Shelley Read's debut novel has one of the most impactful Prologues I have ever read.
"My home is at the bottom of a lake. Our farm lies there, mud bound, its remants indistinguishable from boat wreckage. Sleek trout troll the remains of my bedroom and the parlor where we sat as a family on Sundays. Barns and troughs rot. Tangled barded wire rusts. The once fertile land marinates in idleness."
This first-hand perspective really hammers home the impact of building dams has not just on the natural landscape, but also people and their history. 
Go As A River is a literary novel in the sense that Shelley Read's descriptions are uncommonly vivid, perceptive and nuanced. She brings alive on the page our capacity to connect with and derive energy from nature. But the Prologue aside, Victoria Nash's heart wrenchingly stoic first-person narrative and painfully swift coming-of-age is basically told chronologically. There's no overt structural complexity or linguistic swordplay so often found in the genre. For me this novel's power stems from the depths to which it plumbs raw and authentic emotions.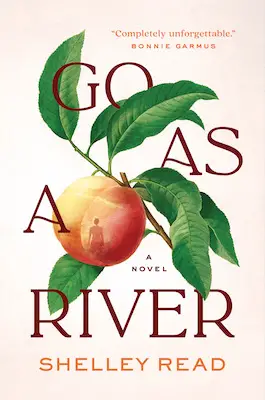 In Go As A River Shelley Read explores with an engaging juxtaposition of sensitivity and pragmatism, the scars of bigotry, racism, war and women's inequality. And more specifically the trauma some individuals had to, and in many contexts continue to, endure in society's painfully slow journey towards open minds and hearts.
Like so many throughout history, Victoria Nash's fictional life story was no Disney movie. She carried burdens larger than she ever should have had need to, but did so with inspiring grit, determination and dignity.
… I've come to understand how the exceptional lurks beneath the ordinary, like the deep and mysterious world beneath the surface of the sea."
I highly recommend Shelley Read's Go As A River to those looking for earthy, simply told yet powerful historical fiction that provokes reflection.
BOOK RATING: The Story 4 / 5 ; The Writing 4.5 / 5 – Overall 4.25
Get your copy of Go As A River from:
Amazon
Bookshop US
Booktopia AU
More authentic historical drama:
More Go As A River reviews
"There is a quietly commanding power to this novel that will stay with its readers long after they finish it. I closed this book with a conviction that to live well and authentically is a choice that we make in our everyday actions." — BetterReading
"'Go As a River delivers so very much: the tenderness and curiosity of young love, the eternal pangs of loss, the brutality of racism, the sustaining power of nature and the miracle of a mother's love. Suffused with wisdom and compassion, this shattering testimony to life must be savored, treasured, shared." — Meg Waite Clayton, author of The Postmistress of Paris
"This stunning debut explores what it means to lead your life as if it were a river — gathering and flowing, finding a way forward even when a river is dammed." — BookReporter
"With delicate precision, Read evokes both Colorado's rugged wilderness and the landscapes of her characters' troubled hearts. An auspicious debut." — Kirkus Reviews
About the Author, Shelley Read
Shelley Read is a fifth generation Coloradoan who lives with her family in the Elk Mountains of the Western Slope. She was a Senior Lecturer at Western Colorado University for nearly three decades, where she taught writing, literature, environmental studies, and Honors, and was a founder of the Environment & Sustainability major and a support program for first-generation and at-risk students. Go As A River, her first novel, is inspired by the landscape she comes from and will be published in over twenty-five territories.
* My receiving a copy from the publisher for review purposes did not impact the expression of my honest opinions.