The Bookbinder of Jericho, Review: Pip Williams' deeply moving tale
The Bookbinder of Jericho is Pip Williams' captivating new historical fiction novel, and a companion read to her worldwide bestselling The Dictionary of Lost Words. Read my full review.
The Bookbinder of Jericho Synopsis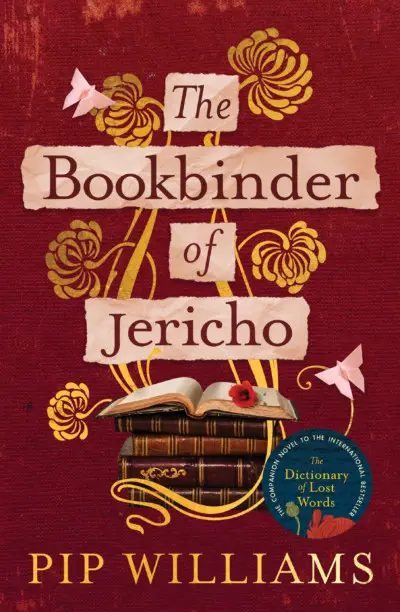 What is lost when knowledge is withheld?
In 1914, when the war draws the young men of Britain away to fight, it is the women who must keep the nation running. Two of those women are Peggy and Maude, twin sisters who work in the bindery at Oxford University Press in Jericho. Peggy is intelligent, ambitious and dreams of studying at Oxford University, but for most of her life she has been told her job is to bind the books, not read them. Maude, meanwhile, wants nothing more than what she has. She is extraordinary but vulnerable. Peggy needs to watch over her.
When refugees arrive from the devastated cities of Belgium, it sends ripples through the community and through the sisters' lives. Peggy begins to see the possibility of another future where she can use her intellect and not just her hands, but as war and illness reshape her world, it is love, and the responsibility that comes with it, that threaten to hold her back.
In this beautiful novel from the internationally bestselling author of The Dictionary of Lost Words, Pip Williams explores another little-known slice of history seen through women's eyes. Evocative, subversive and rich with unforgettable characters, The Bookbinder of Jericho is a story about knowledge – who gets to make it, who gets to access it, and what is lost when it is withheld.
(Affirm Press, March 2023)
This title will be released in the UK in July, and as The Bookbinder in US/Canada on 1 August 2023.
Source: Youtube – Affirm Press
Genre: Literature, Historical, Drama, Romance
Disclosure: If you click a link in this post and make a purchase, I may earn a small commission.
Book Review
Pip Williams won me over with her worldwide bestselling The Dictionary of Lost Words. I adored the story premise and her highly perceptive character development. And, it is clear I was not alone, since three years later the title remains one of the most popular book reviews on this site. So I approached this companion novel, The Bookbinder of Jericho, with managed expectations — could she recreate the magic a second time around?
While a less 'novel' story premise, for me The Bookbinder of Jericho surpasses its predecessor in depth and gravitas. Once again, Williams brings vividly to life the stories of women lost to the patriarchal lens of the historical record. This novel's character ensemble is an eclectic bunch brought into each other's orbit through the circumstances of war. Some are feisty, some are stoic and some are misunderstood. But in one way or another, all are under-estimated and under-valued by society.
Strong female relationships
I was utterly captivated by the resilient, intellectually curious and resourceful Peggy's first-person narrative.
"Summer mornings had no manners; they slipped beneath our curtains and roused a winged chorus, and I was awake long before I wanted to be." 
I felt privileged to have this character share so candidly with us her self-doubt, missteps and frustration associated with her status in society, and be afforded insight to her sometimes fraught but unerringly loving relationship with her twin sister Maude. There are many moments of magic in this novel, but common to most is Maude's presence. This wonderful quote sums it up well: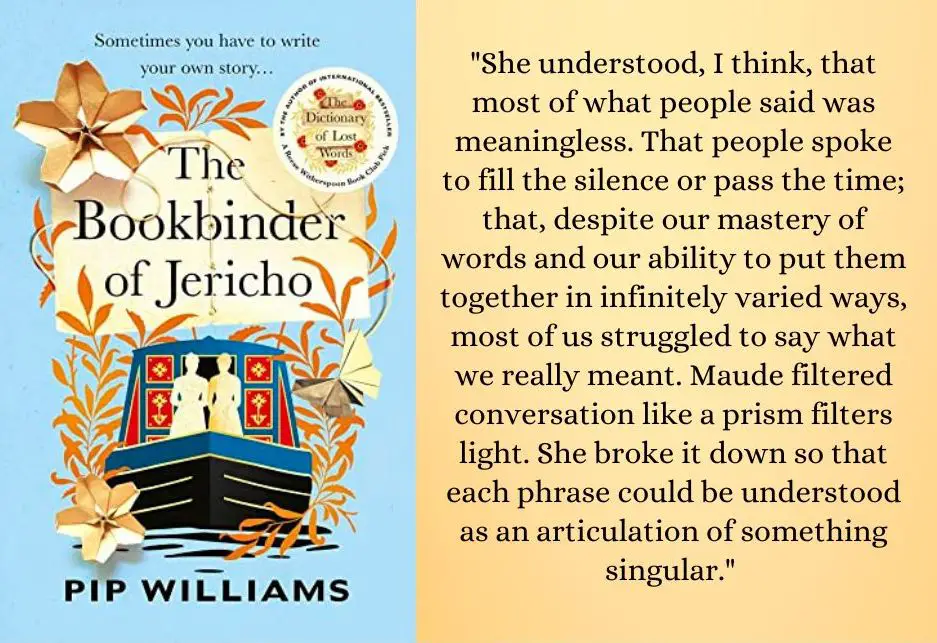 And, I think the extent to which the Chatto Windus book cover art honours the twin sisters' special relationship and Maude's deeply meaningful folded paper stars makes it my favourite.
Too often, fiction focuses on female friendships' competitive nature, as though we're all fighting over some male prize. With The Bookbinder of Jericho Williams heroes the strength and admiration borne from various, at times unlikely, female friendships and the frank exchange of perspectives from universally shared experiences.
"What is worse than tedious?' 'Dishonest.' Lotte looked at me, her head tilted. She smiled. 'Dishonest. Yes. Manners are often that." 
Grief, knowledge and legacy
The Bookbinder from Jericho's gravitas stems too from its deeply moving exploration of love, loss and grief. Williams depicts so well that in love, often it is things not said that can sting the most. And of war, each person's experience is unique, and the invisible aftermath on the psyche can be achingly raw and overwhelming. This is not a Disney movie — best to have tissues at the ready.
As a lover of language and books and a female who has been very fortunate not to have access to knowledge or educational opportunities denied me, I also found Peggy's quest for empowerment through education and reverence toward books deeply moving.
"When we bound these books, I thought, they were identical. But I realised they couldn't stay that way. As soon as someone cracks the spine, a book develops a character all its own. What impresses or concerns one reader is never the same as what impresses or concerns all others. So, each book, once read, will fall open at a different place. Each book, once read, I realised, will have told a slightly different story." 
One could say The Bookbinder from Jericho is a novel made for women and/or book lovers. It is certainly a must-read for this audience demographic. But do not misinterpret that as a commercially driven product. This novel by Pip Williams is top-quality literature — insightful, thought-provoking, memorable and rewarding reading.
BOOK RATING: The Story 5 / 5 ; The Writing 5 / 5
Get your copy of The Bookbinder of Jericho from:
Amazon
Bookshop US
Booktopia AU
More captivating historical fiction:
More The Bookbinder of Jericho reviews
"Pip Williams has an unnerving and magnificent skill at creating characters who step off the page and directly into your heart and memory. In The Bookbinder of Jericho she asks her readers to pay attention to what has been overlooked – individual women and their labour, trauma and courage – and she does it with such style and grace." – Kate Mildenhall, author of The Mother Fault
"A confident and considered sequel that complicates Williams' literary universe while riffing on class, family, trauma and remembrance. Williams fully inhabits the world of the bindery and it shows – there's hardly a page out of place." – The Guardian
"The Bookbinder of Jericho is an extraordinary work of poetic grace and raw beauty that will enfold readers in its powerful and moving narrative… this book is a classic and another triumph for Pip Williams." – Karen Brooks, author of The Good Wife of Bath
About the Author, Pip Williams
Pip Williams was born in London, grew up in Sydney, and now lives in the Adelaide Hills of South Australia with her family and an assortment of animals. She has spent most of her working life as a social researcher, studying what keeps us well and what helps us thrive. She is the author of One Italian Summer, a memoir of her family's travels in search of the good life. Her first novel, The Dictionary of Lost Words, based on her original research in the Oxford English Dictionary archives, was published in 2020 and became an international bestseller. The Bookbinder of Jericho is her second novel and again combines her talent for historical research and beautiful storytelling.
* My receiving an uncorrected digital copy of this book from the publisher for review purposes did not impact the expression of my honest opinions.