A Room with a View by E M Forster, Book Review: Irreverent joy
A Room with a View by E M Forster is a satiric comedy of manners with a refreshing current of irreverence that contemporary readers will enjoy. Read on for our review and quotes from this classic novel.
A Room with a View Book Synopsis
'You love the boy body and soul, plainly, directly, as he loves you …'
Lucy has her rigid, middle-class life mapped out for her until she visits Florence with her uptight cousin Charlotte, and finds her neatly ordered existence thrown off balance.
Her eyes are opened by the unconventional characters she meets at the Pension Pertolini: flamboyant romantic novelist Eleanor Lavish, the Cockney Signora, curious Mr Emerson and, most of all, his passionate son George.
Lucy finds herself torn between the intensity of life in Italy and the repressed morals of Victorian England, personified in her terminally dull fiancé Cecil Vyse. Will she ever learn to follow her own heart?
'He says, and even more implies, things that no other novelist does, and we can go on reading Forster indefinitely' –  The Times
'I loved it. My first intimation of the possibilities of fiction' – Zadie Smith
Genre: Romance, Drama, Humour, Historical, Classic, Literature
Disclosure: If you click a link in this post and make a purchase, I may earn a small commission.
BOOK REVIEW
E M Forster's A Room with a View is a bonafide classic that has been critically reviewed by greater literary minds than I, so here I will just briefly summarise my thoughts.
I always enjoy comedies of manners and this novel certainly fits that bill. E M Forster takes great delight at making fun of his characters and there are instances where the characters even make fun of themselves.
Cecil, who naturally preferred congratulations to apologies, drew down his mouth at the corners. Was this the reception his action would get from the world? Of course, he despised the world as a whole; every thoughtful man should; it is almost a test of refinement. But he was sensitive to the successive particles of it which he encountered.
A refreshing current of irreverence
Many classics are heavy reads but A Room with a View has a refreshing current of irreverence and some lively characters that will appeal to a modern audience.
At the time of its publication, 1908, I expect some of the observations made about societal norms would have been quite shocking. I also quite liked how Forster addresses the reader directly on occasion, as though bringing us in on the joke.
If it has a weakness, some parts feel slightly laboured through the eyes of a contemporary reader. And, although I thoroughly enjoyed the romantic and uplifting conclusion, I guessed some of the plot twists before they occurred. But perhaps I was supposed to; perhaps the predictability of human behaviour was that the point?
Apparently, in some versions of the novel an appendix penned by Forster is included describing what happens to the characters after the book ends. My copy did not include that appendix but I found a summary on Wikipedia. Honestly, it feels like a bit of a downer after the wonderful conclusion to the novel itself. So, I recommend letting sleeping dogs lie where that is concerned.
BOOK RATING: The Story 4 / 5 ; The Writing 4 / 5
Get your copy of A Room with a View from:
Amazon Bookshop Book Depository Kobo Booktopia
OR listen to the audiobook FREE with Audible's Trial (check eligibility)
More fiction classics:
Under the Net by Iris Murdoch  /  Lady Windemere's Fan by Oscar Wilde  /  Vile Bodies by Evelyn Waugh  /  A Far Cry From Kensington by Muriel Spark  /  The Alchemist by Paolo Coelho / Anthem by Ayn Rand
About the Author, E M Forster
Edward Morgan Forster was born in London in 1879. He studied at King's College, Cambridge. Forster wrote six novels, four of which appeared before the First World War, Where Angels Fear to Tread (1905), The Longest Journey (1907), A Room with a View (1908) and Howard's End (1910). An interval of fourteen years elapsed before he published A Passage to India. It won both the Prix Femina Vie Heuruse and the James Tait Black Memorial Prize. E M Forster died in 1970. His last novel, Maurice, was published posthumously in 1971. He also published two volumes of short stories and a number of non-fiction books.
More A Room with a View Book Quotes
"Life is easy to chronicle, but bewildering to practice." ― E.M. Forster, A Room With A View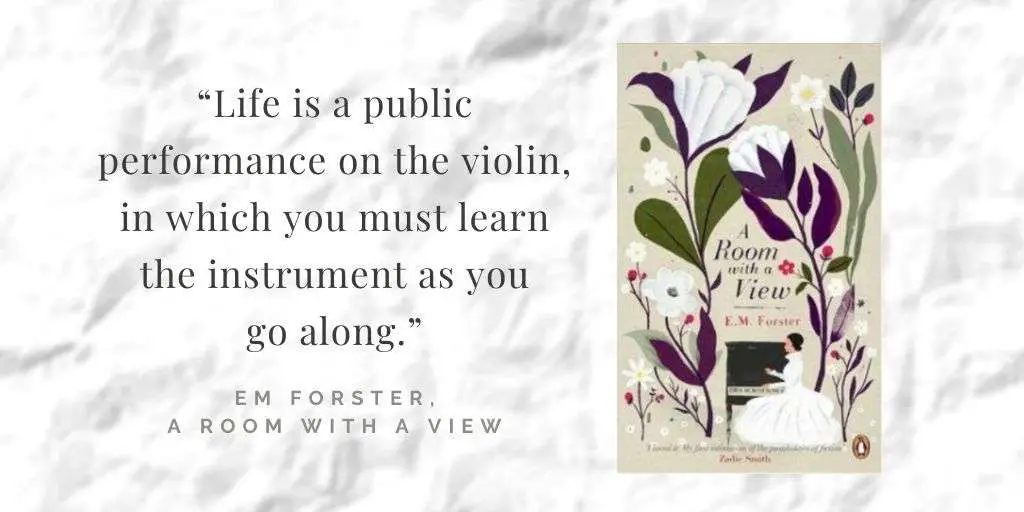 "Let yourself go. Pull out from the depths those thoughts that you do not understand, and spread them out in the sunlight and know the meaning of them." ― E.M. Forster