Olive Kitteridge Review: Underwhelmed by this Pulitzer winner
Olive Kitteridge, Elizabeth Strout's 'novel of stories', left me underwhelmed and perplexed by its lack of cohesion. Read on as I seek to explain why in my full review.
Olive Kitteridge Book Synopsis
In a voice more powerful and compassionate than ever before, New York Times bestselling author Elizabeth Strout binds together thirteen rich, luminous narratives into a book with the heft of a novel, through the presence of one larger-than-life, unforgettable character: Olive Kitteridge.
At the edge of the continent, Crosby, Maine, may seem like nowhere, but seen through this brilliant writer's eyes, it's in essence the whole world, and the lives that are lived there are filled with all of the grand human drama–desire, despair, jealousy, hope, and love.
At times stern, at other times patient, at times perceptive, at other times in sad denial, Olive Kitteridge, a retired schoolteacher, deplores the changes in her little town and in the world at large, but she doesn't always recognize the changes in those around her: a lounge musician haunted by a past romance: a former student who has lost the will to live: Olive's own adult child, who feels tyrannized by her irrational sensitivities; and Henry, who finds his loyalty to his marriage both a blessing and a curse.
As the townspeople grapple with their problems, mild and dire, Olive is brought to a deeper understanding of herself and her life–sometimes painfully, but always with ruthless honesty.
Genre: Drama, Literature, Short Stories
Disclosure: If you click a link in this post and make a purchase, I may earn a small commission.
BOOK REVIEW
Olive Kitteridge, Elizabeth Strout's much-lauded novel has left me feeling underwhelmed.
It is understandable that her character Olive Kitteridge and her flaws, plain-speaking and stoicism has struck a chord with, or elicited an emotional response from, so many readers. I was not wholly immune. I certainly do not have to like a character to like a book.
Strout clearly has enviable skills in short story craft. Her sense of timing, choice of perspective, the deeper meaning she extracts from the smallest actions and observations is admirable. In several pieces the story's depth creeps up on you, in much the same way life has crept up on its characters. Strout's prose exhibits an uncommon clarity, stripping away the white noise, almost like a set of noise-cancelling speakers.
Novel of stories
For me though, Olive Kitteridge does not succeed as a 'novel of stories'. I was perplexed by the lack of cohesion between the pieces. That is, until I realised at least 6 of the 13 stories were published separately over the two decades preceding this novel's 2008 publication.
The 'novel of stories' framework really appeals to me and I have had the pleasure of reading many fine examples of the form. From the well-known David Mitchell's Cloud Atlas through to the lesser-known but highly recommended What The Zhang Boys Know by Clifford Garstang. I have also read powerful 'themed short story collections', Ceridwen Dovey's Only the Animals and Hollis Seamon's Corporeality being wonderful examples. But in form, Olive Kitteridge falls somewhere between these two camps.
However, for me the most notable thing about this novel was the subtle sense of liberation(?) engendered by the narrative's underlying acquiescence to things not being right or wrong in the world, but simply the way they are. It is wise to pick our battles and we all handle things differently. But fatalism and passivity are not stances that sit well with me, and I found these aspects saddening. For this reason alone, perhaps I was simply the wrong reader for this book.
BOOK RATING: The Story 2 / 5 ; The Writing 3 / 5  — Overall 2.5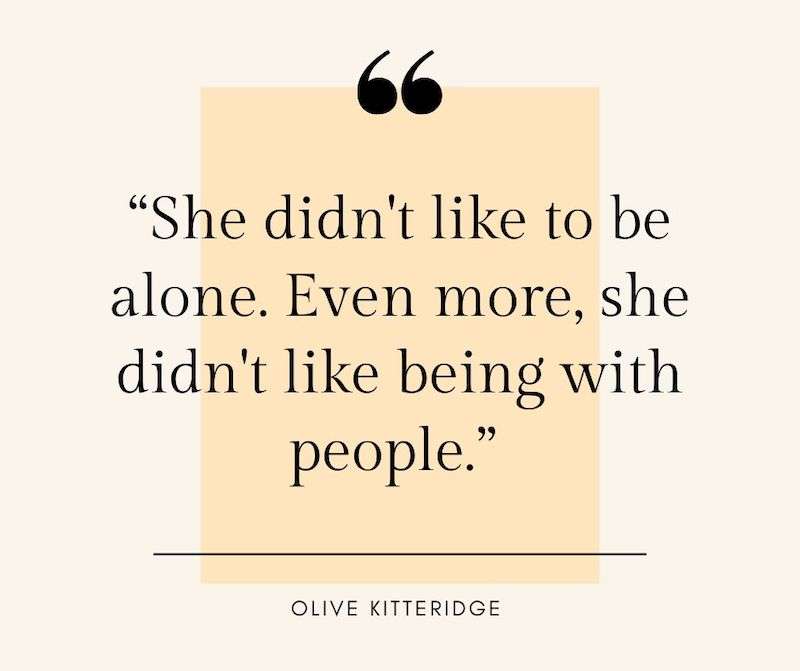 More Olive Kitteridge reviews
"The pleasure in reading "Olive Kitteridge" comes from an intense identification with complicated, not always admirable, characters. And there are moments in which slipping into a character's viewpoint seems to involve the revelation of an emotion more powerful and interesting than simple fellow feeling — a complex, sometimes dark, sometimes life-sustaining dependency on others." — NYTimes
"Olive Kitteridge is a masterpiece: The writing is so perfect you don't even notice it; the story is so vivid it's less like reading a story than experiencing it firsthand." — NPR
"A heart-wrenching, penetrating portrait of ordinary coastal Mainers living lives of quiet grief intermingled with flashes of human connection." — Publishers Weekly
"A perfectly balanced portrait of the human condition, encompassing plenty of anger, cruelty and loss without ever losing sight of the equally powerful presences of tenderness, shared pursuits and lifelong loyalty." — Kirkus Reviews
Olive Kitteridge is available from:
Amazon Bookshop US Book Depository
OR listen to the audiobook FREE with Audible's Trial (check eligibility)
* A Pulitzer prize-winning novel I do recommend is Less by Andrew Sean Greer.
About the Author, Elizabeth Strout
Elizabeth Strout is the author of the New York Times bestseller Olive Kitteridge, for which she was awarded the Pulitzer Prize; the national bestseller Abide with Me; and Amy and Isabelle, winner of the Los Angeles Times Art Seidenbaum Award and the Chicago Tribune Heartland Prize. She has also been a finalist for the PEN/Faulkner Award and the Orange Prize in London. She lives in Maine and New York City. See Elizabeth Strout's official website.