The Devil and the Dark Water by Stuart Turton, Review: Must read
The Devil and the Dark Water, Stuart Turton's brilliant second novel is a historical mystery action thriller with heart not easily put down. Read on for my full review.
The Devil and the Dark Water Book Synopsis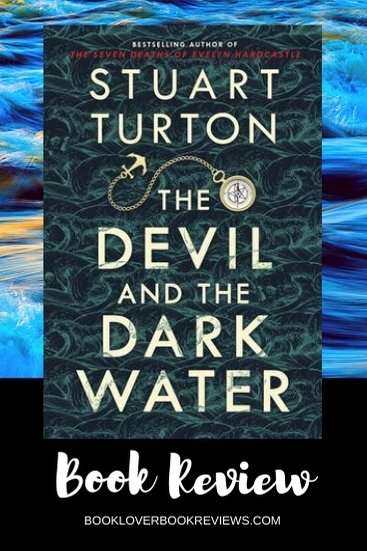 A murder on the high seas. A remarkable detective duo. A demon who may or may not exist.
The extraordinary new novel from Stuart Turton, author of the bestselling The 7 1/2 Deaths of Evelyn Hardcastle, winner of the Costa Best First Novel Award.
It's 1634 and Samuel Pipps, the world's greatest detective, is being transported to Amsterdam to be executed for a crime he may, or may not, have committed. Travelling with him is his loyal bodyguard, Arent Hayes, who is determined to prove his friend innocent.
But no sooner are they out to sea than devilry begins to blight the voyage. A twice-dead leper stalks the decks. Strange symbols appear on the sails. Livestock is slaughtered.
And then three passengers are marked for death, including Samuel.
Could a demon be responsible for their misfortunes?
With Pipps imprisoned, only Arent can solve a mystery that connects every passenger. A mystery that stretches back into their past and now threatens to sink the ship, killing everybody on board.
(Sourcebooks Landmark – October 2020)
Genre: Historical, Mystery, Drama, Thriller, Action-Adventure
Disclosure: If you click a link in this post and make a purchase, I may earn a small commission.
BOOK REVIEW
To say I had high expectations for The Devil and the Dark Water is somewhat of an understatement.  I was thoroughly impressed by Stuart Turton's debut novel The Seven Deaths of Evelyn Hardcastle. I knew what he could do – the intricate plotting he was capable of, the vivid imagery he could paint, the page-turning suspense he could conjure.
But honestly, with The Devil and the Dark Water he has taken his game to a whole new level.
Sure, this is another fascinating, and superbly plotted, locked-room mystery. But in this novel, Turton's character development is equally, if not more impressive.
Wonderful characters
The 17th is a century where the life of the common man was shrouded in religious devotion and superstition. Those wielding them, and wealth and power, typically going hand-in-hand. Paid mercenaries are king-makers and daughters of marriage-age are traded for commercial gain.
Arent had been a mercenary for eighteen years before becoming Sammy's bodyguard. Back then, his only concern had been with saber and shot and whatever was trying to imminently kill him. He wasn't one to idly fret; he couldn't afford it. The mercenary who saw the spear, then thought about it too long, ended up with half of it buried in his chest. Nowadays, he'd see the spear, wonder who made it, how it had come to be in the soldier's hands, who the soldier was, why he was there… on and on and on. It was a wretched gift that had left him neither one thing nor the other.
Those clear-eyed few that display contrary insight or intellect are deemed possessed or denounced as witches, particularly women. So, what is Sara, a smart strong-willed woman to do to protect her genius daughter?
It wasn't the done thing to shout at a man in public, especially not high-ranking Company officers. Deference was something she was supposed to put on every morning, along with her cap and bodice.
Teach her to hide her intellect in public and foster her talents in private, all the while looking for an opportunity for them to be liberated.
"Keep that cleverness in your pocket, Lia. We're surrounded by won't take kindly to it, however well intentioned." … "Because men don't like being made to feel stupid, and there's no other way to feel when you start talking." Sara stroked her daughter's face, wishing she could ease the confusion she saw there. "Cleverness is a type of strength, and they won't accept a woman who's stronger than they are. Their pride won't allow it, and their pride is the thing they hold dearest."
Humour, heart and pace
Note the subtle, and often dark humour woven into the musings of Arent and Sara. These are the predominant, and highly appealing alternating character perspectives through which this rollicking The Devil and the Dark Water yarn is told. Turton's concise chapters, along with the ever present danger these characters find themselves in, kept me enthralled and on the edge-of-my-seat.
The pace of this narrative never slackens, which is no mean feat for such an ambitiously plotted and relatively chunky novel. And the conclusion was, for me, just brilliant.
To say much more, would spoil the myriad little clever and heartwarming surprises The Devil and the Dark Water has in store for readers. Suffice to say, Stuart Turton's latest offering has earned one of the top spots in my Best Books of 2020 list.
BOOK RATING: The Story 5 / 5 ; The Writing 5 / 5
Get your copy of The Devil and the Dark Water from:
Amazon Bookshop US Book Depository Booktopia AU
More thrilling historical & mystery fiction:
The Burning Island by Jock Serong  /  The Night Whistler by Greg Woodland  /  Dead Man Switch (aka The War Widow) by Tara Moss  /  A Necessary Murder by M J Tjia  /  The Book of Lost Fragrances by M J Rose
* Australian readers might be intrigued to find this fiction was in part inspired by the true story of the violent events and heroism of the Batavia shipwreck.
About the Author, Stuart Turton
Stuart Turton's debut novel, The Seven Deaths of Evelyn Hardcastle, won the Costa First Novel Award and the Books Are My Bag Readers Award for Best Novel, and was shortlisted for the Specsavers National Book Awards and the British Book Awards Debut of the Year. A Sunday Times bestseller for three weeks, it has been translated into over thirty languages and has also been a bestseller in Italy, Russia and Poland. The Devil and the Dark Water is his second novel. Stuart lives near London with his wife and daughter.
* Receiving a copy from the publisher for review purposes did not impact the expression of my honest opinions.