Geraldine Verne's Red Suitcase by Jane Riley, Book Review
Geraldine Verne's Red Suitcase, Jane Riley's second novel is one of the more authentically life-affirming reads amongst the swathe of uplit releases in the market today. Read my full review.
Geraldine Verne's Red Suitcase Synopsis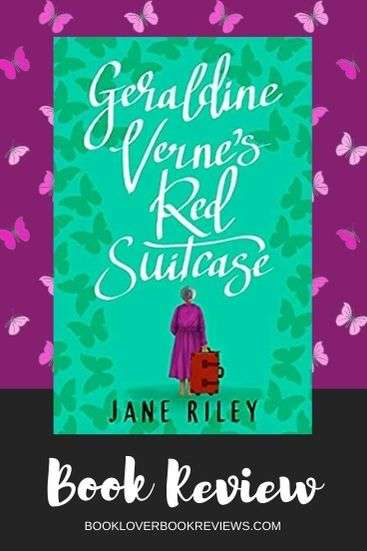 His dying wish was to set her free. So why does she feel so trapped?
Jack had two dying wishes: that his wife scatter his ashes somewhere 'exotic', and that she not give up on life once he was gone. He intended to spur her on to new adventures, but despite clinging to her red suitcase, Geraldine Verne hasn't left the house for three months.
It takes an accident for Geri to accept help from her friends, but when Meals on Wheels arrive she is mortified. Yet heartbroken volunteer Lottie brings with her more than cottage pie and custard. Like Geri, she too is struggling to cut loose.
As a gloriously unlikely friendship blossoms, Geraldine begins to feel a long-lost spark of life and a newfound confidence. Perhaps what both women needed most, after all, was each other.
(Lake Union Publishing, June 2021)
Genre: Drama, Mystery, Literature
Disclosure: If you click a link in this post and make a purchase, I may earn a small commission.
Book Review
Jane Riley's unusually titled debut novel The Likely Resolutions of Oliver Clock was something special – feel-good fiction at its finest and one of my favourite reads of 2020. And so I knew, despite this novel's grief-stricken premise, that I would be in safe authorial hands.
Geraldine Verne's Red Suitcase is a far gentler story than Riley's first novel, but nonetheless impactful. Her capacity to craft believably flawed characters is again on full display in retired librarian Geri's compulsion to obstinance and seclusion despite her loneliness. The first-person narrative allows readers to appreciate first-hand as it were, the layered depths of her love for her husband and thus comparable grief in his passing. And, how even the most vital of personalities and quick-witted, staunchly independent of minds can knowingly be held prisoner to grief.
The latter element is the well-spring of this novel's more subtle, principally dark geeky humour. Also notable is Riley's talent for visual humour and visual impact. For me, some of the most striking, bittersweet scenes depicted in this novel are those simply involving Geraldine Verne's interaction with her scuffed and battered red suitcase. In this sense, this narrative's lack of adornment is a real strength.
I've said little about the character Lottie because she, and the tertiary cast are less well-developed, but still believably well-intentioned and forthright in their interactions with the often cantankerous Geri to frame her journey.
What I most admired about Geraldine Verne's Red Suitcase is that Riley has eschewed the saccharine booster-charged plots of many in this 'uplit' genre, and instead taken the time required to depict Geri's authentically bumpy road to recovery. In this way, she has served up a literary experience that is genuinely life-affirming, rather than a vacuous sugar-hit. That said, foodies will love this story too as it features the baking of many delicious sounding sweet treats!
Geraldine Verne's Red Suitcase is another moving and satisfying 'soup-for-the-soul' read from the very talented Jane Riley.
BOOK RATING: The Story 4 / 5 ; The Writing 4 / 5
Get your copy of Geraldine Verne's Red Suitcase from:
Amazon
Book Depository
Booktopia AU
OR
listen to the audiobook FREE
with Audible's Trial (check eligibility)
More soup-for-the-soul reads:
More Geraldine Verne's Red Suitcase Reviews
'Jane Riley writes from the heart giving her readers all the feels, as the emotions switch back and forth as the story unfolds.' – Swirl & Thread
'What Riley gives us in Geraldine Verne's Red Suitcase is a moving gem of a novel, one that makes no bones about how grief can imprison and hold us – though it also welcomingly observes that grief is also a sign of great enduring love which is, in and of itself, a beautiful thing' – SparklyPrettyBriiiight
'Geri's loss had been depicted beautifully to the extent that I thought I was experiencing the same loss..' – PeriwinklePens
About the Author, Jane Riley
Jane Riley began her career in public relations before moving into publishing and later launching an e-commerce business. She has freelanced as a writer and editor and wrote a design blog interviewing makers and creators. She volunteers as an English language tutor for the Adult Migrant English Program in Sydney. Her debut novel The Likely Resolutions of Oliver Clock was released in 2020 and Geraldine Verne's Red Suitcase is her second novel. You can find her on Twitter @JaneRileyAuthor.
This review counts toward my participation in the Aussie Author Challenge 2021 and the 2021 Australian Women Writers Challenge.
* My receipt of a review copy from the author did not impact the expression of my honest opinions above.