The Maid, Book Review: Nita Prose' emotionally astute debut
The Maid, Nita Prose's clever bestselling cozy mystery is also a nuanced character study, emotionally astute and satisfying literature. Read my full review of our Book of the Month for January 2022.
The Maid Book Synopsis
I am your maid.
I know about your secrets. Your dirty laundry.
But what do you know about me?
Molly the maid is all alone in the world. A nobody. She's used to being invisible in her job at the Regency Grand Hotel, plumping pillows and wiping away the grime, dust and secrets of the guests passing through. She's just a maid – why should anyone take notice?
 
But Molly is thrown into the spotlight when she discovers an infamous guest, Mr Black, very dead in his bed. This isn't a mess that can be easily cleaned up. And as Molly becomes embroiled in the hunt for the truth, following the clues whispering in the hallways of the Regency Grand, she discovers a power she never knew was there. She's just a maid – but what can she see that others overlook?
Escapist, charming and introducing a truly original heroine, The Maid is a story about how the truth isn't always black and white – it's found in the dirtier, grey areas in between . . .
(Harper Collins Australia, January 2022)
Genre: Mystery, Drama, Literature
Disclosure: If you click a link in this post and make a purchase, I may earn a small commission.
The Maid, Book Review
Nita Prose' debut novel is one of the most highly anticipated 2022 new releases. Book rights for The Maid have already been sold in 29 territories and the film rights snapped up by Universal pre-release; Florence Pugh set to play the title character. And yes, I am very pleased to report that this title certainly lives up to the hype.
This novel has so many intriguing and intelligent layers.
"My uniform is my freedom. It is the ultimate invisibility cloak." 
On one level this is a clever cozy crime mystery. On another, it is a compelling character study. Molly Gray, aka Molly the Maid, finds comfort and satisfaction in black and white rules, but is all at sea in the 'grey' of human interactions.
"Laughs are just like smiles. People use them to express an array of confounding emotions." 
Her quirks and propensity to take things literally spawns light-hearted moments of course. But as we know, those that are different walk paths more difficult than most.
Emotional depth
What elevates Nita Prose' The Maid from a great novel to an excellent one is its capacity to surprise even the most avid reader. It does this in many different ways, but principally in its emotional depth. As so beautifully described in the NY Times, this novel has "real emotional heft".
"That's the trouble with pain. It's as contagious as a disease. It spreads from the person who first endured it to those who love them most. Truth isn't always the highest ideal; sometimes it must be sacrificed to stop the spread of pain to those you love. Even children know this intuitively." 
To discuss the story arc or secondary character set would invariably spoil the experience. Suffice to say though, Prose offers readers a compelling reminder that still waters run deep. And, of the value of old-fashioned goodness.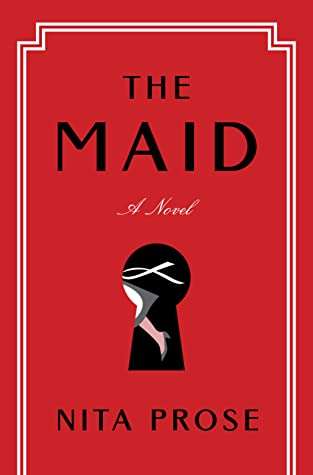 "One thing I've learned in my business is that you can hide dirt for a while, but at some point, it all comes to the surface." 
The more I read, the less I wanted this story to end; such was my engagement with the character set. So my applause goes to Prose for pulling off such a thought-provoking, yet emotionally astute and satisfying conclusion to The Maid.
PS: What a great pseudonym for a writer… 'Nita Prose' is actually Nita Pronovost.
BOOK RATING: The Story 5 / 5 ; The Writing 4.5 / 5 ; Overall 4.75 / 5
Get your copy of The Maid by Nita Prose from:
Bookshop US
Amazon
Booktopia AU
Update: I have since also enjoyed this novel's sequel The Mystery Guest.
More engaging quirky lead characters:
More The Maid book reviews
'This cozy whodunit is a joy from the first page to the last.' – Washington Independent Review of Books
'Beautiful writing, an intriguing mystery, and a colourful cast of friends and sleuths ensure The Maid sparkles with wit and tension.' – Lucy Clarke, The Castaways
'Gripping, deftly written, and led by a truly unforgettable protagonist in Molly. I'm recommending it to everyone I know.' – Emma Stonex, The Lamplighters
'Fresh, fiendish and darkly beguiling. The Maid is so thrillingly original, and clever, and joyous. I just adored every page.' – Chris Whitaker, We Begin at the End
Related Reading: 11 of Louisa Bennet's Top Cozy Mystery Novels
About the Author, Nita Prose
Nita Prose is a long-time editor, serving many bestselling authors and their books. She lives in Toronto, Canada, in a house that is only moderately clean. Check out her website and connect with her on Twitter.
VIDEO: Watch the delightful Nita Prose on Good Morning America discussing how she came up with the idea for this book.
* My receipt of a review copy from the publisher did not impact the expression of my honest opinions above.