Life of Pi, Book Review: Yann Martel's life-affirming gem
The Life of Pi novel, Yann Martel's debut, truly deserves the accolades it has received. I was thoroughly engaged and entertained by this tale. Read my full review including some memorable book quotes below and we answer your burning question – was Life of Pi based on a true story?
Life of Pi Book Synopsis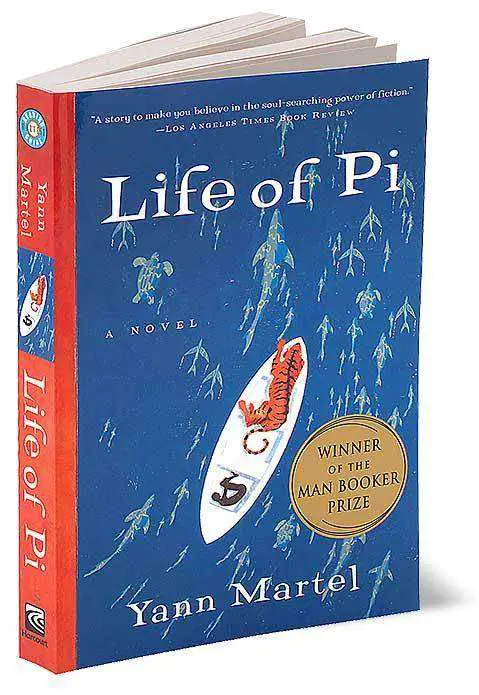 The 2002 Man Booker Prize-winning international bestseller, Life of Pi
One boy, one boat, one tiger . . .
After the tragic sinking of a cargo ship, a solitary lifeboat remains bobbing on the wild, blue Pacific. The only survivors from the wreck are a sixteen-year-old boy named Pi, a hyena, a zebra (with a broken leg), a female orang-utan – and a 450-pound Royal Bengal tiger. The scene is set for one of the most extraordinary and best-loved works of fiction in recent years.
A Lesson in Persistence: Yann Martel's manuscript was rejected by at least five London publishing houses before being accepted by Knopf Canada, which published it in September 2001. The novel has since sold more than ten million copies worldwide.
Genre: Literature, Fantasy, Action-Adventure
Disclosure: If you click a link in this post and make a purchase, I may earn a small commission.
Book Review
Life of Pi is poignant, inspirational and life-affirming.
The predominant narrator is our protagonist Piscine Molitor Patel, who prefers to be called Pi. Interspersed within Pi's telling of his story of survival as a teenager, is commentary from a reporter writing an article on the life of Pi many years later.
Pi grew up in a zoo and his knowledge of animal behaviours and traits is the foundation from which he shapes his view of the world and people in general. Even the most dour of individuals could not help liking this character. His self-possession and belief is utterly charming.
Irreverent observational gems, such as the following comment by Pi when delivering his considered review of the castaway survival manual he finds in the lifeboat, consistently brought a smile to my face.
"The injunction not to drink urine was quite unnecessary. No-one called 'pissin' during his childhood would be caught dead with a cup of pee at his lips, even alone in a life boat in the middle of the Pacific."
I also found the disarming simplicity of the 16-year-old character's discussions on the differences and similarities of the world's three major religions and his thoughts on religion in general both appealing and quite profound.
In Life of Pi Yann Martel has written such a very clever story.
There is often conjecture about novels that go on to win high-profile awards such as the Man Booker Prize, but in my opinion there should be no argument when it comes to this novel.
This story will be one that stays with me long after reading it. I strongly recommend men and women, young and old acquainting themselves with this character Pi – he is one of the most admirable, believable and inspirational characters you are likely to meet in the world of fiction.
"It is true that those we meet can change us, sometimes so profoundly that we are not the same afterwards, even unto our names."
Audiobook format
I listened to Life of Pi on audio and strongly recommend this format. The version I listened to was narrated by Jeff Woodman. His delivery really brought to life the humour and irony the protagonist manages to find in his dire predicament.
If you haven't tried an audiobook before this is a wonderful example of the real value of this reading format. The latest Audible edition of the audiobook is narrated by British comedian, actor and broadcaster Sanjeev Bhaskar — listen to an audiobook sample. Sounds fabulous also.
"The world isn't just the way it is. It is how we understand it, no? And in understanding something, we bring something to it, no?
Doesn't that make life a story?"
My Rating 
The Story 5 / 5 ;  The Writing 5 / 5
Where to get your copy of Life of Pi
Amazon
Bookshop US
Booktopia AU
More Life of Pi book reviews
'Martel displays the clever voice and tremendous storytelling skills of an emerging master.' – Publishers Weekly
'Life of Pi could renew your faith in the ability of novelists to invest even the most outrageous scenario with plausible life.'- The New York Times Book Review
'Despite the extraordinary premise and literary playfulness, one reads Life of Pi not so much as an allegory or magical-realist fable, but as an edge-of-seat adventure.' – The Guardian 
'A real adventure: brutal, tender, expressive, dramatic, and disarmingly funny. . . . It's difficult to stop reading when the pages run out.' — San Francisco Chronicle
Was Life of Pi based on a true story?
No, the original novel was purely fictional. But director Ang Lee wanted the movie adaptation to have depth and realism, and so reportedly consulted with real-life shipwreck survivor Steven Callahan, who spent 76 days on a life raft.
Why was Life of Pi controversial?
Some have suggested that Yann Martel's 2001 novel is very similar to Brazilian author Moacyr Scliar's 1981 novella Max and the Cats, about a man in a lifeboat with a jaguar.
The Life of Pi Movie
This novel was adapted for the big screen by screenwriter David Magee and directed by Ang Lee. The movie won four Oscars including Best Director and won the Golden Globe Award for Best Original Score.

Source: MovieClipsTrailers
About the Book Author, Yann Martel
Yann Martel was born in Spain in 1963 of Canadian parents. After studying philosophy at university, he travelled and worked at odd jobs before turning to writing. In addition to the Man Booker Prize-winning Life of Pi, which has been translated into over fifty languages and has sold over thirteen million copies worldwide, he is the author of the novels Self, Beatrice and Virgil and The High Mountains of Portugal, the stories The Facts Behind the Helsinki Roccamatios, and the collection of letters to the Prime Minister of Canada, What is Stephen Harper Reading? He lives in Saskatchewan, Canada.
Watch a video of an interview with Yann Martel on Life of Pi — source Manufacturing Intellect.