THE FIRST RULE OF TEN by Gay Hendricks and Tinker Lindsay, Review
The First Rule of Ten Synopsis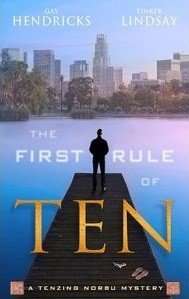 Tenzing Norbu ("Ten" for short)-ex-monk and soon-to-be ex-cop-is a protagonist unique to our times. In The First Rule of Ten, the first installment in a three-book detective series, we meet this spiritual warrior who is singularly equipped, if not occasionally ill-equipped, as he takes on his first case as a private investigator in Los Angeles.
Growing up in a Tibetan Monastery, Ten dreamed of becoming a modern-day Sherlock Holmes. So when he was sent to Los Angeles to teach meditation, he joined the LAPD instead. But as the Buddha says, change is inevitable; and ten years later, everything is about to change-big-time-for Ten. One resignation from the police force, two bullet-wounds, three suspicious deaths, and a beautiful woman later, he quickly learns that whenever he breaks his first rule, mayhem follows. 
Set in the modern-day streets and canyons of Los Angeles, The First Rule of Ten is at turns humorous, insightful, and riveting-a gripping mystery as well as a reflective, character-driven story with intriguing life-lessons for us all. 
Genre: Crime-Detective, Mystery, Thriller, Romance
Disclosure: If you click a link in this post and make a purchase, I may earn a small commission.
BOOK REVIEW
"Don't ignore intuitive tickles lest they reappear as sledgehammers." 

That's the first rule of Ten.
I like to start a review by addressing any apprehension I may have had when selecting to read the title. If you are like me, captivated by the originality of the story described in the synopsis but cautious that author Gay Hendricks' career in the self-help arena* might get in the way of a great fictional story, I want to allay those concerns from the outset.  There is nothing preachy about this novel.
The First Rule of Ten is not high brow literature, it is a very accessible read with just the right mix of wry humour, intrigue and thrilling action sequences to entertain and compel readers.
In Tenzing Norbu, the Buddhist detective lead in The First Rule of Ten, Hendricks and Lindsay have created a winning series character.
Ten is not your average tough-guy detective. He is a thinker and a searcher for truth, with a cat companion named Tank. His strict upbringing in a Tibetan monastery brings with it an endearing naivety to certain societal norms. But this naivety is juxtaposed with a profundity and world-weariness in other respects, due to experiences with his alcoholic mother and time spent in the LA police force.
Death wears many masks, and I've seen more than my share: from the smiling visage of an esteemed lama who, after a lifetime of compassion for all sentient beings, passed peacefully while seated in an advanced state of meditative luminosity, to the gaping stare of a young gangbanger, cut down in his neighbourhood war zone by a blunt act of violence. I was at that scene within moments, and his dark spirit still circled his place of death like an angry raven.
While primarily character driven, The First Rule of Ten is also a highly entertaining mystery, with a little bit of romance thrown in, just to complicate things for Tenzing Norbu, the Dharma Detective.  I look forward to reading The Second Rule of Ten.
BOOK RATING: The Story 4 / 5 ; The Writing 4 / 5
Get your copy of The First Rule of Ten from:
Author Information, Gay Hendricks & Tinker Lindsay
The First Rule of Ten is co-authored by Gay Hendricks and Tinker Lindsay.
Gay Hendricks, Ph.D., has served for more than 35 years as one of the major contributors to the fields of relationship transformation and body-mind therapies. Along with his wife, Dr. Kathlyn Hendricks, Gay is the co-author of many bestsellers, including Conscious Loving and Five Wishes. He is the author of 33 books, including The Corporate Mystic, Conscious Living, and The Big Leap. Dr. Hendricks received his Ph.D. in counseling psychology from Stanford. After a 21-year career as a professor of Counseling Psychology at the University of Colorado, he and Kathlyn founded The Hendricks Institute, which offers seminars worldwide.
In recent years, Dr. Hendricks has been active in creating new forms of conscious entertainment. In 2003, along with movie producer Stephen Simon, he founded The Spiritual Cinema Circle, which distributes inspirational movies to subscribers in 70+ countries. He has appeared on more than 500 radio and television shows, including The Oprah Winfrey Show and 48 Hoursand is regularly featured on national stations like CNN and CNBC.
Tinker Lindsay is an accomplished screenwriter, author, script consultant, and conceptual editor. A member of the Writer's Guild of America, Independent Writers of Southern California, and Women in Film, she has worked in the Hollywood entertainment industry writing and developing feature films for over three decades. Her books include The Last Great Place and My Hollywood Ending. She graduated magna cum laude from Harvard University in English and American Language and Literature and completed a post-graduate course at Radcliffe College in Publishing Procedures. A practitioner and teacher of meditation, she can usually be found writing in her home office situated directly under the Hollywood sign.
* Please note while self-help books do not gel with me at all, I acknowledge the value they provide for many.
** I received this ebook from Hay House, Inc via NetGalley for review purposes. My receiving this title at no cost did not impact my ability to express my honest opinions about it.