Our Aussie Author Challenge koala mascot has a name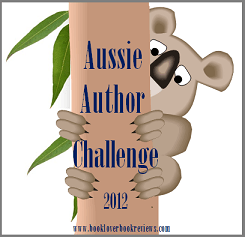 * Are you looking for the 2016 Aussie Author Challenge home page?
—
Our 2012 Aussie Author Challenge koala mascot has a name.
It was a hard fought battle all the way between the two early front-runners, 'Steve' and 'Colo'.
Voting has now closed and our Aussie Author Challenge 2012 mascot's name, receiving 30 out of the 59 votes cast, is:
Disclosure: If you click a link in this post and make a purchase, I may earn a small commission.
COLO from Amy
In addition to being a cute sounding name, 'Colo' is also very appropriate since it is an Aboriginal word for the animal the koala. Another observation is that it is unisex.
Thank you to all those that voted over the past week, and a special thank you to Amy and all others who contributed the great names that made up our short-list.
For submitting the winning name, I will be ordering for Amy her choice of title by an Australian author from The Book Depository:
Cardboard, A Woman Left for Dead by Fiona Place
Everyone – meet Colo.