2012 Aussie Author Challenge
Whether you are a patriotic Australian, an aspiring or armchair tourist or simply an international reader wanting to discover some talented new authors with like-minded readers, the 2012 Aussie Author Challenge could be for you!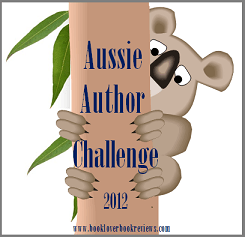 The 2011 Aussie Author Challenge was a great success with 45+ participants providing links to more than 170 reviews of books by Australian Authors.
Even as a born and bred Aussie, I simply have not read enough Aussie Authors, and in hosting this reading challenge for its third year I seek to right that wrong!
This dedicated page here at Booklover Book Reviews will be your one-stop shop for the challenge.
Challenge Period: 1 January 2012 – 31 December 2012
OBJECTIVE Read and review books written by Australian Authors – physical books, ebooks and audiobooks, fiction and non-fiction!
Challenge Levels:
TOURIST – Read and review 3 books by at least 2 different Australian Authors
DINKY-DI – Read and review 12 books by at least 6 different Australian authors
'Dinky-Di' is Australian slang meaning 'true or genuine'.
Each month during the challenge I will offer an interview/guest blogging opportunity on Booklover Book Reviews to an active participant in this challenge.
How to Join
1. Write a challenge sign-up post on your blog. In that post provide a link to this page and add the koala challenge button to your sidebar, linking the button to this page so others can easily join in the fun.
2. Add your name and the direct link to your 2012 AUSSIE AUTHOR CHALLENGE Sign-Up post in the 'Challenge Sign-Up Link List' below, so myself and other challenge participants can check in and say g'day!
3. Each time you read and review a book as part of this challenge, share this with other challenge participants by adding a direct link to the 'Challenge Book Review Link List' below.
4. When you have completed the challenge, add a link to your completion post to the 'Completion Post Link List' below.
Disclosure: If you click a link in this post and make a purchase, I may earn a small commission.
Need help deciding which Aussie Authors are going to be on your list?
Challenge Sign-Up Link List
Challenge Book Review Link List
In the Name box please enter "BOOK TITLE by Author".

Completion Post Link List