Rules of Civility by Amor Towles, Review: Captivating
Rules of Civility… our review of Amor Towles' debut bestseller.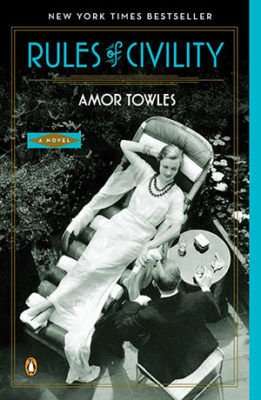 Rules of Civility Book Synopsis

Set in New York City in 1938, Rules of Civility tells the story of a watershed year in the life of an uncompromising twenty-five-year-old named Katey Kontent. Armed with little more than a formidable intellect, a bracing wit, and her own brand of cool nerve, Katey embarks on a journey from a Wall Street secretarial pool through the upper echelons of New York society in search of a brighter future.
The story opens on New Year's Eve in a Greenwich Village jazz bar, where Katey and her boardinghouse roommate Eve happen to meet Tinker Grey, a handsome banker with royal blue eyes and a ready smile. This chance encounter and its startling consequences cast Katey off her current course, but end up providing her unexpected access to the rarified offices of Conde Nast and a glittering new social circle. Befriended in turn by a shy, principled multimillionaire, an Upper East Side ne'er-do-well, and a single-minded widow who is ahead of her times, Katey has the chance to experience first hand the poise secured by wealth and station, but also the aspirations, envy, disloyalty, and desires that reside just below the surface. Even as she waits for circumstances to bring Tinker back into her orbit, she will learn how individual choices become the means by which life crystallizes loss. 
Genre: Literature, Historical, Romance, Drama, Mystery
Disclosure: If you click a link in this post and make a purchase, I may earn a small commission.
BOOK REVIEW
I have been hesitant to write this review. Why? Because I just know that I will fail to convey how wonderful this novel is.
I was utterly captivated by Rules of Civility from the very first lines. Although not necessarily billed as a mystery, the way the story is told in reflection provides a compelling and enduring tension. Although there are many surprising twists and turns for the reader along the way, Towles so cleverly reserves the most poignant for the closing.
Amor Towles' Rules of Civility is the best book I have read this year.
As a male author, Towles displays a remarkable talent for crafting female characters – all characters in fact. He develops a very meaningful ensemble cast with a discerning eye and delicate hand. No character is superfluous, each makes an important contribution to the tale.
In describing scenes, Towles' observations go beyond the visual, encapsulating sounds, smells and tastes in a way that is so vivid one would think he actually lived through that time period. His use of beautiful prose is not just artful and evocative for the sake of being so – it conveys tangible mood and sentiment.
The Thirties… What a gruelling decade that was. I was sixteen when the Depression began, just old enough to have had all my dreams and expectations duped by the effortless glamour of the 1920s. It was as if America launched the Depression just to teach Manhattan a lesson.

After the Crash, you couldn't hear the bodies hitting the pavement, but there was a sort of communal gasp and then a stillness that fell over the city like snow. The lights flickered. The bands laid down their instruments and the crowds made quietly for the door. Then the prevailing winds shifted from west to east, blowing the dust of the Okies all the way back to Forty-second Street. It came in billowing clouds and settled over the newspaper stands and park benches, shrouding the blessed and the damned just like the ashes in Pompeii.
This novel reads like a sublime cinematic experience. There is no doubting the movie rights will be highly fought over.
If you have not yet read Rules of Civility, you are missing something truly special.
BOOK RATING: The Story 5 / 5 ; The Writing 5 / 5
Get your copy of Amor Towles' Rules of Civility from:
Amazon Book Depository Booktopia AU
OR listen to the audiobook FREE with Audible's Trial (check eligibility)
UPDATE: Amor Towles' long-awaited second novel A Gentleman in Moscow was released in September 2016.
More captivating historical fiction:
Let the Great World Spin by Colum McCann  /  Rebecca by Daphne Du Maurier  /  Of Love and Shadows by Isabel Allende  /  A Room with a View by EM Forster  /  Suite Francaise by Irene Nemirovsky
About the Author, Amor Towles
Born in 1964, Amor Towles was raised in a suburb of Boston, Massachusetts. He graduated from Yale College and received an M.A. in English from Stanford University. He is a principal at an investment firm in Manhattan, where he lives with his wife and two children. Rules of Civility is his first full-length novel. Check out Towles' official website which includes a great timeline showing key actual New York events during period the book is set.
* I received a copy of this novel from Penguin Group USA via NetGalley for review purposes. My receiving this book for free in no way affected my ability to express my honest opinions about it.