Book Review – TWO PINTS by Roddy Doyle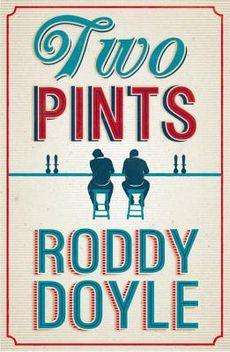 Two Pints Synopsis 
Two men meet for a pint in a Dublin pub. They chew the fat, set the world to rights, take the piss. They talk about their wives, their kids, their kids' pets, their football teams and – this being Ireland in 2011-12 -about the euro, the crash, the presidential election, the Queen's visit. But these men are not parochial or small-minded; one of them knows where to find the missing Colonel Gaddafi (he's working as a cleaner at Dublin Airport); they worry about Greek debt, the IMF and the bondholders (whatever they might be); in their fashion, they mourn the deaths of Whitney Houston, Donna Summer, Davy Jones and Robin Gibb; and they ask each other the really important questions like 'Would you ever let yourself be digitally enhanced?'
Inspired by a year's worth of news, Two Pints distils the essence of Roddy Doyle's comic genius. This book shares the concision of a collection of poems, and the timing of a virtuoso comedian. (Amazon)
BOOK REVIEW
The premise of Two Pints is simple, a collection of the chats between two old mates at their local pub over the course of more than a year, but the execution by Roddy Doyle is something a little special. There are some wonderful standalone comic interplays between the cranky old-timers, such as their thoughts on business speak and the state of television these days,
– Wha' does 'thinkin' outside  the box' mean?

– You were watchin' The Apprentice last night, weren't yeh?

– I was, yeah.

– Me too.

– Wouldn't have thought it was your cup o' tea.

– It isn't. But we had to give the dog half a Valium, cos of all the f#%kin' bangers and fireworks. An' he conked ou' on top o' me. So I was stuck – couldn't reach the remote.
And their reaction to Donna Summer's death,
– She'd a few good songs, but – Donna.

– 'Macarthur Park'. That was me favourite.

– A classic. Until Richard f#%kin' Harris took it an' wrecked it.

– It's all it takes, isn't it? Some c#%t from Limerick takes a certified disco classic an' turns it into some sort o' blogger lament.

– Someone left the cake out in the rain.

– They wouldn't know wha' cake was in Limerick. They'd be puttin' it in their f#%kin' hair.

– An' anyway. They'd 've robbed the f#%kin' cake long before it started rainin'.
No one is safe from their analyses – they even take a pot shot at Robert Frost.
Disclosure: If you click a link in this post and make a purchase, I may earn a small commission.
The running jokes between the two men and the stories told about their families is where the real value lies in Two Pints by Roddy Doyle.
In particular, one's support for his grandson's interest in 'biology' is the catalyst for some exquisitely dark comedy.
For all their foul mouth banter, particularly heart warming were their concerns about the Euro and when it came down to it their being happy as long as they could still afford to buy Cornettos for their grandkids when they came to visit on the weekends.
Given the language and subject matter discussed, this is probably not recommended for those with sensitive ears or temperaments, but it was right up my alley and a very refreshing reading experience. Despite my lack of exposure to the UK politics often being referenced, there was more than enough in this slim novel for me to enjoy. I can imagine those more familiar with the exploits of the politicians mentioned would get even more out of this than I did.
On the strength of this title, I will be seeking out more from author and comedian Roddy Doyle.
BOOK RATING: The Story 4 / 5 ; The Writing 4 / 5
Have you read Two Pints? Do you want to?
Join the discussion below.
BOOK DETAILS:  Two Pints (Amazon); Two Pints (Kobobooks); Two Pints (TheNile – Aus)
Genre: Humour
Author Information: Roddy Doyle is the author of nine novels, a collection of stories, and Rory & Ita, a memoir of his parents. He has written five books for children and has contributed to a variety of publications including The New Yorker, McSweeney's, Metro Eireann and several anthologies. He won the Booker Prize in 1993, for Paddy Clarke Ha Ha Ha.
Roddy has written for the stage and his plays include Brownbread and Guess Who's Coming For The Dinner. He co-adapted with Joe O'Byrne his novel The Woman who Walked into Doors and he co-wrote with Bisi Adigun a new version of The Playboy of the Western World. He also wrote the screenplays for The Snapper, The Van, Family, When Brendan Met Trudy and he co-wrote the screenplay for The Commitments. He lives and works in Dublin.
– Check out Roddy Doyle's official website
Other reviews of Two Pints: Irish Times, Emerald Street, Scoop It, Bookmunch