Book Review – FUN & GAMES by David Michael Slater
Fun & Games Synopsis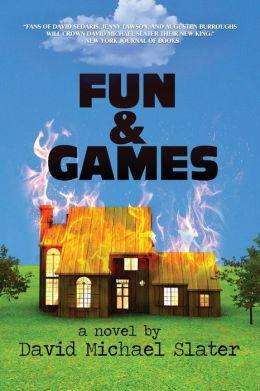 The 1980's: it's the time of Dungeons & Dragons, banana clips, and Atari. Jonathan Schwartz is growing up in a family like no other. His sisters, Nadia, the dark genius, and Olivia, the gorgeous tease and temptress, manipulate Jon and his friends for their own entertainment. And his Holocaust survivor grandparents? Their coping techniques are beyond embarrassing. A disastrous visit to Jon's class by his grandmother unhinges his famous father, setting off a chain of events that threatens to send the dysfunctional Schwartz clan up in flames once and for all.
Fun & Games is a heartbreaking and hilarious story of faith, family secrets, betrayal, and loss—but it's also a tale of friendship, love, and side-splitting shenanigans.
BOOK REVIEW by Tony Ziemek
Fun & Games is a rare combination of intelligence and entertainment. As the title suggests it's a fun read and I finished it in one evening after a couple of false starts as I struggled to get past the initial 1980's setting. I've been there once and didn't really want to go back! But after a few pages the characters and the plot, the humour and the faultless prose take over and this reader at least was fully engaged.  The characters are beautifully rounded with marvellous eccentricities (especially the sister Nadia) but there is never a sense that Mr Slater is straining for effect.
The 'games' of the title propel the plot on a number of levels.  Most simply in the role-playing fantasy games of the 1980's and the teenage challenges of any era.  More interesting games are played in the way that characters manipulate the lives of other characters or have their own real life role-playing.  The result ranges from the comic to the dark via some ingenious plotting.
The central character is Jonathan Schwartz and his progress from school to college and adulthood. His family is delightfully dysfunctional with two very different sisters and colourful grandparents that provide broad comedy but a depth of character and pathos that develops as the story unfolds.
It's difficult to quote from Slater's Fun & Games without giving away the plot or spoiling gags that work best in context.  However, the following excerpt gives a taste of the style as the wonderful Nadia character attempts to provoke a reaction from her father (an author):
Nadia, who usually devoted her energy at dinner to causing a beverage to be expelled through one of her siblings' noses, turned her attentions to Dad. She'd say things like, "Some guy named Rocco called and said the money better be where it's supposed to be, Dad, or those story ideas they've been selling you will start involving the postal service and various fingers of a certain first born son." She was good at killing two birds. Or, referring to some flowers Dad had given Mom, "I saw you take those from that little roadside shrine for that dead girl down the street. Don't deny it, Dad – they were propped up against the cross."
Yes, Fun & Games by David Michael Slater is a coming-of-age story in an American Jewish context but these familiar elements are twisted and deftly re-woven into something thoughtful, fresh and fun!
BOOK RATING: The Story 4.5 / 5 ;  The Writing 4.5 / 5
~ Tony Ziemek is the lead editor of Ed Fresh Editorial Services.
Disclosure: If you click a link in this post and make a purchase, I may earn a small commission.
Have you read Fun & Games? Do you want to?
Join the discussion below.
BOOK DETAILS: Fun & Games by David Michael Slater ( Amazon | B&N )

Genre: Humour, Drama
Author Information: David Michael Slater is an acclaimed and award-winning author of books for children, teens, and adults. His books include Cheese Louise!, Flour Girl, Ned Loses His Head, and the controversial teen series, Sacred Books, which is being developed for film by Producer Kevin Bannerman (Lion King). David teaches in Reno, Nevada, where he lives with his wife and son.
– Check out David Michael Slater's website
* Receiving this title free from David Michael Slater did not impact the expression of honest opinions in the review above.